Afghanistan is in immediate need of masks and ventilators, health authorities said, as the number of confirmed infections passed 13,000 despite no tests being carried out in Kandahar for two weeks, Akhtar Mohammad Makoii reports from Herat.
The Afghan health ministry announced on Thursday that it has run out of facilities and equipment for Covid-19 patients. Wahid Majroh, deputy health minister said that the ministry had received nothing in the past 30 days.
"We need ventilators and NIV masks immediately, in some provinces we have run out of hospital beds for patients" Majroh said. "In the last 10 days, as people continue to break the lockdown regulations, the number of transmission has been rising and we are yet to reach the peak of the crisis".
"In some cases patients wait in doorsteps of ICU for the death of another patient in ICU to go and fill the bed" Majroh said. He warned that tests are not possible for everyone and asked people with symptoms to quarantine themselves at home, and only go to medical centres if their condition worsened.
In Kandahar no suspected patient has been tested in nearly a fortnight, due to a problem in the testing process. The problem risks generating a huge backlog, since health officials send samples of suspected patients in nearby provinces such as Helmand to Kandahar. Majroh said he has instructed health services in Kandahar and nearby provinces to send samples to Kabul until the problem is solved.
"We have serious problem in Kandahar, the PCR machine is off and there is no flight toward Kandahar so our engineers can go and fix that," Majroh said. "There will be a UN flight to Kandahar in coming days and our team will go with that."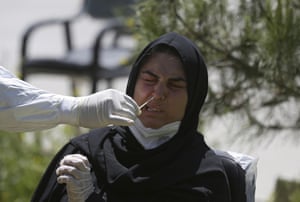 On Thursday the heath ministry reported that it had tested 1,072 suspected patients of whom 580 were positive, taking the total number of confirmed infections to 13,036. Eight patients also died overnight, raising Afghanistan's Covid-19 death toll to 235. There have been 1,209 recoveries. According to the health ministry 19 patients are in critical condition.
Majroh said 40% of confirmed cases were recorded in last 10 days and added that previously he was "warning that the flood [of coronavirus] will come, but now the flood has arrived and many people are sinking". The health sector had its worst days during three days of Eid, he said.
Most of the new cases wee recorded in the capital, Kabul, where 322 out of 662 tests came back positive. Kabul is the country's worst affected area by cases, with 5,093 infected patients so far, of whom 29 have died.
The western province of Herat recorded two deaths of Covid-19 and 139 new infections. Herat borders Iran and recorded the first case of the virus reported in the country after thousands of Afghan migrants poured back from Iran in February and March. The total number of infections in Herat is 2,105, with its 44 deaths making it region with the highest death toll.
Meanwhile, members of local police forces were killed in a Taliban attack in Parwan province, north of Kabul, as a ceasefire among Afghan forces and Taliban fighters ended on Wednesday.
A technical delegation of the Taliban is in Kabul "to work with a technical team of the government" on the release of prisoners of both sides, the Office of National Security Council said.
The president, Ashraf Ghani, announced Sunday that the government will release up to 2,000 Taliban prisoners as a "goodwill gesture" in response to the Taliban's calling for a three-day ceasefire, the president also pledged to take further steps in the peace process.
Taliban confirmed the delegation on Thursday and said the team will work on "verification and identification of prisoners".
Read the original article at The Guardian