Coronavirus Latest News
Australia coronavirus live update: Victoria records 73 new cases and 41 deaths as NSW records 10 new cases
Dr Kerry Chant is asked why NSW isn't making mask wearing on public transport (and other areas) mandatory.
She basically says it is because authorities are worried about turning it into another flashpoint issue:



We need to work with the community and take it along with us. Once we make it mandatory it means there will be no exceptions to the rule and we need to give the community time to embrace masks, get used to them and to acquire them.

Clearly, I'm strongly saying that mask wearing, it is one additional layer.

It is already that it compliments the key messages which is do not go out and about if you have got symptoms. Please stay home and get tested.

We need good, strong hand washing and mask wearing is something I strongly recommend for all settings including where you cannot socially distance. We know on certain times on public transport that is challenging.

We know when you're in supermarkets or other crowded environments and that's the time to wear masks.

I would like to see that raised across the population, not just only on public transport.
Q:What is the difference between strongly recommending it and making it mandatory? It doesn't seem that different?
Chant:



Certainly in terms of enforcement it means the person would not be able to get on the bus without the mask.

We need to work with the community to increase access to masks and take the community on a journey and explain the importance of masks and why we're recommending them at this time.

We clearly have seen greater acceptance and the data indicates there is a greater acceptance of mask wearing and I have been out for the last four weeks stressing the importance of masks as a complimentary action.

When we're battling COVID we should use all of the tools we have available to us to tackle this quite insidious and stealthy virus.
Q: The question as well, are you worried about the public push back? Is there a medical reason not to make a mandatory?
Chant:



They are believed to be effective, particularly if you are infectious, in blocking the transmission which is why we encourage people to get out and about. Once there is decisions around making a mandatory it has consequences for people who are not wearing masks and we have to work through those issues.
Q: When you say consequences, what do you mean?
Chant:



Consequences you can't get on the bus or the train. We need to look at age cut off and some members of the community who won't tolerated masks for a variety of reasons and we need to work through those issues.

Our advice, I think one of the lessons we learned with COVID it is important to talk openly with the community about the evidence and I have been so pleased with the response of the community when we've given advice and at a certain point we have to make those decisions of when it moves from advisories but in general the community has responded incredibly well to advice and that is indicated by some of the data we've seen from Service NSW where the community over recent weeks has continued to adopt mask wearing.
Dr Kerry Chant says she hopes to be able to lift aged care restrictions in NSW ahead of Father's Day.
Dr Kerry Chant on the NSW cases:



All four locally acquired cases are linked to the CBD cluster and this includes two who are households contacts of previously reported cases and two close contacts of previously reported cases.

There was one previous case from south-eastern Sydney linked to the CBD cluster and the passenger was on a bus at the same time as a previously reported case and may have shared other exposures.

That investigation is under way and we have used the Opal card to identify people on the bus.

Pleasingly, 10 of the 11 other passengers had their registered Opal card details and we made contact with seven of them through their mobile phones and have left messages for the remainder.

One passenger on that bus did not have a registered Opal card and therefore we are still making the public aware of the bus route and the details.

In terms of cases, under care, we've got 66 Covid cases being treated by NSW Health, including six in intensive care, four of whom are ventilated.

There were a couple of other localities we wanted to highlight. Anyone attending the following venues is considered a casual contact and monitor for symptoms and be tested immediately.

After testing you must remain in isolation until a negative test is received. Woolworths Balmain from 10am to 11am. The Chemist Warehouse at Balmain on Friday 28 August … from 2 to 2.30 pm. Sushi Rio at Chatswood and Coles St Ives shopping centre on Friday 28 August at 1 to 2pm. Anyone who attended those venues is considered a casual contact and must monitor for symptoms and get tested immediately if they develop.

After testing, you must remain in isolation until a negative result is received – and that is essential.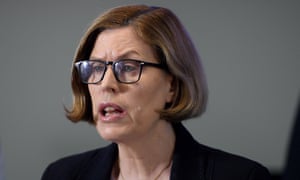 Gladys Berejiklian:




Pleasingly, police gave very positive reports about people's behaviour about social distancing and I think this augurs well for the future.

Today is the last day of winter and I'm pleased we got through the winter months as well as we did, and now that the warmer weather is upon us can I please ask everybody to think about their activities when they're out of doors.

As Dr [Kerry] Chant tells us, to be outdoors enjoying the sun is a healthy experience; just make sure you keep your social distance.

If you enjoy the time with your family and friends and with others keep your social distancing – and in the main that was the case.

To date, NSW is holding our own. Every day is a battle and that's why it's really important to encourage people who have the mildest of symptoms to come forward.

Normally August-September is the peak time for the flu but because we're hand sanitising and keeping our distances those numbers haven't materialised, but that means if you do have a symptom you should assume it's Covid and not the flu.

If you do have the mildest symptoms, you need to assume it is Covid and not the flu. As we said last week, please don't wait until day or two three. Go the day you have the symptoms and go home and wait for the results from health.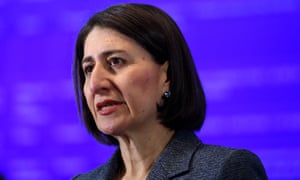 There are 10 new cases of Covid in NSW. Six of those are in quarantine though.
Adem Somyurek will make speeches from the Victorian crossbench, but not vote.
Victoria's death toll is now 565. The national death toll is 652.
There were 382 deaths linked to aged care as of yesterday. Adding in the 22 deaths which occurred before 27 August but have just been reported by aged care facilities to Victoria Health yesterday, that brings the total number of deaths linked to aged care to 404.
Most of the remaining 19 deaths will also be linked to aged care.
I am still reeling from that number.
That is so many families who have lost so much.
And so many families throughout this pandemic.
Daniel Andrews will hold his press conference at 11am.
The National accounts is out on Wednesday. I think you can accurately predict they are not looking good.
The figure includes 22 deaths which have been reported to Victoria Health by aged care facilities over the weekend.
That means 19 people died in the past 24 hours.
And another 22 people died in aged care facilities in the past couple of weeks which were NOT reported as Covid deaths by the facilities until yesterday.
So yes, aged care will be a big issue again today.
Given the delay in the numbers, we are back to this – early reports ahead of the official reports.
This was the last tweet from Victoria Health.
We are still waiting on the numbers.
Meanwhile, the tinfoil hat brigade's cheerleader-in-chief continues to mouth off from the backbench.
Read the original article at The Guardian