Coronavirus Latest News
Australia coronavirus live update: Victoria reports 149 new Covid cases and 24 deaths – latest news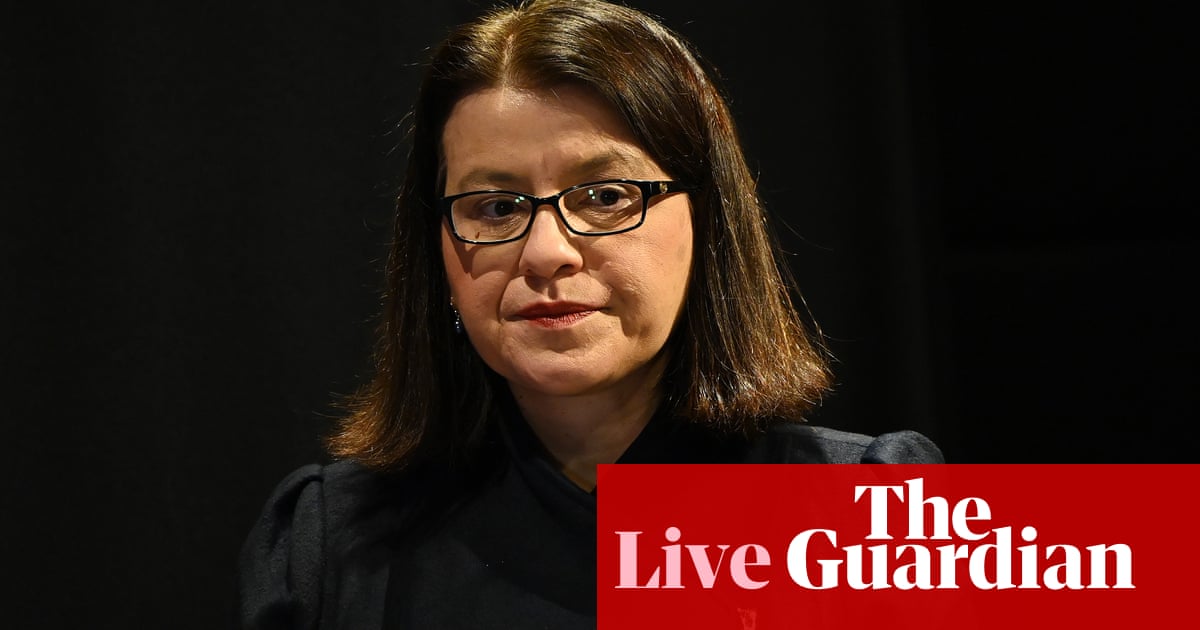 Anthony Albanese followed up his 7.30 interview yesterday with an appointment with breakfast television on the Seven network this morning.
As you would expect he spoke about aged care:
Q: It is a bit confusing for average Australians though because you've got Health Department involved in aged care as well and making decisions. Also state governments too. Isn't it a shared blame?
Albanese:



What we had was the Prime Minister stand in his courtyard way back in February and he waved around document saying, 'This is how we will deal with this'. It explicitly said of course that aged care was the responsibility of the Federal Government because it is on a day-to-day basis. The states run the hospital system, the Federal Government runs aged care. They regulate it, they fund it. They set up the accreditation agency. It is all a Federal responsibility.
Q: The Prime Minister is also saying 97 per cent of aged care facilities have had no infections at all. Is that a fair point?
Albanese:



It is a heartless comment, frankly. And I was shocked when he said that. I think it does not pay appropriate respect to the fact that we have 335 people who were in aged care residence who have passed. And their families are grieving. We have circumstances whereby, I know, I will never forget saying goodbye to my mum. It was many years ago. She only lived to 65. But I got to say goodbye to her. These people are saying goodbye to their loved ones on FaceTime. And they deserve better than just the Prime Minister saying that 97 per cent is okay.
Another vaccine announcement – this time, committing to help Australia's neighbours for when there is a vaccine:



Australia will support the Gavi COVAX Facility Advance Market Commitment (COVAX AMC) to improve access for Pacific and Southeast Asian countries to safe, effective and affordable COVID-19 vaccines.

The COVAX AMC will secure and distribute COVID-19 vaccines for all countries, not just those that can afford to purchase or manufacture vaccines themselves.

Australia's contribution of $80 million will help secure COVID-19 vaccines for Pacific Island and Southeast Asian countries. The AMC will address the acute phase of the pandemic, providing doses for up to 20 percent of countries' populations in its first phase, ensuring that health care workers and vulnerable groups, such as the elderly, have access.

Access to vaccines will play a critical role in the economic recovery of our region from this pandemic.

Pacific countries eligible for COVAX AMC support include Papua New Guinea, Solomon Islands, Vanuatu, Fiji, Samoa, Tonga, Tuvalu and Kiribati. Eligible countries from Southeast Asia are Indonesia, Timor-Leste, Cambodia, Laos, Myanmar, The Philippines and Vietnam.

Australia's investment builds on our strong support for Gavi. Australia will continue to promote health security in our region through our role as the Vice-Chair of the Gavi Board.

International investment in vaccine manufacturing and procurement is stronger when nations work together. In making this investment, Australia joins key donors such as the United Kingdom, Canada, Italy and Norway.

The COVAX AMC forms part of the wider COVAX Facility, a global mechanism designed to enable rapid, fair and equitable access to COVID-19 vaccines to end the acute phase of the pandemic by 2021.
Anthony Albanese was on Sydney radio 2SM this morning once again calling for Richard Colbeck to be sacked.
He also mentioned this, which goes to some of the wider issues in aged care, even before the pandemic, which are still to be addressed. Even though we know about them. And have, for some time.
Albanese: Last Thursday, Susan Templeman, who's our fantastic local member servicing the Blue Mountains and the Hawkesbury, invited me Richmond to sit down with families of aged care residents. And the stories I heard were quite shocking. One spoke about how she asked what her mum was being fed, the menu. Now, Monday was sausage rolls for dinner. Tuesday was party pies. Wednesday was a croissant.
Q: A croissant for dinner?
Albanese:



It had cheese in it, I think. Essentially frozen stuff that you can buy, no brand, at Coles and Woolies. it would have cost $1 each for dinner for people who should be getting sustenance and people who should be in a position whereby, this is a private facility where a woman's paying substantial fees, and this facility has failed its accreditation.

And when the residents' families sought to, because the inspection body, believe it or not, they give notice when they're going to inspect a facility. So, you've got a week to clean up your act.

When they asked to see the people in charge, these bureaucrats, when they went through the issues that they had at the facility, they were told, 'We are not the complaints unit'.

And these family members said, 'Well, who are we supposed to complain to?' The system is simply not functioning properly.

And what we had is that report last year. And then we had earlier in the year, because the outbreaks, of course, were first in Europe and not in Australia, we could see what was coming, and all of the advice was that older people were particularly vulnerable to this pandemic.

And in spite of that, there was no response put in place. No plan put in place by the federal government, which it has got to be said, they fund and regulate aged care. The federal government are responsible.

Then you had Dorothy Henderson Lodge in March and Newmarch House in April. So, we could see the issues that were there. Again, no plans put in place. And the Royal Commissioners have said that there was no plan in place. And what's the Federal Government's response?

They criticise the Royal Commission that they established. The Royal Commissioners that they appointed. This is simply not good enough. Older Australians have built this nation.

They are deserving of respect and to live out their later years with dignity. And the fact is that one of the people said to me last week, that one of the things about a pandemic is it's like an X-ray, it shows what is broken.

Well, this system is broken. I met with aged care workers at the Health Services Union last Tuesday, and one of the things that they were talking about is the fact that they've got to work at two or three facilities which is one of the ways in which this virus has spread. Because they get paid $19 an hour.

There's casualised employment. There is not a proper workforce plan. We don't have the right number of nurses, carers and other workers in these facilities.
This is quite the way to write $903,000.
Victoria Health has now released those official figures
AAP has some vaccine update news – this time on the UQ research:
Early testing of a potential COVID-19 vaccine being worked on by the University of Queensland has resulted in "positive indications" about its possible effectiveness in humans.
The findings from the pre-clinical trials conducted on hamsters have been reported to the International Society for Vaccines by project co-leader and UQ Associate Professor Keith Chappell.
"The neutralising immune response created by our molecular clamp vaccine in animal models was better than the average level of antibodies found in patients who have recovered from COVID-19," Prof Chappell said in a statement on Wednesday.
In the hamsters trial, the potential vaccine – when combined with MF59 technology developed by Seqirus, a unit of Australian biotechnology group CSL – provided protection against virus replication and reduced lung inflammation following exposure to the virus.
"It also induces a strong T-cell response and showed strong results when it came to data relating to manufacturability," Prof Chappell said.
Researchers say one of the biggest challenges in developing a vaccine for COVID-19 is the ability to produce enough for widespread use.
"We are working with CSL to ensure the production yield is as efficient as possible, and have every confidence they will be able to manufacture the millions of doses required to protect the Australian public," Prof Chappell said.
Queensland Innovation Minister Kate Jones said the results were a huge milestone in the development of a vaccine in the state.
Meanwhile, the federal government is supporting an initiative to help Pacific and Southeast Asian countries access a coronavirus vaccine.
The government has put $80 million towards the Gavi COVAX Facility Advance Market Commitment, alongside other donors including the UK, Canada, Italy and Norway.
"International investment in vaccine manufacturing and procurement is stronger when nations work together," Foreign Minister Marise Payne said.
Kristina Keneally has stopped by doors this morning – she has addressed Russell Broadbent's comments to Murph:



Aged care is a Federal responsibility; it is Scott Morrison's responsibility full stop.

As of yesterday, 335 aged care residents have died of COVID-19. In aged care facilities, there now 1,100 active cases of coronavirus, and I express my condolences to the family members of those who have died and my support and best wishes to those aged care residents who are currently battling coronavirus.

We have to ask – how many of those deaths were preventable? How many cases of coronavirus in residential aged care were preventable? If only Scott Morrison and Richard Colbeck had heeded the warning calls – and there have been so many warning calls.

There were in April, the outbreaks in Newmarch House and Dorothy Henderson Lodge in New South Wales.

There's the call from Scott Morrison's own backbencher Russell Broadbent.

Russell Broadbent in 2017 resigned from his parliamentary positions because he was so frustrated at the Government's lack of action at aged care in his electorate.

Russell Broadbent who says this morning that the Government put profits over care. Profits over people; that's the aged care system that Scott Morrison's own colleagues describe. Scott Morrison and Richard Colbeck are presiding over an aged care system that puts profits over people.

And we know from Russell Broadbent, today, that he raised these concerns, and he says back in 2017, and ever since, I've been raising these concerns, raising these warning bells, and I have been ignored.
And given that the Liberals, the National's senior partners in the Coalition tend to have a whole "free market" belief going on, how will this work if it means telling supermarkets what they can and can't do (although we have seen a lot of eroding of that whole free market philosophy when it comes to things like energy companies lately, so you know, the precedents are there.)
David Littleproud:



Well, this is a core principle of the National party around fairness.

We're a Coalition partner and we're proud to make sure we protect our constituency with fairness. As I said, this isn't about regulating prices, this is simply making sure that there is a framework of fairness in how all parties deal with one another.

There is a grocery code of conduct at the moment, but it very much only focuses on the big companies, not on small family farms. And I think what we're saying is these small family farms don't have much power, don't have any legal recourse because they don't have the financial means in which to prosecute.

So is there a framework that needs to be put in place? And if you're doing the right thing, it costs nobody anything and so the supermarkets who proclaim they have done nothing wrong, they should fear nothing. Even if there was regulation, it costs them nothing anyway.
Speaking to the ABC this morning, David Littleproud said this inquiry would be different to the other inquiries:



Well, this is where we're going to make sure it is only three months, it's on the dairy code of conduct extension, which only went to the processor level, and we'll look to have this done by Christmas as well as these other agricultural perishable goods.

We heard a lot of anecdotal evidence. ACCC has, in fact, got past evidence around this.

What we're trying to do is to try to quantify it and validate it. To make sure if there is an imbalance, there needs to be looked at and regulated in terms of a Code of Conduct, then we will act quickly.

We don't want to kick this into the grass.

Farmers can come forward a confidential manner with the ACCC without recourse or fear of retribution from any of their supply chains. We're going to do this and sort this out once and for all.
The federal government wants the ACCC to investigate agricultural chains, from farm to the store, to see how farmers are being treated.
From David Littleproud and Josh Frydenberg:



The Government will direct the Australian Competition and Consumer Commission (ACCC) to undertake an inquiry into harmful imbalances of bargaining power between farmers, intermediaries, including processors, and retailers in the domestic supply chains of perishable agricultural goods in Australia.

The Government is focussed on ensuring the right domestic policy settings are in place, and is directing the ACCC to examine the nature of bargaining power in the supply chains for perishable agricultural goods covering meat (pork, lamb, beef), poultry (chicken meat and eggs), seafood, and horticulture goods where not already covered by a mandatory industry code.

This inquiry will examine whether imbalances in bargaining relationships exist and the extent to which they can be addressed through existing regulatory arrangements. The ACCC will be provided the power to seek evidence, documents and information from businesses within the domestic supply chain to assess if there is a harmful imbalance of bargaining power occurring.

The ACCC will also examine the effectiveness of the new Dairy Code of Conduct including by considering options to extend the code across the entire domestic dairy supply chain.

In conducting its inquiry, the ACCC is to have regard to the interests of Australian consumers and how the impacts of unreasonable bargaining power imbalances in the supply chain can affect them.
Goodness. It's almost like the Queensland election is upon us. And like National electorates in NSW and Victoria have been screaming for someone to look at this for years and there is suddenly a reason to look at it!
Read the original article at The Guardian