Budget 2020 reaction: Coalition bets on business for Covid recovery as Victoria reports six new cases – live updates
Jason Clare is on ABC's Afternoon Briefing, where he is asked about Labor's social housing idea, which will form part of the opposition's budget in reply speech tomorrow:
Q: How many social housing homes would a Labor government construct?
Clare:



We said today the focus now, right now, in the depths of a recession should be repairing existing social housing.

It is what we did in the GFC. We repaired about 80,000 social housing dwellings.

This is the sort of thing we could do really quickly. You could have people on the tools repairing social housing dwellings in three weeks, that's what I was told, repairing everything from rot, to mould, repairs really quickly. In every town, big or small, suburbs right across the country. Why we said to the government today, "You can do this."

It is not just us though.

The Masters Builders Association, the HIA, all the housing groups say this is what we should be doing – not because they're desperate to end homelessness but they're worried about their members and tradies across the country running out of work. We had economists say the same thing last week, about 49 were surveyed. They said the top thing would be to invest in social housing because you can do it quickly and every dollar you spend on building or repairing a house means $3 in the economy.
Spoiler – it's a barbecue and giant democracy sausage.
Mike Bowers was in the chamber for question time: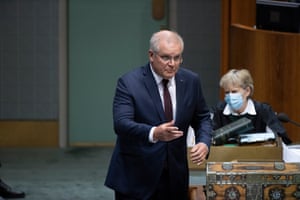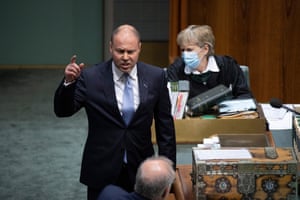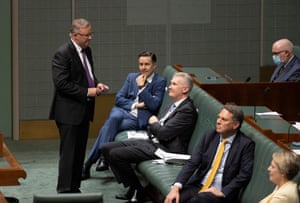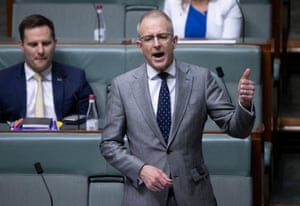 If there is one group who is really, really unhappy with the budget, it is the IPA.
Yup.
Here is today's release, where it is predicting a $2 trillion debt by 2045:
Modelling by the free market thinktank the Institute of Public Affairs, based on data from the Commonwealth government budget and the Australian Bureau of Statistics, estimates that:

Gross commonwealth government debt will peak at $2.05 trillion in 2045.
Gross commonwealth government debt will not be paid off until the year 2080.
A budget surplus will not return until 2046.
For the purposes of comparison, Australia's current annual gross domestic Product (GDP) – which measures the value of all goods and services produced – is approximately $1.9 trillion.
The IPA modelled two scenarios. The first scenario is based on the aggressively optimistic economic growth and budget deficit reduction assumptions contained in the commonwealth budget released last night, while the second scenario provides a more realistic scenario of lower GDP growth and a slow path back to a budget surplus.
Cian Hussey, research fellow at the IPA, said:



The devastating lockdown measures have caused a humanitarian tragedy, and the debt Australia has gone into to pay for them will last generations.
Scenario 1
Nominal GDP growth of 5%, as assumed in the budget from 2023-24.
Return to surplus 2038-39 based on deficits falling at a constant rate of nominal GDP as forecast in the budget.
Gross debt peaking at $1.92 trillion in 2037-38.
Surpluses stabilising at 1% of nominal GDP by 2043-44. This is equivalent to the average surplus as a percentage of nominal GDP under Howard and Costello.
Gross debt paid off in 2062-63.
Scenario 2
Long-term nominal GDP growth of 3%.
Return to surplus 2045-46 based on a slower rate of declining deficits.
Gross debt peaking at $2.05 trillion in 2044-45.
Surpluses stabilising at 1% of nominal GDP by 2051-52. This is equivalent to the average surplus as a percentage of nominal GDP under Howard and Costello.
Gross debt paid off in 2079-80.
Scenario 2 is more realistic as it assumes that the Australian economy will grow at a more modest rate post-Covid-19. Research and analysis by the Institute of Public Affairs has demonstrated how the lockdowns have permanently distorted the Australian economy through the disproportionate impact they have had on jobs, young Australians, small businesses and the self-employed.
Consequently, the Australian economy is likely to have a much larger public service, a smaller private sector, and for larger businesses to account for a greater share of employment and output than in the past. This will lead to a less dynamic economy, with slower long-run economic growth.
This will really be a recurring theme.
Speaking of the opposition leader, he has just been announced as the special one-on-one guest for Q&A next Monday.
So when Anthony Albanese said Labor would be changing track, it turns out he meant go full-on attack.
It is standard for a prime minister to defer questions to a portfolio minister – sometimes when they don't want to be associated with the answer and sometimes when they just don't have the information at hand.
But now we are getting this:
The most likely thing which will happen with the tax cuts is you'll get the new rate from the moment this all goes through, and anything owed to you from 1 July will come next year in the tax return.
Victoria Health has put out its update as well:
Testing is continuing in response to the Chadstone shopping centre outbreak and a related outbreak at the Oddfellows Cafe in Kilmore.
We've seen how quickly this virus can spread throughout the community with tragic consequences and it is critical that we continue to limit the movement of people across the state to slow the spread of the virus.
If you have symptoms no matter how mild, get tested. We all have a responsibility to do what we can to stop this outbreak from getting any bigger.
Anyone who visited Chadstone shopping centre between 23 September and 1 October should get tested – even if they have the mildest of symptoms. Testing is available at Chadstone car park drive through – level 2, Chadstone carpark, outside Coles, and a walk-in clinic is open for staff only at Central Amenities on the ground level between MJ Bale and Marimekko. Both sites are open from 12-8pm today.
Anyone who visited Oddfellows Cafe in Kilmore between 30 September and 3 October are classified as potential close contacts and should come forward for testing, even if you don't have any symptoms at all. Testing has been set up at the Kilmore and District Hospital from 9am-5pm and Kilmore Soldiers Memorial Hall pop-up testing site from 10am-6pm today. There are currently more than 230 people isolating in Kilmore following cases linked to the Oddfellows Cafe.
Victoria has recorded six new cases of coronavirus since yesterday, with the total number of cases now at 20,237.
The overall total has increased by four due to two cases being reclassified.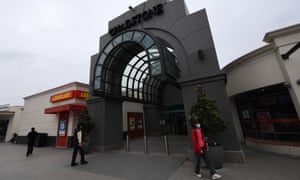 Four of today's new cases have linked to known outbreaks – two linked to the Chadstone shopping centre outbreak, one linked to a Dandenong household outbreak and one linked to aged care. The other two cases remain under investigation.
Of today's six new cases, there are two cases in Glen Eira and Whitehorse and single cases in Banyule and Greater Dandenong.
There have been two new deaths from Covid-19 reported since yesterday: one woman in her 80s and one man in his 90s. One of the two deaths occurred prior to yesterday.
Both of today's deaths are linked to a known aged care facility outbreak. To date, 809 people have died from coronavirus in Victoria.
The average number of cases diagnosed in the last 14 days (23 Sep to 6 Oct) for metropolitan Melbourne is 9.9 and regional Victoria is 0.3. The rolling daily average case number is calculated by averaging out the number of new cases over the past 14 days.
The total number of cases from an unknown source in the last 14 days (21 Sep to 4 Oct) is 12 for metropolitan Melbourne and zero for regional Victoria. The 14-day period for the source of acquisition data ends 48 hours earlier than the 14-day period used to calculate the new case average due to the time required to fully investigate a case and assign its mode of acquisition.
NSW Health has put out its official release, detailing information on where those new cases are coming from:
NSW Health is alerting the public to the following locations visited by confirmed cases of Covid-19.

As outlined today, three new cases of Covid-19 have been confirmed in south-west Sydney. All three cases are under investigation, with contact tracing underway.
People who attended the Fitness First Carlingford pilates class on Saturday 3 October from 8.15am to 9.15am are considered close contacts and must immediately get tested and isolate for 14 days since they were there, and stay isolated for the entire period, even if a negative test result is received. NSW Health is directly contacting those who attended.
NSW Health is assessing potential exposure to Covid-19 of people who attended several other venues. Anyone who attended the following venues is considered casual contacts and should immediately isolate and get tested even if they develop the slightest symptoms of Covid-19.
Friday 2 October: Kmart, Narellan town centre, Narellan – 6-7pm
Saturday 3 October: Fitness First, Carlingford (all attendees other than those in the pilates class notified above) – 8-9.15am
Sunday 4 October: Penrith Homemaker Centre, Penrith – 11am-1pm
Sunday 4 October: Guzman y Gomez, Penrith – 1.30-2pm
Sunday 4 October: Home Co, Penrith – 2-2.30pm
Monday 5 October: Westfield Parramatta – 9.30-11am
Monday 5 October: Castle Towers shopping centre, Castle Hill – 12-1pm
Back to information that doesn't make my earballs bleed.
Question time is still going, but I have lost my will to live listening to it today.
The answers can all be found in the press releases today.
Fiona Phillips to Scott Morrison:
Can the prime minister confirm that last year, the Morrison government announced an annual $200 million recovery and mitigation fund to help communities across Australia prepare for and recover from natural disasters? The next fire season is upon us, and not a single dollar has been spent. Why is this prime minister always there for the photo op and never there for the follow-up?
David Littleproud gets this one.



Thank you, Mr Speaker. And I thank the member for Gilmore for her questions. And yes, there was a fund created. And part of that fund was to provide funding in two tranches.

One, through $150 million to be able to be spent on rebuilding infrastructure. That hasn't been used, because we have created a $2 billion fund in which to rebuild the infrastructure that was devastated by these fires.

That was predicated on the advice of the director general of Emergency Management Australia.

They didn't believe that it was worth doing that, because we had created this other mechanism in which to do that, and to give a perfect example, the electorate of Gilmore itself received nearly $139 million already in direct relief. With respect to the $50 million that is there for resilience building, the director general of Emergency Management Australia is taking submissions and, in fact, is about to provide me with some of those programs.

And in fact, I had a conversation with the member for Eden-Monaro only last week about putting forward projects that her community may benefit. This is above politics. This is about people. And the people's lives are impacted. We need to make sure that we understand the trauma that these people went through, and they are at different stages of recovery.

We need to allow them and their communities to decide what that recovery looks like, what resilience looks like into the future. To rush that isn't about making sure this is a locally led recovery. This means it will be a Canberra-led recovery.

So we'll continue to engage with communities, with members from both sides of the aisle, in a constructive way in rebuilding the lives and livelihoods of those Australians that were destroyed through this bushfire season. We'll do that in a calm, methodical way, using Australian taxpayers' money in the most effective way.
A quick factcheck on the home care packages Scott Morrison mentioned there – there are 100,000 Australians on the home care wait list.
And those 23,000 places *are* new, but they are spread out over four years, according to the budget papers.
That's not going to do a lot to address that waiting list.
Read the original article at The Guardian