Coronavirus Latest News
Coronavirus Australia latest updates: NSW hunts for security guard contacts, fearing repeat of Victorian outbreak – live news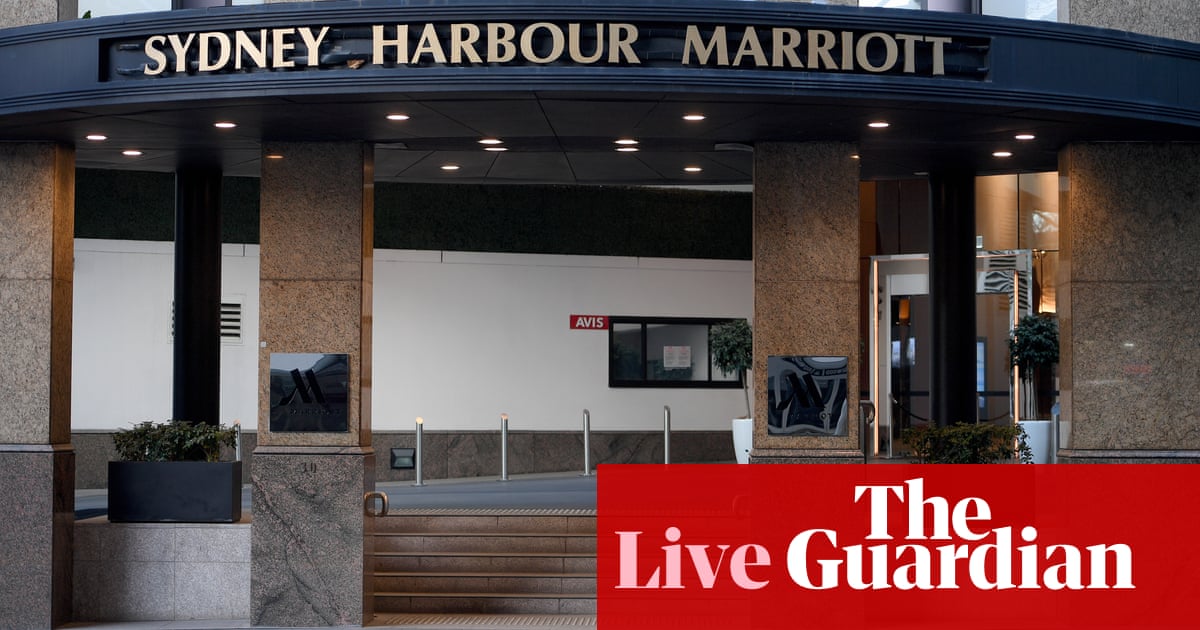 Over in Queensland, and authorities are waiting on the results of a fourth Covid test for a resident at Immanuel Gardens in Buderim on the Sunshine Coast, an aged care home operated by Lutheran Services.
Three other residents who were displaying respiratory symptoms returned a negative test yesterday.
The fourth resident was tested later, after displaying symptoms of their own.
All four people were immediately put into isolation and the centre was shut down, and hopefully we all see a fourth negative test there soon.
There are still thousands of Australians overseas who are trying to fly home.
That got really complicated in the last few months. Not only are arrivals into Australia capped, and individuals responsible for their own hotel quarantine costs, actually getting on a flight is a problem as well.
Elias Visontay has been following that saga – here is his latest:



Planes flying into Australia are carrying as few as four economy passengers, as airlines frustrated with the government's international arrival cap begin to acknowledge they are prioritising business passengers and more expensive tickets to remain profitable while complying with the limits.

Some flights are restricted to as few as 30 passengers under the government's restrictions on arrivals.

On Tuesday, a spokeswoman for Qatar Airways – one of the few remaining airlines to fly to Australia – told the Guardian that when finalising passenger lists to make sure each flight complied with the limits the airline considered the "commercial value" of tickets.

"In order to ensure the continued viability of our operations to Australia, [the] commercial value of tickets sold must also be taken into consideration to be able to operate each flight."

She said the airline continued to assess each passenger "on an individual basis regardless of what cabin class they have booked" when considering priority travel and compassionate grounds.
So that would be a no then.
Just as the 'apology' was for failings in 'the' system, which is a piece of verbal distancing, that answer put the responsibility back with Victoria.
Apparently, there is nothing to be done when there is pandemic. Except there is, and there could be, and we just see responsibility passed around like a bag of chips.
We are motoring through the issues in this interview.
Next up – ultimate responsibility for stuff ups.
Michael Rowland: Daniel Andrews, the Victorian Premier, says the buck stops with him when it comes to the hotel quarantine bungle. Does the buck stop with you as Prime Minister for the litany of aged care failures?
Scott Morrison: Well, there are shared responsibilities for public health which is a matter there.
Rowland: It's a federal responsibility.
Morrison:



We regulate aged care, but when there is a public health pandemic, then public health, whether it gets into aged care, shopping centres, schools or anywhere else, then they are things that are for Victoria.


So I don't think that it is as binary as you suggest.
Then there is a small serve to premiers' who have closed their borders. (Not all the premiers though, as you can guess.)
Scott Morrison:



I understand the decisions that have been taken. They've obviously been discussed at National Cabinet on many occasions and I've had many discussions with Premiers about them. The cases in different states are very different.

Obviously, the New South Wales and Victorian border was a discussion that I was directly involved in with both Premiers and we've been quite involved in supporting both of the states to ensure that those borders work as best as they can.

They're incredibly disruptive, though, and I appreciate the work particularly New South Wales has done recently in making things a bit more workable, particularly for those working in the agricultural sector.

I'm working with all of those Premiers who have borders at the moment on ensuring that Australians can get medical access. I thank Premier Marshall for the work he's done with me, as well as the New South Wales Premier most recently.

We're dealing with those on a case-by-case basis and making some progress there.

I understand what they're seeking to do, but it's important that all Premiers act on the basis of transparent medical advice.

You know, if there's going to be these border arrangements in place, they will, of course, have very serious impacts on the economies of their states and the livelihoods of those who live in those states and businesses and jobs.

And that all has to be weighed up. And that's the decisions they're taking and they need to be transparent with the Australian people about it.
What is Plan B for Australia, while we wait for a vaccine, Scott Morrison is asked:



Well, to continue to live positively with the virus, to ensure that we can establish our economy and society as much as is normally possible.

And that's why having a Covid-safe economy and Covid-safe community is important.

That's why having testing, tracing and outbreak capacity capabilities are so critical to enable Australians to get on with their lives.

We are working towards and hoping for and planning and preparing for a vaccine, but equally, at the same time, you need to ensure that you can reopen your economy and you can get on top of the outbreaks that are there.

I mean, New South Wales has led the way in containing outbreaks.

We've obviously had terrible events in Melbourne and Victoria, but very pleased to see that that corner is turning in Victoria, and that's welcome news. Although there's still many weeks ahead of us yet.
Scott Morrison, chatting to the ABC, says the vaccine deal "will give us the option to be at the front of the pack and to be able to manufacture the vaccine here and make it available to all Australians"



The timing of that is still certain at this point, but we would hope early next year. If it can be done sooner than that, then even better. But this is the most promising I'm advised. And in my discussions with other leaders around the world, particularly in Europe, they're forming a similar view".
In case you missed it yesterday, the government has confirmed that for the first time in 25 years, there will be no indexation for the pension until March 2021. Meaning – no pension increase.
It's not just the pension, a lot of other payments, including the Disability Support Pension, Carer Payment and JobSeeker Payment, won't be seeing increases either.
The news comes among record unemployment within Australia. And people withdrawing money out of their super funds.
Linda Burney from Labor had a bit to say about it this morning:



Pensioners have been facing rising health, dental, energy and grocery bills for years. And now they are set to go a full year without payment being indexed.

With interest rates at record lows, pensioners with modest savings are facing a double whammy.

Average GP out-of-pocket costs alone have gone up by $11 under this government.

Cutting the pension is in the Liberal-National DNA. This Government has tried to cut the pension or increase the pension age to 70 in every single budget – and they have cut $1 billion from pensioner concessions.
It's good news to start off with this morning, with the government announcing it has reached an agreement with the British pharmaceutical giant AstraZeneca to supply Australians with the University of Oxford Covid-19 vaccine for free – assuming it clears clinical trials.
As Katharine Murphy reports:



The vaccine agreement also includes a $24.7m contract with medical technology company Becton Dickinson for the supply of needles and syringes to make sure there is sufficient supply on hand to roll out the vaccine nationally.

Scott Morrison says Australia has pursued the Oxford vaccine because it is "one of the most advanced and promising in the world". But the prime minister says Australia will continue negotiations with other parties.

"There is no guarantee that this, or any other, vaccine will be successful, which is why we are continuing our discussions with many parties around the world while backing our own researches at the same time to find a vaccine," Morrison said in a statement.
So still some time away, but a silver lining. The government then has to work out who gets it first – at this point, it is the most vulnerable, so people over 65 will be among the first on the list.
Closer to home, and NSW authorities are urgently trying to work out how a security guard at a health hotel at Circular Quay was infected with Covid-19.
Late yesterday afternoon, NSW chief health officer, Dr Kerry Chant, announced genomic testing on the guard's infection showed it was similar to "one identified in a guest staying at the hotel from 31 July to 5 August".
As NSW Health reports:



The strain is different to other strains circulating in NSW. This indicates that the guard likely acquired the infection while at the hotel. Exactly how the infection was acquired is under investigation.

The people who may have been close contact with the guard while infectious have already been contacted and placed in isolation.

He was infectious at the following times locations and alerts have already been issued urging people at these venues on these dates to get tested:

Sydney Market Flemington on Sunday, 9 August between 8am and 4 pm.
Parramatta Local Court on Tuesday, 11 August and Wednesday, 12 August between 8.30am and 12.30pm.

NSW Health is working closely with both cases, the Police, the security company, hotel staff and other staff to investigate how the infection may have been acquired.
That's the two major stories today. We'll keep you updated on everything that happens. The prime minister will be doing the rounds this morning – having a vaccine announcement tends to kickstart the media circuit – so we will bring you that, and anything else you need to know. You have Amy Remeikis with you for most of the day.
Ready?
Read the original article at The Guardian