Coronavirus Latest News
Coronavirus Australia latest updates: NSW, Qld, Victoria at odds over border closures before national cabinet – live news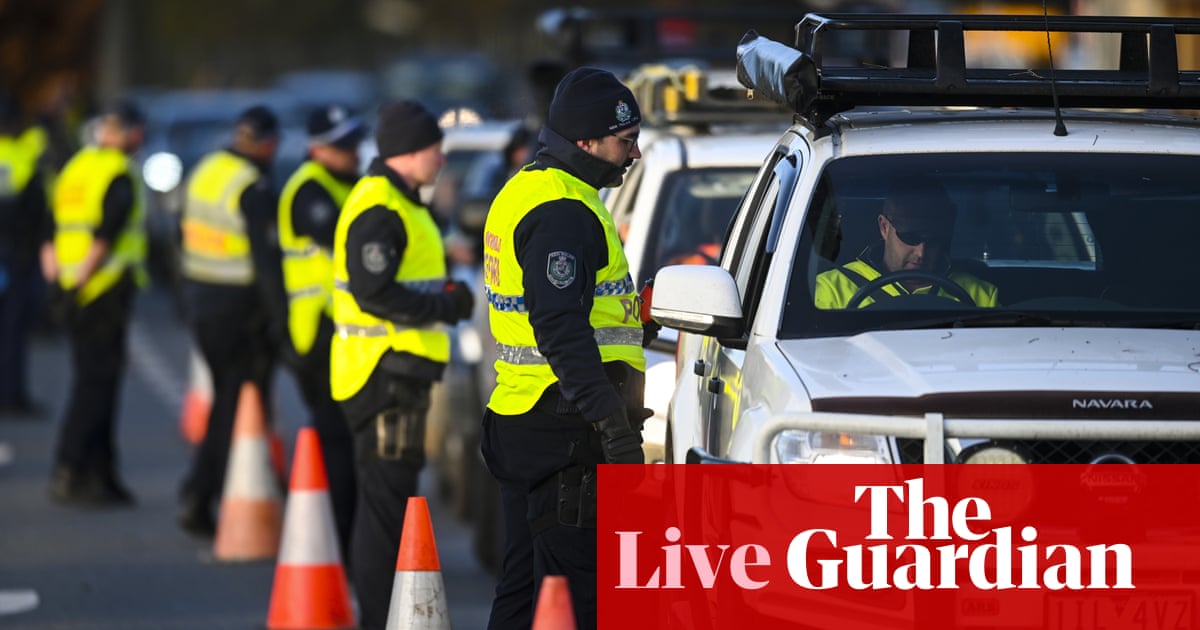 Finance minister Mathias Cormann was on ABC News Breakfast a short time ago with a bit of forward sizzle about the national cabinet meeting, although that is probably too racy a term for the Western Australian senator's delivery style.
On the issue of border closures, he said:



We want to ensure that the Federal Government, state governments work together cooperatively to resolve some of these practical issues that you have just mentioned.

We all understand the need to take effective action to protect people's health and obviously the decisions that various state governments have made to impose state border closures are part of their measures to help project people's health in their states.

But, you know, we do need to ensure that we are practical about these things and that where practical solutions can be put in place in a way that is Covid-safe, that should be done.… We just have to be practical and we are hopeful that in the meeting today in the usual cooperative spirit of the National Cabinet that some solution and some way forward will be able to be found.
Asked about the WA premier's Mark McGowan's suggestion that people deemed to be a flight risk in hotel quarantine could be made to wear ankle monitors (which is, frankly, terrifying), Cormann said:



I am not a commentator on state matters.
What about Australia's international borders – will it be made easier for Australians still stuck overseas to come home?



Well, look, we are taking a very cautious approach to the Australian border arrangements.

We did urge Australians early on, quite strongly, to return if they wanted to return, and a lot of Australians did return at that time.
The chief executive of Peninsula Health, Felicity Topp, says they are not currently experiencing a coronavirus outbreak at the Golf Road Links rehab facility.
They are, however, facing a significant outbreak at Frankston hospital. Some 211 staff have been furloughed, and 51 staff members have tested positive for the virus.
In a statement on Wednesday, Topp said they had "48 Covid-19 positive patients in our care, with none of these patients in ICU". She does not say whether all of those patients were admitted to the hospital with the virus. A state government public health response team has been parachuted in to help manage the outbreak.
In another statement released late Thursday, Topp said there was a "misconception" that the Golf Road Links facility was also experiencing an outbreak. It said:



At the end of July, we did see an increase in cases at our Golf Links Road facility due to a patient initially returning two negative results, and then later a positive result. All appropriate Infection Control measures were immediately implemented including contact tracing and the furloughing of a significant number of staff at the time.

Currently our Golf Links Road facility is open to admissions and we are providing care to a large number of residential aged care patients, in an effort to help in Victoria's aged care response to the pandemic.
The chief executive of Wesfarmers, Rob Scott, has been on Radio National this morning talking about the issue of state border closures. He's based in Perth, and is the interesting position of both supporting the success fo the border closure strategy there, and calling for state borders to be lifted because it impacts the movement of freight.
He said that the tough approach taken by states like WA back in early April made sense at the start of the pandemic, but there "should not be a set and forget draconian approach".



We are still trying to work our way through Covid and it made sense to take a tough approach to start with, but we need to learn to live with Covid and this is going to be the case for some time to come.
Scott said travel restrictions should be focused on areas "where there is the greatest risk and the greatest vulnerability". This seems to mean remote Indigenous communities, and other regional communities with fewer health services and a high proportion of vulnerable residents.
He says:



I think in a way the state borders are somewhat arbitrary and what we need to be doing is thinking about it in a risk-management sort of way.
If there are strong hotel quarantine practices, swift contact tracing, and a lot of testing to shut down outbreaks, he says border restricitons can be loosened in a "Covid-safe way". It is not a trade-off between tough rules and public health, he says.



Victoria was one of the states that had the toughest restrictions early on and notwithstanding those restrictions it had that flare up…. we shouldn't kid ourselves that it's just about locking the borders down and that will keep us safe.
While we're on aged care, the families of those who died after contracting Covid-19 at St Basil's in Fawkner have launched a class action against the aged care provider, alleging it breached its duty of care and failed its residents.
The writ was filed in the Supreme Court of Victoria on Thursday.
There have been 193 cases of Covid-19 linked to St Basil's and 31 of its residents have died after testing positive.
Reporter Josh Taylor writes:



The writ alleges St Basil's breached its duty of care in allegedly allowing staff or residents not to wear PPE, to rove freely within the centre when there was a risk of spreading Covid-19, allowing staff from other centres entry to St Basil's without having self-isolated or provide an up-to-date vaccination against the flu, and failed to act in Fotadis's best interests.

The writ alleges the centre was not compliant with legislation, regulations and professional standards, and failed to provide adequate and appropriately trained staff.
Read more here:
Good morning,
State border issues will be at the top of the agenda in the national cabinet meeting today.
The agriculture minister, David Littleproud, has been leading the federal charge against tougher border rules, saying they restrict agriculture and life in regional border communities. He said:



What these city centric decisions fail to acknowledge is that modern regional Australia has outgrown state lines, and that many regions share strong economic, social and community links across borders….

The inability or unwillingness of our premiers to work with each other to find common-sense and practical solutions to restrictions that they have imposed is becoming a major test of their leadership.

Premiers must remember that they are not just premiers of capital cities.
Victorian premier Daniel Andrews told reporters yesterday he would raise the issue at national cabinet today and advocate for Victorian border residents.



We're doing everything we can to try and make the fact that others have closed their borders to us as workable as possible.
South Australia tightened its border rules from midnight last night, restricting travel among cross-border communities to those who are travelling to complete year 11 and 12 and agricultural and farming workers with properties within 40km of the border. Anyone else will have to re-apply for permission, including those seeking urgent medical or dental care, essential workers, or seeking to travel on compassionate grounds.
SA treasurer Rob Lucas told reporters yesterday:



There have been a number of cases in those western border communities and these decisions are not taken likely… We hope it's a shorter period than a longer period.
Aged care and economic recovery will also be on the agenda. Reserve bank governor Philip Lowe and treasury secretary Steven Kennedy are among those expected to brief the group.
Let's crack on. You can follow me on twitter at @callapilla or reach me at calla.wahlquist@theguardian.com
Read the original article at The Guardian