Coronavirus Australia live news: university reforms pass Senate as Victoria records 11 cases and new Sydney locations linked to Covid
Alan Tudge says it is a "reasonable" attempt to learn English – 500 hours.
We spoke about this on the blog on Tuesday night – the move the government is making to make the English language test part of the partner visa requirements.
This is a pretty big change and one of the reasons we brought it to your attention on the night of the budget.
It's getting a bit of attention today – and people are rightly criticising it for discriminating against people who come from countries that don't speak English.
You'll have a much easier time of it coming from England than Iran, for example.
Alan Tudge has been taking an increasingly firm stance on English being necessary, repeatedly stating it is "the national language".
Here he is trying to justify it to Patricia Karvelas:



Well, if you look at the data, PK, only 13% of those who don't speak English in Australia are in jobs, compared to 64% of those who speak English well. It is that stark.

When your parents came to Australia, presumably – I don't know – perhaps in the 60s or the 50s, I don't know, but there was a lot of jobs which you could do without English language. Today nearly – even the labouring jobs typically require basic English because of the occupational health and safety requirements. So the world has changed. And, of course, if you want to participate fully in our democracy, then English language becomes very important as well.
The Senate is now holding its condolence motions for Susan Ryan.
The House did this on Tuesday.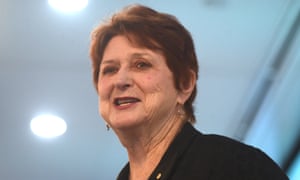 The federal agriculture minister, David Littleproud, has backed the Narrabri gas project despite objections from farmers and the community.
During a National Rural Press Club event today, Littleproud was asked whether he supported the Santos-proposed coal-seam gas project that was recently approved by the New South Wales Independent Planning Commission.
"Yes I do, on conditions," he replied.
The National Farmers Federation last month urged the Morrison government to tread carefully with its "gas-led recovery", declaring farmers needed to be in control of their land use, and the security of groundwater must be paramount, as Katharine Murphy reported.
NSW Farmers, the state's peak farming body, explicitly opposes the Narrabri project, saying its members "believe the project poses an unacceptable risk to the water resources, soil and air quality, local food and fibre production and rural communities in western NSW".
While backing the project, Littleproud also stressed the need for good regulatory oversight by the states and for farmers' land rights to be protected.
He was speaking during a post-budget debate organised by the National Rural Press Club but held at the National Press Club in Canberra. The other panellist, Labor's agriculture and resources spokesperson, Joel Fitzgibbon, said he too supported the Narrabri project.
The university changes are just going to have more and more impact on this sector.
The final question time for this week has ended. You might have noticed a theme there from the opposition – it wasn't about what was in the budget, but what wasn't.
Including what was there for women, who have been impacted harder than men in this pandemic, and older workers.
The government says it does not see the budget in a gender lens. Must be nice.
The only people who don't see gender (or colour, or disadvantage, while we are at it) are people who have never had to worry about it.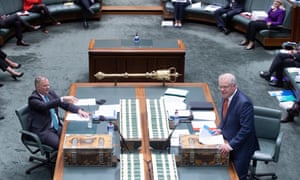 Good afternoon.
A massive thank you to Christopher Knaus, for not only steering the blog through an insane day incredibly well (as always) but also stepping in so I could have a few hours off (it has been a long year).
You have Amy Remeikis with you for the rest of the day. As always, you can reach me here and here if you have a question.
Let's see this day through.
That's where I'll leave you for now. The incredible Amy Remeikis will take you through the afternoon and evening. Stay tuned for Labor's budget reply.
Ken Wyatt, the Indigenous affairs minister, is asked why the Coalition did not provide funding support to Indigenous schools to help close the gap, when it made funding available for the Clontarf Foundation. My colleague Lorena Allam reported on this earlier today.
Wyatt says:



Whilst we increase funding for the Clontarf Boys' College, and the Clontarf program, we provided a number of other programs across this nation to build the capacity of young Indigenous women. When we think of role models, we think of the netball program that is provided for.

We have other – yes, there is a netball program to build the capacity of young people. But we also provide a program in which we look at leadership across a range of opportunities to develop the capacity of women. Our women in our community are our strength. We fund a number of programs right across the nation. They're not just one major program. We fund according to a region or a specific need.

I can provide you with a much more detailed briefing on some of these programs that exist in places like Roebourne that are designed to protect young women, designed to build their capability. And women play a significant role in those pathways through high school. And the funding is significant. We have not lost sight of the need.

But the Clontarf program, commenced in order to deal with school attendance and suicide rates, and giving young men an opportunity to find a place in which they were comfortable, engaging, and worked through opportunities into league football. But our women's programs are now focusing on the same opportunity and intent. And we are not going to have one prevail over the other.
Labor's Tanya Plibersek asks about funding cuts to a domestic violence program for young Australians.



Thank you, Mr Speaker. My question is to the prime minister: in Tuesday's budget, funding for an anti-sexual assault and anti-domestic violence program for young Australians, Respect Matters, was halved. Why is the government racking up a trillion dollars of Liberal debt while cutting critical programs like this?
Morrison talks about funding for a series of other programs, but not Respect Matters.
Plibersek jumps up on a point of order on relevance. Morrison responds:



Mr Speaker, I make reference to that in the context of the broader package of which it's funded, and receives support from both sides of this House.
Health minister Greg Hunt is asked about funding for new medicines and telehealth.
Hunt says the government has invested $2.4m in telehealth services.



In terms of Medicare, there's a $6 billion increase in funds that are allocated. But I think even more importantly than the funds is the landmark transformative reform, borne of the pandemic, which is telehealth. A landmark reform which would otherwise have been expected to have taken 10 years was delivered in 10 days, with the help of the profession, with the help of the public service, with the support of the prime minister and the treasurer.

And that's now seen – and has been embedded in this budget – it's now seen 33 million services delivered to Australians. Over 11 million Australians benefit. Over $2.4 million invested in the delivery of those telehealth services, and will change the face of medicine in Australia forever.
The Australian Healthcare and Hospitals Association, though, is not so chuffed on telehealth. Chief executive Alison Verhoeven issued a statement today saying the government lacked "strategy or vision for telehealth" in its budget.



With so many people out of work or hurting financially due to the Covid-19 pandemic, decisions should be made to help them access telehealth appointments, which have proved to be such a 'winner' during the pandemic, and which will be continued in some form after the pandemic is over.

The trouble is that there is no indication from the government of a long-term vision for these services in the interests of patients.
Another Labor question on the trillion-dollar debt, unemployment and looming cuts to jobseeker.
Scott Morrison:



I have made it extremely clear, extremely clear, that as we get closer to the end of this year, the government will assess the ongoing arrangements when it comes to the Covid-19 supplement. We've made that abundantly clear, Mr Speaker. What the government is doing now is paying a higher level of jobseeker support than has ever been provided by any government,
Sussan Ley, the environment minister, is asked about the major environmental initiatives it is using to lead Australia's Covid-19 recovery.
There is, needless to say, no mention of climate change or renewables. It's all about waste diversion.
Ley says:



The Morrison government is driving a billion-dollar transformation of Australia's waste and recycling capacity, by building onshore demand for recycled content. This will not only devote over 10 million tonnes of resource from landfill, it will create more than 10,000 jobs through the largest renewal of the waste and industry recycling capability in our history.

It's another example of how the Morrison government's plan for economic recovery is creating jobs, driving investment and achieving excellent environmental and social outcomes.
That "trillion-dollar debt" line is being embraced by Labor. Linda Burney asks why the government is racking up so much debt while allowing unemployment to grow by 160,000 by Christmas and cutting jobseeker to $40 a day.
Stuart Robert takes the question. He says most people receiving jobseeker are eligible for other payments.
This is the same rationale the government has traditionally used for keeping Newstart at remarkable lows.
Robert says:



Just so the House is aware, as at 25 September, 648,621 women are receiving jobseeker payments, 751,237 males. And then there was a number over 100,000 who are on payment but not receiving any because of the income or asset threshold.

At present, the decision of government is for the coronavirus supplement be set at $250, and that will be reviewed as we come closer to Christmas. But it's important the House also understands that that payment itself is not the single payment that people receive. For everyone who receives jobseeker payment, their eligibility for some other form of assistance is also available.

So, on top of the existing jobseeker rate, the $250 coronavirus subsidy, the rent assistance, up to $185 a fortnight for families with three or more children; $164 if it's one or two.

Family tax benefit part A per child, up to $246 a fortnight for children aged 13-19. Of course, there's family tax benefit part B per family, up to $161 a fortnight for children under five years. Pharmaceutical benefit, of course, for $6.20 a fortnight.

There's telephone allowance, energy supplements; 99.9% of all people who are receiving a safety net are also eligible for another payment.
Labor's Meryl Swanson asks:



My question is to the prime minister: Rose is 47. She's a single mother of two and she lost her job in March. Her daughter has cystic fibrosis. Rose says, "You buy two loaves of bread and two cartons of milk and you wonder whether it will last a fortnight. I've never had to do that before. My kids miss out, and it's not fair." Why has the prime minister racked up a trillion dollars' worth of Liberal debt but left women like Rose behind?
Scott Morrison says the reason the government has taken on the "cost" that it has is because of the pandemic. He said the government had doubled the social security safety net, made two separate payments of $750 to all welfare recipients, and kept people in jobs through jobkeeper.



As tough as this global crisis has been as it's impacted on Australia, Australians can stand here today, knowing that around the world there is South Korea, there is Finland, there is Norway, there is the economy of Taiwan, and there is Australia, who have been able to cushion the blow both on the health effects and the economic effects of this pandemic. Better than any other nation in the world today.

Now, that is an extraordinary achievement by Australians, their resilience, their determination to push through very difficult times, to follow the health advice, to look out for each other, to make sacrifices in each of their own lives, most particularly most recently down in Victoria, in Melbourne, where it's been extremely tough.
Anthony Albanese accuses the government of leaving those aged 35 and over "on the scrap heap".
Morrison says the pandemic has had a huge impact on younger workers and he does not "allow the young people … to become the long-term unemployed of tomorrow".



In the early '90s, there was a program called jobstart, which was introduced follow the Keating recession, Mr Speaker. The Keating recession, Mr Speaker. Not a recession produced by a global pandemic today, Mr Speaker. This recession has been produced by the global pandemic. Australians know that. Those opposite, Mr Speaker, the leader of the opposition, seems to be the only person in the country who doesn't know there's been a global pandemic.

But back in that time, Mr Speaker, the former prime minister said, with that program, that it was about supporting young people. Now, I don't know what the leader of the opposition has got against getting young people back into jobs, Mr Speaker, in opposing the programs that we're putting forward and characterising them in the way he does.
Treasurer Josh Frydenberg gets a dixer on the budget and has a red hot go at the world record for repeating the word "jobs". It was used seven times, by my count, in that answer. Extra points for this segment:



And the reality is this budget was all about jobs. This budget was all about jobs. And it was all about jobs because we've seen our unemployment rate go up.
Adam Bandt, the Greens leader, asks a question on the government's fast-tracked tax cuts via videolink from Melbourne. He asks about independent analysis suggesting that next year 69% of the benefits will go to men, and only 31% to women.
Morrison:



Mr Speaker, this is a budget for all Australians. Mr Speaker, all Australians who work, pay tax. All Australians who work, they pay tax. Mr Speaker, men and women. The tax system does not discriminate based on your gender, it doesn't discriminate based on your age. It doesn't discriminate on any of those things that go to who you are, Mr Speaker. The only thing it discriminates on is how much you earn.
Read the original article at The Guardian