Coronavirus Australia live update: Gladys Berejiklian faces no-confidence motion as Victoria reports 12 new cases and NSW 13
There's also a no confidence motion being debated in the Victoria Parliament against premier Daniel Andrews by the Liberal opposition over the handling of the Covid-19 pandemic.
Via AAP:
Opposition leader Michael O'Brien said the premier bungled the hotel quarantine program, ignored offers of Australian Defence Force support and imposed tough coronavirus restrictions that "make no sense".
"This government is hostage to a premier who is pursuing an elimination strategy that is only going to eliminate jobs, that is only going to eliminate hope, that is only going to eliminate the bright future this state deserve," he told the Legislative Assembly.
The motion is doomed to fail given Labor's commanding 11-seat majority.
"Find your voice. Find your conscience. Find your heart for Victoria," O'Brien told Labor MPs, urging them to cross the floor and support the motion.
Andrews, who usually refrains from attacking the opposition and never refers to their leader by name, hit back at his daily press conference.
"He and the cheap politics he trades in is of no consequence when it comes to fighting this virus. His cheap politics is not a vaccine against this virus," Andrews said of O'Brien.
The debate is expected to continue into the evening, with all lower house MPs given at least 15 minutes to speak on the motion.
The Victorian Greens earlier indicated they will not support the motion.
"The Liberals are using this no-confidence motion as a stunt to play political games with the pandemic, they want Andrews' scalp," Greens MP Ellen Sandell said.
"And right now, we think Victorians want politicians more to focus on how we actually get through this pandemic and out of restrictions."
The Victorian hotel quarantine inquiry has sought records directly from Telstra, a spokesman for Telstra has confirmed.
This is in addition to records sought from former Department of Premier and Cabinet secretary Chris Eccles, the premier Daniel Andrews and his staff.
On Friday, we reported Telstra had not received a formal request for former police commissioner Graham Ashton's call records from Victoria police.
It is understood police believe they do not have the legal authority, even under data retention legislation, to obtain the records.
It seems likely that the records being sought directly by the inquiry could be Ashton's, but the inquiry is not commenting at this stage.
NSW attorney general Mark Speakman was on ABC earlier, where he was asked about the ongoing Icac scandal surrounding the premier, Gladys Berejiklian.
He said he thinks all of the parliament was surprised to learn the premier was in relationship with Daryl Maguire. But he thinks she will still be premier by the end of the week:
Q: Will Gladys Berejiklian be the premier of New South Wales by the end of the week?

A: I believe so. I believe so. She is, I think, the strongest, one of the strongest government leaders in the world. As I said before, the record is a one-in-100-year pandemic, we have fought that pandemic and kept numbers relatively suppressed and kept the economy going and people in jobs better than any other government. The number of new jobs created in the last couple of months are one state, New South Wales.

Q: Would you put your hand up for the job if she steps down?

A: I don't think is going to arise.

Q: Would you put your hand up?

A: I am not going to jump at shadows and I will express my strong support for Gladys Berejiklian. She is an outstanding premier and done an outstanding job and shown outstanding leadership in making sure New South Wales gets through the pandemic.
I've been tuning in and out of the NSW parliament, but there are some emotional scenes right now with jobs minister Stuart Ayres giving his condolence speech for John Fahey.
Ayres and his partner, foreign affairs minister Marise Payne, were close to Fahey. Ayres said he never met Payne's father, and losing Fahey felt like losing a father in law.
He says both he and Payne would not have been able to achieve what they have without his mentorship.
NSW Health has just provided this list of venues in its latest alert for Covid-19 cases:
Woolworths Oran Park, 351 Oran Park Dr, Oran Park on the following dates:

Wednesday 30 September from 5:30pm to 6:30pm
Thursday 8 October from 5:15pm to 6pm
Friday 9 October 6pm to 6:30pm

Prasadi Nepali Emerald Hills, 2 Hurricane Drive, Raby on Friday 2 October from 3:30pm to 4pm
Emerald Hills McDonalds 101 Raby Rd, Leppington on Friday 2 October from 5pm to 5:15pm
Aldi Emerald Hills, Shop 2/03, 5 Emerald Hills Blvd, Leppington, on Friday 2 October from 5:30pm to 6:15pm
Fantastic Furniture Campbelltown, 4 Blaxland Rd, Campbelltown, on Friday 9 October from 3:30pm to 5:20pm
Bunnings Gregory Hills, 2 Rodeo Rd, Gregory Hills, on Tuesday 6 October from 7pm to 8:00pm
Ikea Tempe, 634-726 Princes Hwy, Tempe, on Wednesday 7 October from 1:30pm – 5:30pm
Here's the information on the no confidence motion Labor is moving against NSW premier Gladys Berejiklian.
In Question Time, the NSW Labor Leader Jodi McKay said the Premier should not have the confidence of the House because she:
Turned a blind eye to corruption in her government by failing to report her knowledge of Daryl Maguire's business dealings for six and a half years, even after his resignation from Parliament in July 2018
Failed to report a number of discussions she had with Daryl Maguire, over a number of years, about his business dealings – including congratulating him on the amount of commission he was earning from such deals
Failed to fulfil her legal obligations under the Independent Commission Against Corruption Act to report corrupt conduct, and her obligations under the Ministerial Code of Conduct to manage conflicts of interest in her Government
Has failed to uphold any standards of propriety across all levels of her Government
One new case of Covid-19 has been reported in South Australia. A woman in her 20s who recently returned from overseas and was already in quarantine.
NSW parliament is still hearing condolence speeches for former premier John Fahey. Treasurer Dominic Perrottet is giving a speech now.
The Health Department has provided this information to me today on how useful the CovidSafe contact-tracing app has been:
NSW has successfully accessed the App to identify 68 close contacts, including 14 contacts that were not identified by manual contact tracing.
In one instance their access to Covid app data revealed a previously unrecognised exposure date from a known venue, Mounties. This resulted in the identification of an additional 544 contacts. Two people in this group presented for testing and were subsequently confirmed to have Covid-19.
Victoria has now fully integrated app usage into their contact-tracing processes, and more than 1,842 people with Covid-19 have agreed to transmit their app data to public health authorities. Due to the strict lockdown in Melbourne, there are limited close contacts of positive cases to be identified but the data is being used to validate other information.
No reportable information is available to share with the other states due to low case numbers.
So essentially, NSW has had limited success in downloading data from the app, but has been able to find two people with Covid-19 it would not have otherwise found via checking with those 544 contacts at Mounties.
In Victoria there have been 1,842 downloads but still no close contacts identified who were not already found through manual contact tracing.
Health has been able to collate this data now it has signed agreements with the states and territories to hand over this data.
I again asked the department how many of the 7 million downloads are still actively using the app but a department spokeswoman said she had "nothing more to add".
The government has previously refused to disclose this data under freedom of information laws, on the grounds it would risk public safety.
Active users numbers would give us an idea of how many people are still using it, and thus an indication of how effective the app might be in finding close contacts.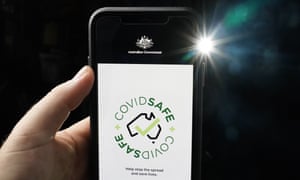 Hi there, Josh Taylor taking over the blog from my colleague Naaman Zhou.
We are still keeping an eye on NSW parliament, and will update you if anything happens.
Premier Gladys Berejiklian is back speaking now, paying tribute to the memory of former premier John Fahey, who died a few weeks ago. Fahey's family are in attendance.
And yet the parliament is currently discussing digital driving licences.
We have now moved on to other matters, mostly tabling reports, and Gladys Berejiklian and opposition leader Jodi McKay appear to have left the chamber for now.
The heat is taken out of the moment as we go to a question from the independent member for Wagga Wagga, who asks about health issues.
The vote on the no-confidence motion is still yet to be taken.
McKay says:



In 2011, I reported a number of issues to the Icac and suffered personally and professionally but I knew as a member of parliament it was the right thing to do and it was my legal obligation. Premier, why did you fail to fulfil your legal obligation, and report Daryl Maguire to Icac?
Berejiklian says: "If at any stage I knew that anything was going to happen that was wrong, or … "
She is interrupted by more scoffs, and the deputy Speaker says she will not continue without silence.
Chants of "woohoo!" go up on the Labor benches, referencing something Berejiklian said to Maguire over the phone when he told her about a business deal.
McKay asks again: "You did not report it. Why?"
The deputy speaker says that McKay is on two calls for interrupting, and she will eject the leader of the opposition if she interrupts further.
Berejiklian is asked why it "took her eight days to take action" against Maguire after he was called to give evidene to Icac, in July 2018, when she was premier.
McKay says Berejiklian "concealed [his business dealings] for two years".
Berejiklian says: "From memory I was away at the time and rung him and asked him for his resignation I think within an hour."
She says the eight days figure is wrong and "my best recollection is that he actually resigned that day and if you look up the records you will find that I asked for his resignation that day".
McKay says again that Berejiklian is "delusional".
A fractious start to question time, with members from both sides interrupting each other.
Deputy speaker Leslie Williams is frequently calling for order as Berejiklian answers a question from McKay.
Berejiklian says: "It is in the public interest for the public to know their premier has at all times made sure that she or he has fulfilled their obligations in relation to all matters."
McKay says: "You're delusional, completely delusional."
Berejiklian goes on to say that she "acted under the full letter of my responsibilities", to laughs and scoffs from the Labor benches.
Question time has just begun in the NSW parliament.
NSW opposition leader Jodi McKay has just told parliament she will move a no confidence motion against premier Gladys Berejiklian.
She says this because Berejiklian "failed to report her knowledge of Daryl Maguire's business dealings for six and a half years" and failed to report "a number of discussions she had over a number of years about his business dealings, including congratulating him on the amount of commission he was earning from his business deals."
McKay also says Berejiklian "failed to fulfil her legal obligations under the Independent Commissioner Against Corruption Act to report corrupt conduct, and her obligations under the ministerial code of conduct to manage conflicts of interest in her government".
The Speaker says the motion will be voted on later, in accordance with the standing orders.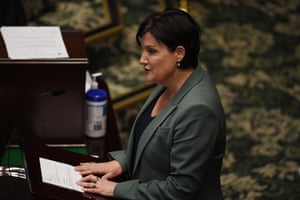 And for an audio explainer of yesterday's Icac revelations, listen to the Full Story podcast:
Read the original article at The Guardian