Coronavirus Australia live update: Victoria records 113 new Covid cases and 12 deaths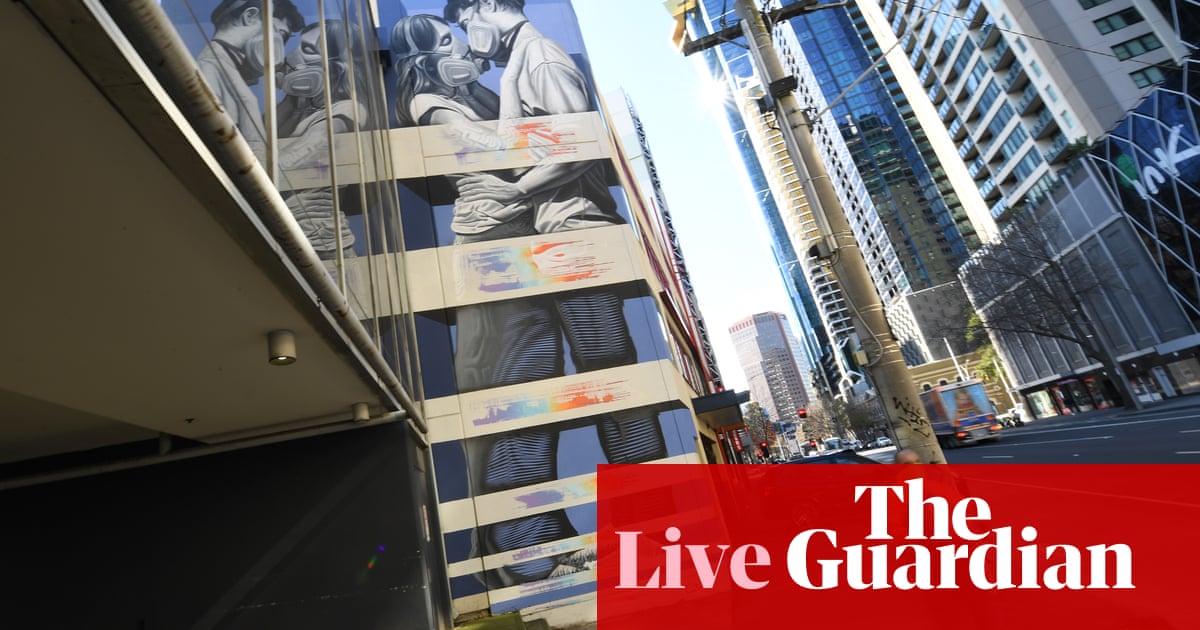 We're expecting Daniel Andrews to step up any minute now.
Chant said there was also a new case diagnosed in a person who had "spent some time in the Victorian border communities".



Those residents are now in isolation. The Murrumbidgee local health district contacted these people and our remaining to monitor them.
She added:



Another key learning we have had from looking at the data over the last week is that in our weekly surveillance report it shows that almost half of the cases who acquired their infection and Sydney had a test more than three days after their symptoms began.

It is critical that people are not out and about when they are symptomatic, and it is also critical that they present early for testing. So we would like to see our data improve and we would like to see that people are getting tested within a day of symptom offset and also to stress that people should not be out and about if you have got symptoms.
NSW chief health officer, Dr Kerry Chant, is running through the new cases now.
She said the 13 new cases brings the total number of cases in NSW since 1 January to 3,830. There were 30,282 tests conducted in the past 24-hours.
Other than the one case in hotel quarantine, the new cases are six linked to the Sydney CBD cluster and two linked to previously identified cases. Four are unknown community transmission, with the source still under investigation.
Not included in the 13 new cases, because it was reported after 8pm (so will be in tomorrow's numbers) is a student at St Gertrude's Catholic primary school in Smithfield and a teacher at Ryde secondary college.
Those two campuses are closed for on-site learning and are being cleaned and those students are being asked to self-isolate well close contacts are being identified and contacted.
She added that anyone who attended the Sydney Tattersalls club on Monday from 8am to 2pm is "now deemed a close contact and must get tested immediately and isolate for 14 days and remain in isolation even if that test comes back as negative".
People who attended the following venues at the specified times are considered casual contacts, and should get tested if they get symptoms.
The Matterhorn, Turramurra – Saturday 22 August 6pm-8pm (NSW Health has identified and contacted close contacts)
Parish of Holy Name, Wahroonga – Sunday 23 August 9.30am-10.15am
Liquorland, Marrickville – Sunday 23 August 5.15pm-5.30pm
Eat Fuh, Marrickville – Sunday 23 August 5.20pm-5.40pm
Metro Petroleum – Hurlstone Park – Monday 24 August 10.20am-10.30am
Berejiklian she was getting advice from health authorities on the prospect of easing restrictions around the border "towards the end of next week".



I want to thank the border communities for their patience and understanding. We are working through issues on the Victoria-New South Wales border and getting advice from health with the prospect of easing restrictions towards the end of next week.

That is ongoing work but I do want to thank – I know a lot of rural and regional communities tune and every day and I want to thank them for their patience and acknowledge the frustration and disruption they have experience but we are working through those issues. And Dr [Kerry] Chant will update us on a view cases in Wodonga and what implications that would have for New South Wales.
The NSW premier, Gladys Berejiklian, said NSW has recorded 13 new cases overnight.
One of the new cases is in hotel quarantine, and the remaining 12 were contracted in the community.
Berejiklian said NSW health authorities had told her that the state has "done incredibly well this winter".



It has been a difficult month but thank you to the community for doing the right thing, for really coming forward and getting tested, for heeding the health advice that we are giving and as a consequence we have managed to get through this winter with relatively low numbers of cases.

And as the weekend weather warms up and as spring is upon us we just want to make sure that everybody thinks about their movement outdoors and is Covid-safe.
She said police would be on "high alert" with the warmer weather this weekend.
Today is also equal pay day, the day beyond which women no longer have to work because we're effectively not getting paid.
That's not really how it works, but it should be.
According to Michele O'Neil, the president of the Australian Council of Trade Unions (ACTU), it's "the end of the 59 additional days that women, on average, have to work to reach parity with male earnings from the last financial year".
The gender pay gap is currently at 14%, and as job losses from the pandemic have disproportionately affected women that could lead to increased disparity between the earnings and retirement savings of men and women, O'Neil said. Some 1.3 million women have accessed their superannuation early to pay their bills, and more than 300,000 women have completely emptied their super accounts – 80% of them under the age of 35.
Women already retire with 47% less super than men.
O'Neil said:



The refusal of the Morrison government to address insecure work which disproportionately effects women has left a third of the workforce without sick leave during a pandemic and means that women who are returning to work are returning to jobs which are lower paid and more insecure.

In sectors which have carried our country through the pandemic the situation is even worse. Healthcare has one of the worst sector-wide pay gaps in Australia, at 21.3 per cent.

The overwhelmingly female workforces in aged care and early childhood education and care are systemically underpaid and deal with extreme levels of insecure work. Women in the community sector are facing funding shortfalls which will undermine equal pay

The Morrison government's super early access scheme has forced people to fund their own crisis response and has had a disastrous impact on the retirement savings of women, who have been forced to raid their savings more often than men.
Here's another version of the prime minister, Scott Morrison, defending his aged care minister, Richard Colbeck, who walked out of the Senate yesterday while Labor's Penny Wong was addressing him about aged care.
He told Samantha Armytage on Sunrise this morning:



Well, the aged care minister left the chamber to deal directly with some very serious issues that were happening at a couple of centres, which is what his job is. And the Labor Party might want to be playing games in the Senate, but his job, he went to the Senate; he gave the presentation that he was asked to give by the senate. But this is a job he's doing morning, noon and night, and so that's the reason he had to leave the chamber. And that's what he should be doing.
Armytage:



Could that have waited, though? His performance over the last couple of weeks suggests he is a bit overwhelmed by this portfolio.
Morrison:



No, I wouldn't suggest that at all. What I'm suggesting is that he needed to go and urgently deal with a matter in a particular facility in Victoria. That's what he was doing last night. That's what he should be doing. That's what he's doing every night, every morning, and every day. This is a very challenging situation in Victoria – a situation that started because we had widespread community transmission of the virus in Victoria. Now, in Australia, about 8% of our aged-care facilities have had infections amongst residents and amongst staff. In the United Kingdom, it's been 56% – seven times worse than what has happened in Australia. Now, in Australia, in every single case where we've had people who have died as a result of the coronavirus and in aged care, that is a terrible tragedy. But this aged care minister is just doing his job, and last night, he had to go and attend to urgent issues in the aged care sector rather than sit there and listen to the Labor party.
Armytage:



So you 100% stand behind Richard Colbeck right now?
Morrison:


I'm including these big chunks of transcript because I suspect the Victorian premier, Daniel Andrews, will be asked this at his daily press conference – which Victorian facility, exactly? What was the urgent issue?
Andrews is up at 11.15am.
A disinfectant manufactured by an Australian company is the first to be granted approval by the Therapeutic Goods Administration (TGA) as a product that kills Covid-19 on surfaces.
More from AAP:
Aeris Environmental on Friday announced to the ASX that its disinfectant cleaner, Aeris Active, had been granted extended residual protection claims in Australia.

The cleaner is now deemed effective at killing the germ on a surface within a minute and providing continued surface protection for seven days.

"This recognition confirms the 'real world' performance of our products and I am pleased that this Australian developed, manufactured and patented technology is being recognised globally," Aeris Environmental chief executive Peter Bush said in a statement.

"It is imperative that during this global pandemic, products gain the trust of the consumer and deliver on the promise of proven performance."

The TGA's approval came after validation studies at accredited independent laboratories.

NSW Health advice deems that the Covid-19 virus, SARS COV-2, behaves like other coronaviruses and may persist on surfaces between a few hours and several days.

However, this may vary depending on the temperature, humidity and type of surface.
Back to the Melbourne storm briefly – Yarra Valley Water has issued a warning notice to 88 suburbs in Melbourne's east and north-east, warning them not to drink the tap water without first boiling it.
They say because caused by last night's storms led to undisenfected water from the Silvan Dam entering the water supply system. About 250,000 homes are affected.
The full list of suburbs is here on 3AW's website – I can't link you directly to Yarra Valley Water because their website is conveniently down for maintenance.
Thanks to Adam for letting us know!
In other news, NRL player Jack De Belin will face trial on sexual assault charges.
Guardian Australia's sport desk reports:
The St. George Illawarra Dragons player has been sidelined by the NRL's no-fault stand down policy since being accused of raping a 19-year-old woman.

The 28-year-old former State of Origin player faces five charges of aggravated sexual assault in company after the alleged incident involving a woman at a Wollongong unit in December 2018.

De Belin and his co-accused Callan Sinclair have pleaded not guilty to the alleged assault.
Victoria's hotel quarantine inquiry is sitting in Melbourne again today, with managers from Travelodge, Crown, Sheraton, Rydges and Stamford Plaza to give evidence.
The inquiry has previously heard evidence about a lack of food and concerns from guests about the cleanliness of their rooms.
Yesterday, the inquiry was told Victoria police had pushed back against requests that the force maintain a presence at the hotels.
It also heard the health department was opposed to providing all hotel quarantine staff.
One guard was fired after slipping a note under the door of a guest that said, "Hey hun, add me on Snapchat."
The inquiry, chaired by former judge Jennifer Coate, was created in response to evidence of hotel quarantine breaches widely blamed for Victoria's second wave.
As of today, 497 people have died with or from Covid-19 in Victoria since 1 January.
One of them was well-known trade unionist Paddy Garrity.
His grandson, Rory Smeaton, told Donna Lu of seeing a news story about a man who was dragged out of a Nike store for protesting against working conditions for factory employees, dressed only in a belt and sneakers, only to realise it was his grandad.



He just always had a moral compass … That was him – he would strip off bare naked in the middle of Bourke Street mall to shine a light on huge corporations that were doing wrong.
You can read more about his life here:
Victorian premier Daniel Andrews will hold a press conference at 11.15am.
This is absolutely tragic. A pregnant northern NSW woman, who was prevented from entering Queensland for emergency surgery and instead had to wait 16 hours to get to Sydney, has lost one of her twins.
More from AAP:



A unborn twin baby has died after the Queensland-NSW border closure prevented her mother from having emergency surgery in time.

The Ballina woman wasn't initially granted an exemption to cross the border for surgery at the Gold Coast University Hospital 125km away and instead had to wait for 16 hours in Lismore for a flight to Sydney.

The woman's father, Allan Watt, says one of the twins became anaemic during surgery at Royal Prince Alfred Hospital in Sydney.

"She was the healthy bub and unfortunately she was the one who passed away yesterday," he sobbed on the phone to 4BC radio.

Watt hasn't spoken with his daughter or her husband, but his wife is staying with the couple, who have had to rent an apartment in across the road from the hospital.

"It's busted our family apart, I'm up here, her sisters and brothers are in Queensland and they're in Sydney," he said.

Mr Watt said the family were very upset about his daughter being denied an exemption.

Queensland Chief Officer Dr Jeannette Young said on Thursday that the NSW woman's exemption had been approved as soon as her application had been made.

State opposition leader Deb Frecklington called on Premier Annastacia Palaszczuk to grant automatic exemptions to all Australians facing medical emergencies.

"My heart bleeds for the family and everything they have been put through," she said in a statement.
Read the original article at The Guardian