Coronavirus Australia live update: Victoria reports 28 new Covid cases and NSW two as Queensland relaxes border restrictions
Q: Nev Powell couldn't guarantee that no-one on the commission stood to gain from the gas fired recovery plan.
Given the role with Strike Energy and the role on the board of the Saudi oil and gas company, can you tell Australian that is no-one on the commission stands to personally gain from the plan that they recommended to you?
Angus Taylor:



I should tell you that the plan that we have announced today is our plan. It's our plan. The Government makes the decision. Yes, we get advice from the technology investment advisory committee. Yes, we get advice from the NCCC. Yes, we get advice from departments and agencies. We've gone to Arena and CFC. … We've had hundreds of people engaged in every step of the way.

But ultimately, the decisions that we've announced this week and last week are our decisions. The decisions of the Government based on what we believe is right for this country, is right for job creation, is right in a coronavirus environment where we want a strong economy more than ever. And they're decisions that we stand by, and we are confident will deliver the outcomes that Australians want and deserve.
Q: Will they personally benefit from it?
Taylor:



The decisions are ours, not theirs. That's the point we're making. It's our decision. We're the Government. We've made these decisions. We've made the announcements. They're our decisions. And that's our job and that's what we're doing and we'll take advice from many people.

We take advice from people in business all the time. We take input. We talk to them. We talk to people outside of business – NGOs, all the time. They all have various interests. But we make the decisions. And that's what we've done here. They have to be the right decisions for Australia and we're very confident that they are.
Q: It's a simple yes or no. Do you know that or not?
Taylor:



Well, it's not something that I'm even focused on. I'm focused on delivering a plan that is right for the country and we make the decision. We made the decisions here that I've announced We made the decisions that I announced last week. That's the role of Government. We take input from lots of people along the way.
Question: You said earlier that we are placing a bet on the portfolio here when it comes to your picking winners approach. But in practice – how will it work? Take for example low carbon steel. If you won't have a carbon price, would you simply just have to mandate a proportion of steel being used, being produced through green steel, which is hydrogen. Won't that just simply put the price of steel up?
Angus Taylor:



We already have the price that matters and that's the price of steel. And that's why we've set our target as the price of steel. We want green steel, low emissions steel, to be produced at the same cost as the current cost of producing steel. The price of steel. So that's already there. That's the goal. And the whole point about this is that we don't want to raise the costs of existing higher emitting technologies and fuel sources. We want to reduce the cost of low-emission alternatives. And the only way to do that is for the technologies to get to the point where their cost of production for steel or aluminium or electricity, whatever it might be, is lower than the current higher emitting alternatives. That way we deliver prosperity, jobs and and all of that.
Q: Just repeating the question – without a carbon price, how do you get low carbon steel? You would have to mandate steel being made in a green way?
Taylor:



No, people adopt new technologies because the economics of those technologies.
Q: Or they're being told to?
Taylor:



You know what, I know on the other side of politics, there's always been an instinct to tell consumer what to buy.

Always been an stint to tax them in order to make them buy what they want. We're not going to do that. We've been clear about this at all times. We were clear about it before the last election and we're clear about it now.

So the way through, and this is true just for Australia. This is true for developing countries, for New Zealand, for Canada. If you want to get emissions down, you've got to make sure those low emissions technologies come in and can produce whatever good it is they're producing, whether it's aluminium or steel or electricity, at a lower cost than, or at least equal, to their higher emitting alternatives. And that way, you don't have to impose a tax.

That way, you don't have to make things more expensive for people. That's what we're seeking to do. We're seeing that now. We're seeing that solar is producing energy. It's not dispatchable, but energy, at a low cost.

That's a great thing. And that is resulting in very significant investment of household solar on people's roofs and large scale solar as well. So we know that this works. We know that it works because this has been the history of technology through the world, that new, lower cost technologies emerge that offer consumers great advantage over the existing alternatives. We want to see that with a lower emitting alternatives, whether it is aluminium, steel, transport, you name it.
Question: The government has been very prescriptive with private enterprise about building a new power station in the Hunter region. The prime minister has also indicated that you're ready to go if private enterprise doesn't step up. Therefore, can I ask you, if you have to carry through that threat, how big would the power station – the gas power station that you're talking about – be? How much would it cost? How would it be financed? And when would construction start? And it be ready to produce?
Angus Taylor: So there's a bunch of questions there.
Q: All related.
Taylor:



All related, I understand!

The situation is this: when Liddell closes, we lose an effective 1,000 megawatts of capacity from the market. Economics says you lose a big chunk of supply without replacing it, the price goes up.

So we've given the private sector until April next year to get to financial close with capacity that can replace that 1,000 megawatts that's leaving the market. We will fill whatever gap is left. Now, we have some projects that are on the books, but none have reached financial close.

We have Energy Australia, potentially a great project, but it's got to get to financial close.

We have AGL working on a gas [investment] in Newcastle, but it has to get to financial close.

We have others in recent days who said that they can invest. Yes, great, but it's got to get to financial close.

It's got to deliver power 24 hours a day, 365 day as year. And we'll step in and fill the gap. Now, the cost of it and size of it will depend on the remaining gap. We'll do it through Snowy Hydro and finance it, and Snowy already has a gas generator in the Hunter Valley, so this is not new for them.

We'll finance it. We'll fill that gap.

We would prefer the private sector get to financial close, but if they don't, we'll step up and we'll make sure that it happens.
Q: And what's the timeline?
Taylor: The timeline is April.
Q: No, the timeline – if you have to step in, when would construction start and be producing power?
Taylor:



In early 2023. So that's when it's got to be completed by when Liddell closes. That's why April next year is such a critical date, because that's about as short a time as we can contemplate would be needed in order to get that replacement capacity in place. Let's be very clear about this: this is partly about reliability, but it's primarily about affordability.

If you take that much capacity out of the market, it's a huge amount in a short period of time. We saw what happened with Hazlewood. We saw very, very sharp increases in prices. We're not prepared to accept that. But we are asking the private sector to step up. The rules are very clear and we want them to get to financial close by April this year.
Q: I have a question about the soil carbon option. From my quick read of the book, it's the only option where the potential reduction of carbon is actually stated. It says that improving agricultural practices in 25% of Australia's agricultural land could result in up to 90 million tonnes a year and it says, "being drawn from the atmosphere". Ninety million tonnes, that's almost 20% of our annual. So that's serious.
Now, what does it mean: "drawing Co2 from the atmosphere?" Is this just about farmers managing their spent crops? Or is it about actively processing fossil fuel emissions and taking it in a truck to the farm?
Angus Taylor:



So, it is essentially photosynthesis; what photosynthesis does. And people understand it from high school science – takes Co2 and puts it into the plant and much of the organic Co2 remains in the plant afterwards.

Now, farmers know how to do that. That's what they do.

Particularly on pastures. The big job of a farmer is to grow more pasture, and some of that pasture stays in the ground and some of it gets buried very deep, as much as a metre deep. So the job is to get more of that to happen. As I say, farmers already know a lot about how to do that.

The great challenge is to measure it at low cost. Because if we can measure it at low cost, we can actually verify that it is happening.

Farmers are paid for the work that they do, and we can improve the techniques and reduce the costs of storing that soil carbon in the soil. And traditionally, the way that we tested soil carbon, and we still do, is we put a probe a metre deep down into the ground and do it in lots and lots of areas, even in an individual paddock.

And that gets expensive. But we also know that satellite imagery offers us the opportunity to dramatically reduce that cost if we can actually see from satellite imagery, that goes over from a regular basis, how much soil carbon is being reduced and how much is being stored in the soil.

If we can get that technology really working – it already works – but really working as a way of measuring soil … we can go down to $3 per hectare per year, which is what we're targeting.

And we see the opportunity here. They're big numbers there. Ninety million tonnes a year is about 20% of our emissions.

Because we have so much agricultural land in Australia relative to our population, it is a big number and it's a big opportunity and that's why we're pursuing it.
(That investment he was talking about was mostly solar and wind.)
Question: Energy policy has probably been the single greatest policy failure over the last decade and that's probably why no one has built anything, because they don't know if things will change if [there's a] change in government. You today are picking winners in the emerging technology space. As you said, you're going to throw a ton of money behind the chosen technologies to the private sector to do the same. Why would someone look at that and with a change of government and work against that? Would you work constructively with the ALP in a proper bipartisan basis to ensure that some, if not all, would survive a change of government? If not we'll be back to where we are now.
Angus Taylor:



There's a couple of parts to your question. The first is, you made the statement that people haven't built anything. Well, they have. They spent $9bn on energy generation in 2019 and we're on track to a similar $9bn in energy generation this year. That's 6.3 gigawatts a year in a grid of about 50 gigawatts. That's not growing in demand. That's an extraordinary investment.

It's completely unprecedented. Now, the challenge with it, and I've made this point in the speech, is it's got to be balanced. So the private sector invests.

We have to make sure that we have the right balance and the right technologies coming through, and of course, I made the point about hydrogen investment, and there's other areas with very significant investment that we've seen in there. Carbon capture and storage.

We've got the biggest carbon capture and storage project in the world in Australia. So the investment is happening. We have to make sure that it is balanced. We have to make sure that the signals are strong about that balance, and we're sending very, very strong signals. As you said, with $18bn, that's a strong signal to the private sector.

Your point about picking winners: the nature of R and D portfolios is that you have to place bets. We're placing a bet on a portfolio here. And that's what companies do. That's what nations do. That's what universities do. That is how R and D investment works.

It has to evolve, but as you said, it should evolve in a gradual way, in a very well-informed and well thought through way, which is why we're locking in this advisory panel.

The private sector can have confidence, whilst we're in government, we will always maintain that principle of continuing to focus on those priority technologies that are going to bring down emissions.

In terms of bipartisanship, we've laid our plan out here very, very carefully. I don't know what Labor's plans are. I don't know what their target is for 2030. I don't know how they're going to achieve that target that they don't have.

They're questions for them. Do we want to work with them to get this agenda implemented? Absolutely. And I think that there's much in this for all of us to agree on. So we would very much like Labor to engage with us to deliver this agenda, and there will be opportunities through legislative changes which we've outlined here today for Labor to work with us to do exactly that.
I'll let Murph clear that one up:
Question: We have no clarity on 2030. Could we get clarity on definitions. I can't find in the road map any definition of low or green or clean technologies,
… What is it, the amount of abatement that the technologies drive? And leading from that question, how were the five priorities determined? Down the list, you've got technologies like generation enablers that drive renewables into the power grid. Energy efficiency which is a proven, cheap; abateful of fugitive methane emissions which, given the profile of Australia's emissions, would seem a pressing priority right now. How did you determine the top five?
Angus Taylor:



Because they are the technologies that can move the dial in a significant way in reducing the emissions, helping to achieve the 2030 target and helping us to achieve reductions beyond 2030.

Each one of them backs in technologies that play a significant role in the economy, whether it's agriculture, whether it's electricity, whether it's manufacturing. If you look at aluminium – I don't need to tell many in this audience, aluminium is one of our highest-emission industries.

If we are to have an aluminium industry that succeeds into the future, we need to work out how to bring emissions down. So we've targeted those areas where we can really move the dial, but there are also those areas where Australia has natural advantage. Now we'll deploy other technologies.

You know, EVs are going to grow in Australia in the coming years and … we've announced last week investment in over $70m in infrastructure support to enable that technology into Australia in a significant way – particularly for fleets, we'll receive the first big opportunity. So there's many other technologies that will play a role in this, but what we've done is pick the ones that can move the dial, where we have advantage, where we can build industries, where we can create jobs and drive investment – and we can, importantly.

And this is a crucial point: where we can support a global outcome of emissions reduction while strengthening prosperity. And this is the great challenge that the world has to overcome.

It's not just an emissions reduction challenge. It's an emissions reduction challenge that's consistent with enabling countries, particularly in the developing world, to grow their prosperity and decarbonising, finding ways to reduce emissions in industries like agriculture, aluminium and steel, is absolutely crucial to achieving that.
Q: That's the five, but what's the definition of green?
Taylor:



The definition: what will bring down, what will move the dial in bringing down our emissions.
Q: So there isn't a specific definition in terms of emissions intensity?
Taylor:



That's pretty specific. Bringing down emissions is the goal here. And this is the point: questions are goal-orientated. We want to do stuff that works, do stuff where we can make a difference and bring emissions down, that's the goal. That's how the technologies were chosen.
Question: Is that, in short, "trust us we are the government"?
Angus Taylor:



No, trust us we're doing it. The whole point about what I'm talking about here is, we have a track record. We're doing it, it's building on our strengths and achievements. If you look at hydrogen, we're already doing it.

If you look at each of these technology areas, I can tell a story about Australia's achievements to date, and why continuing to push down that path is a great prospect for this country. Not just for domestic emissions reduction, but for jobs, for growth, for export and for developing world-leading technologies. And we've picked those priority technologies on that basis.
Question: I'm wondering about telling investors. Now, we've got both Germany and France investing huge amounts of money on hydrogen as part of their COVID recovery programs. 100 billion euros in France's case and 9 billion euros in Germany.
The problem, it strikes me, in a capital constrained world, we're going to be competing for that private sector money with countries like Germany and France and others. And to do that, we're going to have to be really competitive and people have to be very confident about the outlook. And investors say that they need that emissions reduction target to know what the plan is. It's fine to have these priorities but they need to know what the plan is. So how do you reassure investors and drag that capital in, particularly when they're investing so much more than Australia?
Angus Taylor:



Well, let's be clear here.

We have an emissions reduction target for 2030. It's a 26% reduction on the baseline of 2005 levels, and we'll meet and beat that. And we've done it before. We have form. We have the track record and we'll do it again.

But what we've also done here is made very clear where our technology priorities are and we're putting money where our mouth is. $18 billion of investment. You know, you take hydrogen, which you mentioned.

We've already committed over $500 million. We committed another $70 million last week for a new hydrogen export hub. I'm sure that that won't be the end of the investments.

And that is a very significant amount for Australia. But if you look at Australia, as a smaller country than Germany or France, we have to focus on where we have an advantage.

If I look at hydrogen, we are extraordinarily well positioned. Why? Because we're one of the biggest energy exporters in the world. We're the biggest LNG exporter in the world. We opened up the markets into Korea, Japan, China. It was Australia who did it. We led the way. And we're the biggest in the world as a result. We can do exactly the same with hydrogen. And we're saying to investors – we're putting our money where our mouth is and we're going hard.

Now, we're already seeing the results. If you take the La Trobe supply chain project where we're working through how best to transport hydrogen up into Asia, and north Asian countries want access to hydrogen. We've invested $50 million. The total investment in that is times ten. It's over $500 million. $500 million. Now, if we can get times ten – I can tell you, $18 billion become as very, very big number.

We're not planning on times ten on every project, but we will see projects like that. And hydrogen is one of those areas where we're signalling very strongly to the private sector – come with us, invest and we see the opportunity. I'm very confident. Others see the opportunity. We've had a phenomenal response to that which is running on R and D investment in hydrogen. And these other areas of technology that I've described, I am very confident that the private sector will follow the very strong signals we're sending.
OK, we get to the questions for Angus Taylor:
Question: You've outlined a plan that will basically guide $18bn in taxpayer money pouring into energy. It's a huge amount of money. But it's not clear to me what the benchmark is for success.
There's no net-zero target by 2050, so taxpayers are being asked to accept $18bn in outlay without a benchmark that they can use to tell whether you succeed at your job or not. Now, globally, you have a 2030 target. You say you're reaching it in a canter. But globally, talks are moving ahead of that. We're going to see at the United Nations summits in the future, talk about 2035, talk about 2040.
Now, if, as you say, you're getting to 2030 in a canter, and if, as you say, you have the good plan to spend $18bn, isn't it now time for you to say what your 2035 or 2040 target is, and to actually come clean with the Australian voters now about the fact that you'll have one and how ambitious you can be with it?
Taylor:



Well, we're very clear with the Australian voters. And you know, I'd highlight the fact that the Opposition isn't.

We have a very clear 2030 target.

If we look at the Paris agreement, the naturally determined contributions are the 2030 target. In a few years' time, they will extend out to 2035 – that's how the Paris agreement works.

And we're unambiguous in seeking to not just meet that but to beat it. Just as we've met and beaten our 2020 target, despite much scepticism about whether we would. To put this in perspective – in 2013, when Labor was still in government, they made a forecast for emissions in 2020 that was 100 million tonnes higher than what we'll achieve – almost 20% higher than what we'll achieve, and that was with a carbon tax.

What we've achieved in the last 20 years, we'll do again. We'll meet and beat the target and create a platform for emissions targets well beyond 2030. The goals are clear.

We have to bring those technologies that can really move the dial into parity with the high-emitting alternatives. That way, it's just straight economics. We will ensure that we have a strong economy, strong job growth, strong there.
Q: When will you then have a 2035 target?
Taylor:



As it's required by the Paris agreement – in a couple of years' time, we will have to extend.
Q: Why not before the next election?
Taylor:



It keeps extending out every few years and that's the way that it will continue on. But the crucial point here is that you've got to focus on the stuff you can do today that works, that we can do now, to set yourself up for that emissions reduction trajectory – not just through to 2030, which we'll meet and beat, but beyond.

And that's exactly what we're describing today.
Q: Why not before the next election? Why won't you tell the voters what the 2035 target is?
Taylor:



We'll keep telling voters about what we're doing and how well we're doing many times between now and the next election. As you say, I note that the opposition doesn't have a 2030 target. That is the primary target of the Paris agreement.

Let's be clear: that is what we have to focus on. We have to meet and beat that and we have to set ourselves up. Not just in Australia. The Paris agreement is about global outcomes. And we have to set ourselves up to achieve those global outcomes. Not just through to 2030 but beyond. And technology is the key.
We have had "partisanise" from Scott Morrison, now we have "enablement" from Angus Taylor:



Last week, you saw our R and D investment framework in action with $1.9bn including baseline funding.

The technology investment fund that will support green steel, green aluminium and carbon. The future fuels fund that supports EVs, high general in a technology-future approach to transport.

Our first hydrogen export hub. Investment to scale carbon capture and storage and investment in energy efficiency and outcomes.

Our second, alongside investment, we have a legislative lever that is about flexibility and accountability.

We've already announced legislative reforms to the mandates of Arena and CFC.

These reforms will give their boards the flexibility to respond to our technology priorities.

We don't currently have that.

Our agencies are restricted by legislation and regulation to invest in the new technologies of 2010, not the emerging technologies of 2020.

These reforms will enable them to support the technologies that reduce emissions across all sectors of our economy. On an annual basis, we'll review legislation that's a barrier to achieving our stretch goals. We'll table the low-emissions technology statement in parliament each year. Future statements will highlight the impact it is having, the progress against stretch goals and offer a frank assessment of legislative and regulatory barriers.

Our third: we have a regulatory lever that's about enablement. We'll provide just over $40m to the clean energy regulator to take responsibility for developing and streamlining emissions reductions fund methods. The regulator already has a target of halving the time it takes to develop new methods and will work closely with industry in doing so. We won't mandate the deployment of technologies.

We've seen the unintended consequences of mandated volume targets for specific technologies and we won't repeat that. But our regulatory changes will be focused on removing barriers to deployment of these priority technologies. And the final leaver is international engagement and collaboration.
And here is why he thinks Australia is doing so well (which it is, if you consider all the accounting tricks Australia is deploying to get to its figures).
Angus Taylor:



To that end, we have four core principles behind our work.

The first: a relentless focus on it.

The second: the deployment on activity, not taxes.

Third: respect for consumer choice.

And fourth: a goal to maintain a balance of fuel and technology sources.

We need more horses in the race, not less.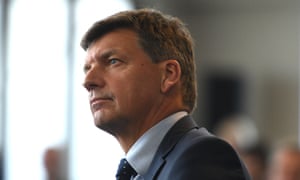 Angus Taylor has laid out the government's main point when it comes to its energy policy:



In emissions reduction, it's the race for cost-effective, low and negative cost reductions to strengthen our economy, not weaken it.

That's why the government has undertaken to develop, fund and drive a low-emissions technology road map.

History has also shown us that you don't tax your way out of a challenge like this. Let's be clear: there are only two ways to suppress emissions. Either through some form of taxation, or you improve the activities.

There is no third way. Australia can't and shouldn't damage its economy to reduce emissions.

We forget that when developing countries … were asked to sacrifice for the environment, they've typically prioritised prosperity.

That was the lesson of Copenhagen. We can't ask them to make the trade-off.

We should also remember the global emissions reduction is the ultimate goal here, with the Paris agreement seeking to achieve net zero in this century for the globe, or preferably sooner.

Now, the only pathway to global emissions reduction while strengthening prosperity is through developing low-emissions technologies at lower cost than higher-emitting alternatives.
Angus Taylor has started his address to the press club.
Murph is there, so we will bring you regular reports.
Melbourne's weather has now impacted testing sites.
From Victoria Health:
Two outer eastern suburbs coronavirus testing sites have been closed today due to high winds.
The drive-through sites at Casey Fields and Pakenham recreation reserve are open marquees, with potential hazards due to wind dislodging the structures and the problems of staff trying to take down written details in the open.
There are alternative sites nearby for people seeking a test.
The walk-through site at Clyde recreation reserve football pavilion in Pattersons Rd, Clyde, is open daily from 9am to 4pm.
A walk-through site at 7 Gibb St, Berwick, is open from 9.30am to 4pm, and a drive-through site at 20 Woods St, Beaconsfield, is open from 8am to 5pm.
Further details on other available coronavirus (Covid-19) testing site locations can be found on the testing site map at www.dhhs.vic.gov.au/where-get-tested-covid-19
The Victorian hotel quarantine inquiry has been hearing today from the secretary of the Department of Jobs, Precincts and Regions, Simon Phemister. It was his department that was tasked with recruiting security firms for the hotel quarantine inquiry.
Phemister told the inquiry it was not until after the 4.30pm state control centre meeting on 27 March that his department began recruiting security firms. And although the department bears operational responsibility for the use of security guards, Phemister said it was not his decision to use security guards for hotels.
Phemister's submission to the inquiry states:



DJPR went into the first SCC meeting not knowing whether, and to what extent, private security would be required at hotels, and emerged with a direction: to engage private security to act as frontline security at quarantine hotels.
Phemister, as with every other witness before the inquiry so far, said he was unaware of who made the decision. Victoria police has denied that former chief commissioner Graham Ashton's preference for security expressed in the SCC meeting led to the decision.
A late-night WhatsApp group chat between Victorian government officials on the day hotel quarantine was announced revealed concern about recruiting security firms to guard returned travellers.
The Covid committee is hearing some very depressing news on how this pandemic has impacted women:
Read the original article at The Guardian