Coronavirus Australia live update: Victoria reports 35 new cases and NSW four as Paul Keating appears at aged care royal commission
Former prime minister Paul Keating has told the aged care royal commission that while he used to believe a "longevity levy" was needed in addition to superannuation to fund aged care, his thinking had recently changed.
He said there were issues with people's ability to contribute to the scheme, around whether employers should contribute, how it would be levied and what proportion might be returned to the commonwealth. He added it would not be supported politically, with "moans" from small business organisations "and the violin-playing by members of the Liberal party backbench".
Keating said he now supported a "post-paid" funding model where the commonwealth would provide people with aged care loans similar to university student loans, which are paid back once students are employed, and compulsorily repaid as a proportion of their income.
If students don't gain employment, they don't repay the loan, and those in lower-paid work repay less. These commonwealth aged care loans would be paid back in a similar way through people's assets after their deaths, including through the sale of property and shares and through any unused superannuation, Keating said.



They way you're also not asking members of families to chip in and pay for their relatives in their accommodation or their care.
Asked if this would only encourage people to divest themselves of their assets, Keating said policy measures would need to be introduced to protect against it.
"It's called policy dexterity," Keating said, adding that "there's none around" in current thinking towards aged care.
He told the commission that it was not fair to expect younger Australians to fund aged care through their taxes, given the rapidly increasing aged population.



The number of people left in the tax system to support all this is falling. Is it unreasonable that elderly people rely on assets and accumulations to meet the cost, or should it be put to people in tax system to bear the burden of it?
Keating added that while this system meant some people might miss out on a large inheritance, it was not fair to expect hard-working men and women to support other people, including the wealthy, through their taxes.
Making people pay for their care after their deaths through their assets would "demonstrate to working people that they are part of it", Keating said.



If we want a more cohesive society, the benefits of market capitalism should be extended to working men and women.
The federal government has indicated it will not delay plans to reduce jobseeker and jobkeeper payments, the Victorian premier says.
Asked on Monday whether he expected further support from the commonwealth, Daniel Andrews said the federal government had "made a decision there won't be a change to the jobseeker or jobkeeper arrangements".



That's entirely a matter for them.
In recent days, Andrews had declined to publicly call for the cuts to income support to be delayed, though he consistently hinted he was lobbying the prime minister directly.
On 25 September, the $550-a-fortnight coronavirus supplement – paid to jobseekers, students and people on parenting payments – will be reduced by $300. It means a jobseeker's base rate of income support will fall to $815 a fortnight.
Guardian Australia has estimated there are more than 420,000 people living in locked-down areas of Melbourne who receive the supplement.
The jobkeeper wage subsidy will also be reduced in late September. It will fall from $1,500 to $1,200 for full-time workers and $750 for part-time workers. Those receiving the lower rate will also be eligible for a reduced jobseeker payment.
Under the state government's Covid roadmap, many industries will remain shut until at the end of October.
Former prime minister Paul Keating has been asked by counsel assisting the aged care royal commission Peter Gray QC about the thinking around aged care when he first entered government.
Keating said that when he served as treasurer in the Hawke government from 1983, it was brought to his attention that many people were in aged care simply because they had nowhere else to go.
There was no system of geriatric assessment at the time, Keating said.



So we first established a system where every single person would be assessed.
Keating, an architect of Australia's compulsory superannuation system, said he also realised back when he introduced the scheme some 30 years ago that his generation "had a social standard of living that would not be replicated at $24,000 a year" and he knew there would be pressure from many of them for "a much bigger pension".
The aged pension alone just wouldn't allow people to live a quality life at home in their old age, Keating told the commission.



Superannuation is the grease that lubricates the wheels of people's lives later on, where no such lubrication would exist simply by reliance on the age pension.

Superannuation intended to take some of the pressure off public financing of aged care. Anybody that has an accumulation is in just a much better position to support themselves and do the little things that make life worth living. Particularly if they are living at home, you know, so the aim of the policy was to help people [stay] at home, to help them be more independent.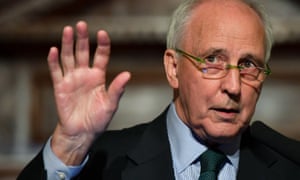 Read the original article at The Guardian