Coronavirus Australia update: Victoria reports 11 new cases and NSW 10 as Peta Credlin questions Daniel Andrews – live
Prof Jodie McVernon, the director of epidemiology at the Doherty Institute, is speaking on the ABC. She's says there is "probably less than a 50% chance" of Melbourne reaching a rolling 14-day average of five daily cases or fewer of Covid-19 by the goal of 19 October. That was the target the state's premier, Daniel Andrews, set to reduce restrictions.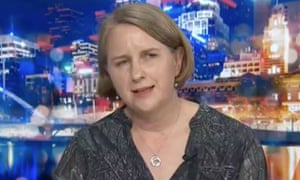 But McVernon says that shouldn't be viewed as a failure, and suggests that even if that target isn't met the government should consider loosening the reins. She wants the Victorian government to consider "whether that hard number should be the right thing to focus on".



We have seen flexibility in interpretation of targets and we have seen daily more and more discussion of what the numbers mean and where they come from and what the mystery cases are. That is dialogue that we are seeking, I guess, to invite with the powers that be over the coming week-and-a-half to see how those will be flexibly interpreted and I guess to just try and pull attention away from a single number that has become such an overarching force in our lives.
Some of you may have been following the Liberal party MP Craig Kelly's constant and vociferous demands for the government to use the anti-malarial drug hydroxychloroquine to treat Covid-19 during the pandemic.
I've previously written about Kelly's support for the drug, which health bodies such as the CDC in the US and TGA in Australia say is absolutely not recommended to treat the virus.
I thought it was worth pointing out that when Donald Trump announced he had the virus last week, Kelly was very confident the drug would be part of his treatment.
After all, Trump was one of its earliest supporters. Back in May, the White House confirmed he was taking the drug. He has since stopped, but Kelly was sure that when Trump was diagnosed with Covid-19 he'd resume taking the drug.
Here's what he wrote on Facebook on 2 October:



Reports state that President Trump ceased taking HCQ as a prophylaxis back in May. But you can bet your last dollar, that having tested positive he's already started on a course of HCQ + Zinc + AZ. And like almost everyone that has taken this protocol – he'll be fine."
And, in a separate post on the same day:



"CALLING Dr ZELENKO, CALLING Dr ZELENKO – PLEASE REPORT TO THE WHITE HOUSE IMMEDIATELY HCQ + Zinc + AZ as per the Zelenko protocol and POTUS will be fine."
(Vladimir Zelenko is a New York doctor who made headlines back in April for his use of the drug to treat the virus.)
But, since then, things have quietened down a little. Trump, as we know, has instead been touting a monoclonal antibody cocktail developed by Regeneron as a potential "cure" for the virus.
It hasn't stopped Kelly promoting HCQ, of course, but the only mention of Trump's treatment on his (very popular) Facebook page since those 2 October posts was this two days later:



It will be interesting to find why President Trump's doctors put him straight on Remdesivir. I've spoken with doctors here in Australia, and they have some theories, and time will tell."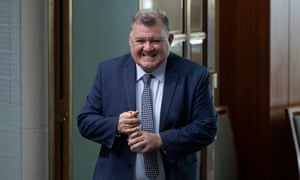 Authorities in Western Australia are investigating a possible shark attack at Kelp Beds Beach near Esperance in the state's south east.
The WA Department of Primary Industries and Regional Development says it received "a report of a possible shark bite incident" just before 11am this morning. Per the ABC, police say a surfboard was found floating in the water, but the surfer had not been located.
An ABC journalist at the scene has reported seeing surf lifesaving jet skis in the water.
We've got a reporter on it and I will bring you more as I have it.
Good afternoon all. TGIF, am I right? Yes, I am right. It is Friday. Thanks as always to Amy Remeikis for her coverage this week.
I am going to hand the blog over now to Michael McGowan, who will guide you through the rest of the afternoon.
Thank you to everyone who has joined me again this week – budget week is always a doozy, but we all got through it. I'm taking next week off the blog, so I am fresh to blog estimates the week after. I'll still be at work, so if you have a question, feel free, as always, to drop me a line. It's just been about nine months or so of daily blogging and it's best for all of us if I take a little time off the daily merry-go-round to work out what else is happening in this building – as well as the Queensland election, which I know many of you are keenly following.
You'll be in excellent hands though – the blog, as always, goes on.
I hope you get a moment to yourself this weekend, and I hope there is some sunshine and time for small pleasures. And remember, as my oma used to always say (and Oprah, I think) no is a complete sentence. Feel free to deploy it.
Thank you again to everyone and I'll see you soon. Please – take care of you.
And a breakdown:
In Victoria at the current time:
4,277 cases may indicate community transmission – an increase of one since yesterday
195 cases are currently active in Victoria
17 cases of coronavirus are in hospital, including one in intensive care
19,192 people have recovered from the virus
A total of 2,811,114 test results have been received, which is an increase of 15,585 since yesterday.
Of the 195 current active cases in Victoria:
189 are in metropolitan Melbourne under the Second Step of our roadmap
Five are in regional local government areas under the Third Step of our roadmap. Mitchell shire has all four active cases.
One case remains under investigation.
Of the total cases:
18,858 cases are from metropolitan Melbourne, while 1198 are from regional Victoria
Total cases include 9661 men and 10,583 women
Total number of healthcare workers: 3559, active cases: 19
There are 45 active cases relating to aged care facilities
Victoria Health has put out its official update:
Anyone who visited Chadstone shopping centre between 23 September and 1 October should get tested – even if they have the mildest of symptoms. Testing is available at Chadstone car park drive through – Level 2 Chadstone Carpark, outside Coles and a walk-in clinic is open for staff only at Central Amenities on the Ground Level between M.J.Bale and Marimekko. Both sites are open from 12-8pm today and will be open this weekend from noon to 5pm.
Anyone who visited Oddfellows Café in Kilmore between 30 September and 3 October are classified as potential close contacts and should come forward for testing, even if you don't have any symptoms at all. Testing has been set up at The Kilmore and District Hospital from 9am – 5pm and Kilmore Soldiers Memorial Hall pop-up testing site from 10am – 5pm today. There are currently around 295 people isolating in Kilmore following cases linked to the Oddfellows Café.
Victoria has recorded 11 new cases of coronavirus since yesterday, with the total number of cases now at 20,257.
The overall total has increased by 10 due to one case being reclassified.
Six of today's new cases are linked to known outbreaks and complex cases. Two cases are linked to aged care (Uniting AgeWell Preston) and single cases are linked to the Frankston family outbreak, the Oddfellows Café in Kilmore and the Chadstone Shopping Centre outbreak. The one remaining case is linked to a complex case. The other five cases remain under investigation.
The new case today linked to the Oddfellows Café is a close contact of a known case and was already isolating.
Of today's 11 new cases, there are two cases in Wyndham and single cases in Bayside, Darebin, Frankston, Greater Dandenong, Hobsons Bay, Knox, Port Phillip and Mitchell Shire. There is one case still under investigation.
Following further testing, investigation and review, the positive case reported in Mildura yesterday has been rejected. This rejection will be reflected in tomorrow's numbers.
There has been an additional case in a staff member linked to an outbreak at Box Hill hospital, which now includes three staff members and one patient. All staff on the affected Covid ward are being tested and will isolate pending results. The source of acquisition is currently unconfirmed and all avenues of possible transmission are being investigated.
There have been no new deaths from Covid-19 reported since yesterday. To date, 809 people have died from coronavirus in Victoria.
The average number of cases diagnosed in the last 14 days (25 Sep 2020 – 08 Oct 2020) for metropolitan Melbourne is 9.4 and regional Victoria is 0.4. The rolling daily average case number is calculated by averaging out the number of new cases over the past 14 days.
The total number of cases from an unknown source in the last 14 days (23 Sep 2020 – 06 Oct 2020) is 12 for metropolitan Melbourne and zero from regional Victoria. The 14-day period for the source of acquisition data ends 48 hours earlier than the 14-day period used to calculate the new case average due to the time required to fully investigate a case and assign its mode of acquisition.
Rex Patrick wants a re-think about whether or not Australia goes to the Beijing Winter Olympics – and he wants the government to make that decision:
And the response to the "you're welcome".
(There seems to be a lot of people watching Moana and I'm not mad about that).
To be fair, some of the questions, at least in the short term, need to change on our side of things too. "How will you pay for it' might once have been valid, but in a pandemic, with an economic impact we haven't seen in our lifetimes, thinking has to change.
The question is not how will you pay for it, in my opinion.
It's what benefit will this bring? Who benefits from this? What does this spending lead to?
We need to all make a shift – governments borrowing money to spend productively on society is not a bad thing – no matter what colour the government's flags. We saw it with Chifley after the second world war. We saw it with Menzies in the 60s.
Australia's budget will be in deficit for at least a decade. Let's start asking about the flow-on effects of that borrowing, rather than just where will the money come from.
The government is pleased to be able to chalk up this (easy, given Labor supported it) win:
Read the original article at The Guardian