Coronavirus live news: 20 cases linked to Trump rally; hope in Victoria after just one new case recorded
And for all the results, follow this liveblog here. We could know the result within two hours.
Here is the Australian government minister Alan Tudge doubling down on his earlier statements that Victoria was aware that New Zealanders could fly into the state from NSW.
He said this morning:



The concept that people may be arriving into NSW and then potentially going on to other destinations was explicitly raised in the meeting [of the AHPPC]. And no official from any jurisdiction raised any concerns.

There was an understanding that when Kiwis … once they arrived in Sydney they would be treated like every other person in NSW and be able to travel into any other jurisdictions that their visa enables them to travel into, including Victoria.
He's just tweeted that Victoria's chief medical officer, Prof Brett Sutton, was in the meeting and "did not raise any concerns".
Three new coronavirus cases have been recorded in South Australia – all are travellers from overseas.
A man and woman in their 30s and and a woman in her 50s returned positive test results while in hotel quarantine.
"They have been in a medi-hotel since their arrival and there is no public health risk," the SA health department said on Saturday.
One of the cases is an old infection and not active, the department said.
There are six active cases in the state in total.
Thailand has recorded its first two locally transmitted cases of Covid-19 in more than a month, Reuters reports.
The country's Covid-19 administration centre said in its daily report that the cases were among two Myanmar nationals living near the border with Myanmar, where infections have been surging recently.
The two were tested on 13 October, they showed no symptoms but results were positive, the centre said in the statement. The last known local case was in early September.
And for those of you settling in to follow the New Zealand election – we have fired up our liveblog to follow today's result. Polls close in about 45 minutes.
Emergency services – including helicopters carrying water – have been dispatched to a bushfire that has broken out on Sydney's north shore.
A fire at the North Head national park in Manly broke out this afternoon after a hazard reduction burn jumped containment lines.
A spokesman for NSW Fire and Rescue told Guardian Australia they were on site, along with the Rural Fire Service and NSW Parks.
"We have enough resources on site to escort the fire around a couple of assets," he said. "There have been 60 and 70 evacuations."
The RFS said homes in the area were not being threatened.
What a great time for Australia to be searching for its top medical officer.
Reuters reports that China has recorded 13 new coronavirus cases in the mainland, compared with 24 cases a day earlier.
All of the new infections were imported, according to a statement by the National Health Commission. China reported 11 new asymptomatic patients, compared with 10 a day earlier.
As of Friday, mainland China had 85,659 confirmed coronavirus cases, the health authority said. The Covid-19 death toll stands at 4,634.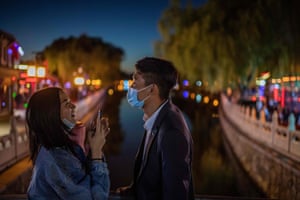 AAP have just published a summary of the latest data out of Victoria, the worst hit Australian state.
In the past 24 hours, the state has recorded:
No deaths, leaving the state toll at 816 and the national figure 904.
One new case, linked to a known outbreak.
14-day rolling case average is 8.1 for Melbourne and 0.5 for regional Victoria.
17 mystery cases in Melbourne for the fortnight to Wednesday and none for regional Victoria.
157 active cases in the state, including seven in regional Victoria – four in Mitchell shire and three in greater Shepparton. The remaining 150 are in metropolitan Melbourne.
13 people in hospital, none in ICU.
11 active cases involving healthcare workers.
13 active cases linked to aged care.
2,925,810 tests have been conducted since the pandemic outbreak and 18,934 in the latest 24-hour period.
53 new fines issued, including 13 for failing to wear a face mask and six at vehicle checkpoints.
The current restrictions in force in Victoria are:
Two-hour exercise limit within five kilometres of work or home.
Face masks must cover the mouth and nose every time Victorians leave home – scarves and bandanas are unacceptable.
A household, or maximum of five people from no more than two households, can gather outside.
Religious activities of up to five people, plus one faith leader for outdoor gatherings and ceremonies, are permitted.
The next easing of Melbourne restrictions is due on Monday.
We've just got a little more detail about the situation in Victoria, Australia, after the good news this morning that it has only recorded a single new case. The Department of Health and Human Services says:



Today's new case is linked to a new Hoppers Crossing community outbreak that comprises three cases across two households. This outbreak includes what was originally referred to as a complex case linked to Woolworths QV. The new case is a known family close contact of that case. There is no evidence of workplace transmission.
Authorities are still working to contain an outbreak of coronavirus in Shepparton. There are three cases in Shepparton, which is no change from yesterday. Testing capacity has increased in Shepparton, with 693 tests taken yesterday in Shepparton.
In the US, Republican senator David Perdue has appeared to mock Kamala Harris's name at a Donald Trump rally, where he repeatedly mispronounced the vice presidential nominee's name.
Perdue, spoke before Trump in the central Georgia city of Macon on Friday evening, Reuters report.
Video of his speech shows Perdue repeatedly making exaggerated attempts to pronounce the name before saying, "I don't know, whatever". The crowd responded with laughter.
His Democratic opponent in Georgia, Jon Ossoff, tweeted that Perdue would not have mocked a fellow senator who was male or white.
John Burke, a spokesman for Perdue's campaign, tweeted that the senator "simply mispronounced Senator Harris' name, and he didn't mean anything by it".
Read the original article at The Guardian