Coronavirus live news: cases rising in 22 US states as France declares more Covid-19 'red zones'
Hi, Helen Sullivan here. Seen any news that we've missed? Want to shower us with praise? Get in touch on Twitter @helenrsullivan.
Mexico's health ministry on Sunday reported 4,614 new confirmed cases of coronavirus infection and 232 additional fatalities, bringing its totals to 634,023 cases and 67,558 deaths, Reuters reports.
The government has said the real number of infected people is likely to be significantly higher than the confirmed cases.
More on the latest from New Zealand, with Charlotte Graham-McLay:
Health officials in New Zealand reported two new cases of Covid-19 spread in the community on Monday – both linked to an existing outbreak in the largest city, Auckland.
There were also two further new cases of the virus diagnosed in the quarantine facilities for travellers returning to New Zealand.
The number of current cases of the coronavirus in New Zealand hit zero in June but there has since been a resurgence in Auckland, the origin of which is still unknown. It has led to a second lockdown for the city, which is now easing.
There are now 118 active cases of Covid-19 in New Zealand, officials said; 41 are cases diagnosed in returning travellers, all of whom were already in quarantine, and 77 are in the community.
23 people have died of the virus in New Zealand – the most recent last week. Four people are in hospital, one of them in intensive care. There have been 1,425 diagnosed cases of Covid-19 since it arrived on the country's shores.
Coronavirus cases have been confirmed at three schools in the area around Middlesbrough in the UK, PA Media reports.
Redcar and Cleveland Borough Council said on Sunday that a positive case had been recorded at St Benedict's RC Primary School.
However, the local authority said the school, in Redcar, will remain open and that parents had been provided with advice.
St Aidan's CE Primary School, in Hartlepool, said in a Facebook post to parents that it also had a confirmed Covid-19 case.
And Outwood Academy Ormesby, Middlesbrough, said in a short statement that a confirmed case had been found "within the school community".
It comes as pupils began returning to schools in England last week for the first time since lockdown in March.
In a statement to parents on Sunday, St Aidan's CE Primary School's headteacher, Lynn Chambers, said the "individual" who tested positive was sent home after they showed symptoms.
Pamela Duncan and Ashley Kirk report:
More than 100 NHS trusts in England could be at or above full capacity this winter if they faced a second wave of coronavirus admissions on top of the usual seasonal workload, with figures suggesting that dozens would have 10% fewer beds than needed.
The Guardian compared each trust's 2019/20 winter capacity against the number of beds they needed for Covid-19 patients in April, when an average of 16,000 beds were required for coronavirus patients per day, and May, by which time lockdown and physical distancing had reduced the number requiring hospitalisation:
Charlotte Graham-McLay reports for the Guardian:
Tougher testing rules for workers at New Zealand's borders came into force on Monday, with fines of up to $1,000 NZ (£500) for those who refuse a test without a good reason.
Staff at the country's air and maritime borders will be tested every one or two weeks, depending on their jobs. The new rules took effect at midnight.
The government had ordered regular testing for all border staff in June, but in August it emerged that more than half of them had never been tested for the coronavirus.
New Zealand's borders are the country's main line of defence against Covid-19.
The virus is otherwise largely controlled in the island nation, with community transmission evident only in the largest city, Auckland.
Patients hospitalised with Covid-19 still have lung damage, breathlessness and coughs weeks after being discharged, researchers have found.
The long and lingering effects of coronavirus on physical health is a growing topic of concern; even those who have experienced "mild" Covid, have reported symptoms that continue for many weeks or even months after the initial infection has passed.
Now researchers in Austria have released the preliminary results of a study tracking the recovery of patients who were hospitalised with severe coronavirus infection.
The results reveal that six weeks after leaving hospital, 88% of patients still showed signs of lung damage in CT scans – such as patches resembling ground glass – while 47% of patients were experiencing breathlessness. At 12 weeks, these figures were 56% and 39% respectively.
"Covid-19 survivors have persisting lung impairment weeks after recovery," said Dr Sabine Sahanic of the University Clinic in Innsbruck who is part of the team behind the work:
French authorities have placed seven more departments covering major cities such as Lille, Strasbourg and Dijon on high alert as increases in Covid-19 infections accelerate, the government said Sunday.
Of France's 101 mainland and overseas departments, 28 are now considered "red zones" where authorities will be able to impose exceptional measures to slow the number of new coronavirus cases.
The move comes as France reported a record of nearly 9,000 daily cases on Friday, and a further 8,550 cases in the past 24 hours on Saturday, when the nationwide test positivity rate increased to 4.7 percent.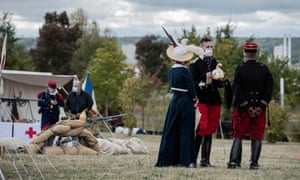 More on the US case rise: on a percentage basis, South Dakota had the biggest increase over the past two weeks at 126%, reporting over 3,700 new cases. Health officials have linked some of the rise to hundreds of thousands of motorcyclists who descended on Sturgis, South Dakota, for an annual rally in August, Reuters reports.
Cases are also rising rapidly in Iowa, with 13,600 new infections in the past two weeks, and North Dakota, with 3,600 new cases in the same period.
The increases are masked nationwide by decreasing new infections in the most populous states of California, Florida and Texas.
In California, cases fell by 39,000 over the past two weeks compared with the prior two weeks, compared to a 37,000-case increase in the 22 states in the same period, according to a Reuters analysis of state and county data.
Coronavirus cases are rising in 22 of the 50 US states, according to a Reuters analysis, a worrisome trend on a Labor Day holiday weekend traditionally filled with family gatherings and parties to mark the end of summer.
As little as three weeks ago, cases were increasing in only three states, Hawaii, Illinois and South Dakota, according to an analysis comparing cases for the two-week period of 8-22 August with the past two weeks.
Most of the 22 states where cases are now rising are in the less-populated parts of the Midwest and South.
While cases nationally have dropped from a peak in July, the United States is going into the Labor Day holiday weekend with an average of 44,000 new cases a day – double the number ahead of the 23-25 May Memorial Day weekend.
Many health experts partly blame the July spike on social gatherings held around Memorial Day.
Hello and welcome to today's live coverage of the coronavirus pandemic.
My name is Helen Sullivan and I'll be bringing you the latest for the next few hours. Find me on Twitter @helenrsullivan or via email: helen.sullivan@theguardian.com.
French authorities have placed seven more departments covering major cities such as Lille, Strasbourg and Dijon on high alert as increases in Covid-19 infections accelerate, the government said Sunday.
Meanwhile Coronavirus cases are rising in 22 of the 50 US states, according to a Reuters analysis. The trend is concerning on a Labor Day holiday weekend, traditionally filled with family gatherings and parties to mark the end of summer.
Coronavirus cases are rising in 22 of the 50 US states, a Reuters analysis has found. Three weeks ago, cases were only rising in three states – Hawaii, Illinois and South Dakota.
Turkey recorded 1,578 new coronavirus cases on Sunday, the health ministry said, bringing the country's total to 279,806. A further 53 people died in the past 24 hours, taking the country's official death toll to 6,673.
Nearly half of Greeks (44%) would refuse to be vaccinated against the coronavirus, according to a poll of 1,000 respondents published on Sunday. Meanwhile, a survey of the same number of Brazilians found 5% would definitely snub a vaccine, while a further 20% expressed reluctance.
Nearly 3,000 more people in the UK tested have positive for Covid-19, with 2,988 new cases reported on Sunday – a sharp increase from 1,813, and the highest number of new cases since 23 May. However, fatalities remain low, with two new deaths within 28 days of a positive test reported in the last 24 hours.
Hundreds asked to self-isolate after outbreak at UK charity football match. Up to 300 people who attended a charity football match at a working men's club on the border of Sunderland and Durham have been asked to self-isolate after 28 tested positive for Covid-19.
Israel is set to lock down several cities after passing the milestone of 1,000 coronavirus deaths this weekend. The government will hold a vote on the renewed lockdowns tomorrow.
The Isle of Man has recorded its first confirmed Covid-19 case since May, the chief minister has said. The person had returned to the island a week ago on a flight in which all passengers wore masks, and has been self-isolating at home for seven days. The chief minister stressed there is "no need for concern" as the case has been contained.
The Australian government has announced Covid vaccine deals to provide 84.8m doses. The country will buy 84.8m vaccine doses for $1.7bn if two promising Covid-19 vaccine candidates prove successful.
Read the original article at The Guardian