Police in The Hague detained 37 protesters who ignored a court ban and held a demonstration against social distancing rules on Sunday, they said.
Around 200 protesters took part in Sunday's demonstration, far fewer than a week ago when several thousand attended a similar protest. Organisers had called on people to stay home this week in view of Friday's court ruling that the protest violated restrictions on public gatherings.
The protesters say a policy of requiring people to stand 1.5 metres (about four feet) apart is undemocratic and should be lifted.
The Netherlands has recorded more than 50,000 Covid-19 infections and more than 6,000 deaths since mid-March. Restrictions are being lifted after a steep decline in new cases and deaths in recent weeks.
French voters went to the polls in face masks on Sunday in the last round of municipal elections, with analysts predicting a shift away from president Emmanuel Macron's party on the local level.
Amid persistent fears of coronavirus contagion, just over 15 % of voters had turned out by midday – fewer even than four hours into the first election round on 15 March marked by a record 55 % abstention rate.
Polls opened for 12 hours for some 16.5 million eligible voters at 8:00 am in nearly 5,000 cities and towns, about 15% of the country's municipal councils, where the first election round did not yield a decisive outcome.
Power remains up for grabs in the key cities of Paris, Lyon, Toulouse, and Strasbourg.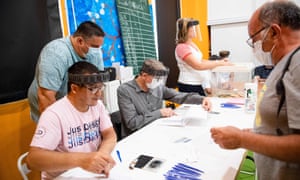 The opening round was held just as the Covid-19 pandemic was gaining deadly momentum, but the second phase, scheduled for 22 March, was put off after France went into lockdown.
A new date was set after the government's scientific council said it was possible to hold another round safely, but voters are required to wear face masks and were urged to bring their own pens.
Many voters and election officials sported germ-blocking plastic visors, and plexiglass screens were erected between them at several polling stations, which also provided sanitising hand gel.
Meanwhile, in UK football news:
Andre Gray is one of three players to be left out of the Watford squad for the team's vital match against Southampton on Sunday after the striker reportedly hosted a party in contravention of government lockdown rules. Domingos Quina and Nathaniel Chalobah were the other two players reported to be in attendance.
A news item on Watford's official website says that all three "have all been omitted from the squad by Nigel Pearson to ensure the health and safety of all players, staff and officials at today's game".
Read the full report here.
As UK mental health experts urge post-traumatic stress disorder screening for Covid-19 survivors, do read this report by my colleague Jessica Murray.



"You are so busy concentrating on trying to get your next breath, you're not even aware that you're in shock," the 59-year-old mother of two said. "It has a really profound effect on you if you're aware of your circumstances. I must have seen at least eight people die.

"And the fear in people's eyes is shocking. Everyone – consultants, nurses, anyone who was allowed in there – you could see how frightened they were."
Hello, I'm Clea Skopeliti and I'll be bringing you the latest for the next few hours.
You can reach me by Twitter DM or by email if you spot a story you think I've missed, or have a suggestion for coverage. I won't always be able to reply, but will read all your messages. Thanks in advance.
Virgin Atlantic seeks urgent rescue package worth up to £900m
Virgin Atlantic is attempting to secure a privately funded rescue deal worth up to £900m by the end of this week as it fights to survive after the slump in international travel during the coronavirus pandemic.
The airline is in talks with hedge funds about borrowing about £250m and is lining up more than £200m from shareholders including founder Sir Richard Branson and Delta Airlines, which owns 49% of the company.
My colleague Sarah Butler has the full report:
The number of coronavirus cases in Florida rose by 8,530 to 141,075 on Sunday, according to the state health department.
People living in the UK can see how Covid-19 has progressed in their local area using our interactive map:
Earlier today the home secretary, Priti Patel confirmed, Leicester could be the first place in England to face local lockdown amid a rise in coronavirus cases. Read more on that here:
Britain's death toll from confirmed cases of Covid-19 has risen by 36 to 43,550, government figures showed on Sunday:
Madrid records first day with no Covid-19 deaths
For the first time in months, Spain's hardest-hit region has registered zero deaths from the coronavirus.
"Great news," regional leader Isabel Ayuso wrote on Twitter on Sunday. "Yesterday marked the first day that Madrid did not register any deaths due to Covid-19. Together we can make sure this nightmare doesn't happen again."
Across Spain 28,341 lives have been claimed by the virus, with more than 8,400 in Madrid, according to the health ministry.
The figure, however, includes only those who tested positive, meaning that the thousands of excess deaths recorded in the same time period are not counted, even when the cause of death is suspected to be Covid-19.
With the number of deaths across Spain dropping to a handful each day, health officials say the focus is now on monitoring 25 active outbreaks across the country. The largest is in the northeastern province of Huesca, where 290 people have tested positive.
The localised outbreaks comes as Spain scrambles to salvage its tourist industry, which accounts for 12% of the country's GDP.
While Spain opened its doors to EU and Schengen tourists last week, it has decided to extend a ban on cruise ships docking at its ports, according to a ministerial order published on Saturday. Prior to the crisis, cruise ships regularly ferried thousands of passengers to ports in Barcelona and Malaga as well as in the Balearic and Canary Islands.
Nicola Sturgeon has said she feels "enormous" relief after no new coronavirus deaths were recorded in Scotland for a third day in a row.
Covid-19 figures released on Sunday showed no new deaths of people who had tested positive within the previous 24 hours.
The total number of people who have died under the measurement remains at 2,482, unchanged from Friday.
Eight more people tested positive for the virus and 452 people are in Scottish hospitals with confirmed or suspected cases.
There were five people in intensive care with confirmed cases of Covid-19 and eight with suspected cases.
The first minister tweeted her response to the figures on Sunday afternoon, saying it was vital that people continued to follow the rules as the figures improved.
Risk of death in UK care homes 13 times higher than in Germany
Care home residents were more likely to die of Covid-19 in the UK than in any of the major European countries apart from Spain, analysis of global data has revealed.
The proportion of residents dying in UK homes was a third higher than in Ireland and Italy, about double that in France and Sweden and 13 times higher than Germany.
The analysis of official statistics was carried out by academics at the London School of Economics as part of the International Long Term Care Policy Network.
My colleague Robert Booth has the full report:
Iceland's President Gudni Johannesson has been re-elected with a whopping 92% of the vote, according to results released on Sunday.
The former history professor won his second four-year term in the largely symbolic position in Saturday's vote, the second election held by a European country after coronavirus lockdowns were lifted.
Since suffering spectacular bank failures in 2008, the volcanic North Atlantic island of 365,000 inhabitants has recovered some economic and political stability, which worked in the 52-year-old independent's favour.
The final results showed he took 92.2% of the 168,821 votes cast, crushing rightwing challenger Gudmundur Franklin Jonsson.
"I am honoured and proud," the president told AFP in Reykjavik on election night.
"This result of this election is, to me, proof of the fact that my fellow Icelanders… have approved of how I have approached this office."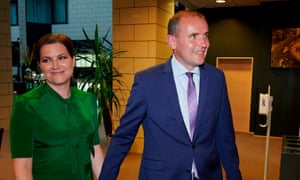 The dominant win had been predicted by opinion polls, which had shown the president winning between 90 to 94%.
It is the second-highest margin of victory in the history of Iceland's presidential elections.
Vigdis Finnbogadottir, the first woman in the world to be democratically elected as head of state, holds the record, winning re-election in 1988 with 94.6 percent of the vote.
In this parliamentary republic, the president is largely symbolic, but he or she does have the power to veto legislation or submit it to a referendum.
There are no term limits – Johannesson's predecessor Olafur Ragnar Grimsson served for five terms.
Turnout for Saturday's vote was 66.9%, dropping from 75.7% during Johannesson's first election victory in 2016, when he became the country's youngest president since independence in 1944.
Challenger Jonsson is a former Wall Street broker close to Icelandic nationalists and a vocal fan of US President Donald Trump.
He campaigned on wanting Iceland's president to play a more active role by exercising the right to veto legislation campaigns, but struggled to gain traction with voters.
"I send my congratulations to Gudni and his family," Jonsson told public broadcaster RUV.
The coronavirus pandemic had not been expected to affect voting, as the country has been only mildly infected. It has reported 10 deaths, and currently has around 11 active cases.
The coronavirus 'long-haulers' show how little we still know
Infectious disease expert professor Debbie Bogaert describes herself as a Covid-19 "long-hauler" – someone who initially had mild symptoms of the disease but went on to experience a range of sometimes severe symptoms for weeks or even months.
Here she describes how this condition has been the ultimate challenge of both her career and her personal life – and also shows how much more we need to learn:
Screen survivors of Covid-19 for PTSD, say mental health experts
Tens of thousands of Covid-19 survivors in the UK should be screened for post-traumatic stress disorder because of their experiences in fighting for their lives, mental health experts have urged.
Leading psychiatrists and psychologists want NHS bosses to ensure that all those who were admitted to hospital when they became seriously ill with the disease is assessed and checked regularly.
Survivors showing signs of PTSD would undergo treatment to prevent nightmares and flashbacks that could blight the rest of their lives.
My colleague Denis Campbell has the full report:
The Greek island of Kos will host dozens of German doctors for free from Monday, AFP reports.
This announcement from the tourism ministry comes as the country prepares to reopen its regional airports to passenger flights.
The visiting 170 doctors will be hosted for free "in recognition and gratitude for their contribution in combating the coronavirus in Germany," the Greek tourism ministry said on Sunday.
Officials from German tour operator TUI will be among the passengers and will meet with tourism minister Harry Theoharis on the island, the ministry said.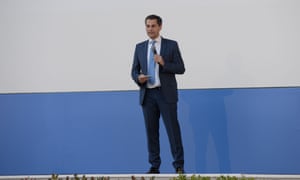 The flight from Germany will land two days before Greece is officially scheduled to open its regional airports to passenger traffic on July 1.
Greece has registered fewer than 200 deaths attributed to Covid-19.
With a quarter of the nation's economy dependent on tourism, the government seeks to reassure potential visitors they can safely vacation in Greece as Europe begins to open back up to travel.
Nearly 80 hotels nationwide have been set aside to exclusively accommodate Covid-19 cases, state TV ERT said.
Hundreds of tests are to be conducted daily at regional and island airports around the country, according to the civil protection authority.
Passengers will have to fill out locator forms, including their address of stay, at least 48 hours before entering the country.
The EU has yet to determine a list of 'safe' countries allowed to visit Europe.
The proposed list so far includes Algeria, Australia, Canada, Georgia, Japan, Montenegro, Morocco, New Zealand, Rwanda, Serbia, South Korea, Thailand, Tunisia and Uruguay.
Read the original article at The Guardian