Coronavirus live news: curfew starts for millions in France; restrictions eased in Melbourne
Thailand reported three additional locally transmitted cases of the coronavirus on Sunday, a day after reporting its first local infections in more than a month.
The three new patients are family members of two Myanmar nationals who previously tested positive for the virus this week in the country's northern province bordering Myanmar, the government's coronavirus taskforce said.
Before this week's five cases, Thailand last reported a confirmed local transmission on 11 September. In total, Thailand has reported 3,686 cases of the virus and 59 deaths.
Thailand is currently seized by anti-democracy protests that are challenging the authority of the king and prime minister, and the authority of the country's traditional ruling elite.
Tens of thousands have taken to the streets of Bangkok and other Thai cities, defying a government crackdown and the riot police's water cannon. Southeast Asia Correspondent Rebecca Ratcliffe reports.
Coronavirus survives on skin five times longer than flu: study
The coronavirus remains active on human skin for nine hours, Japanese researchers have found, in a discovery they said showed the need for frequent hand washing to combat the Covid-19 pandemic.
The pathogen that causes the flu survives on human skin for about 1.8 hours by comparison, said the study published this month in the Clinical Infectious Diseases journal.
"The nine-hour survival of SARS-CoV-2 (the virus strain that causes Covid-19) on human skin may increase the risk of contact transmission in comparison with IAV (influenza A virus), thus accelerating the pandemic," it said.
The research team tested skin collected from autopsy specimens, about one day after death.
Both the coronavirus and the flu virus are inactivated within 15 seconds by applying ethanol, which is used in hand sanitisers.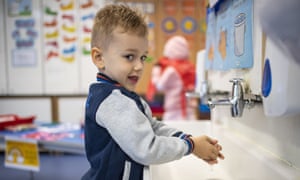 "The longer survival of SARS-CoV-2 on the skin increases contact-transmission risk; however, hand hygiene can reduce this risk," the study said.
The study backs WHO guidance for regular and thorough hand washing to limit transmission of the virus, which has infected nearly 40 million people around the world since it first emerged in China late last year.
Airlines face a long, hard winter after a much hoped for rebound from the coronavirus crisis failed to materialise, prompting savage cost cutting programmes and fresh calls for government support.
Airline revenues plunged 80% in the first six months of the year, according to industry body IATA, but they still had fixed costs to cover – crew, maintenance, fuel, airport levies and now aircraft storage.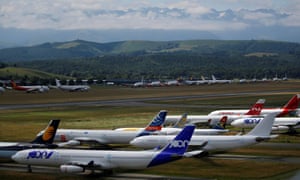 After a slight recovery in July as coronavirus restrictions were eased, traffic fell again in September while bookings for the winter season – which begins 25 October – are down 78% compared with a year earlier, promising more hardship to come.
One of the biggest disappointments has been the absence of highly lucrative business class travellers who prefer now to rely on tele-conferencing rather than run the risk of catching the virus.
Repeated efforts to reassure passengers that air travel is safe have failed to make much of a difference while government restrictions, including quarantines of up to 14 days for returning passengers, have only added to the pressures on the battered airline companies.
"The risk of contracting Covid-19 during air travel is really very, very low," says Dr David Powell, medical consultant for IATA.
Testing is key to recovery
The industry as a whole is hoping that the introduction of airport testing systems will restore passenger confidence and reduce if not completely remove the need for damaging quarantine regimes.
There are already trial systems in place in several major airports around the world and on Friday France announced it would introduce quick, antigen-based testing by the end of the month.
"We are going to launch these tests at the airports, especially for departures to the United States or Italy and for arrivals from countries on the red list (of high rates of infection)," French Transport Minister Jean-Baptiste Djebbari said on CNews TV channel.
"That way we will not have any more people arriving on French territory without having been tested," he added.
Hong Kong and Singapore meanwhile have announced they plan a "travel bubble" to allow unrestricted flights.
Tests may help but given the damage already done and the likelihood of more to come, IATA continues to press the alarm bell, seeking more government help to keep the airlines afloat until there is at least some return to normality.
Up to now, IATA estimates governments have provided $160bn dollars in aid, loans and tax breaks so that airlines can cover current costs.
But after a disastrous summer, usually the busiest part of the year when they build up their cash reserves, airlines are not going to be able to do that during the winter, IATA head Alexandre de Juniac has warned repeatedly.
Earlier this month, United Airlines laid off 13,000 staff temporarily as it waits on the politicians in Washington to thrash out a fresh coronavirus aid package.
Low-cost pioneer Ryanair, which prides itself on not seeking state aid, announced Thursday it was cutting by a third its already reduced winter schedule.
Other airlines are thinking up completely new angles to drum up business, with companies in Asia offering "flights to nowhere" – short, circular trips for those desperate to get back into the air again and ready to pay for the privilege.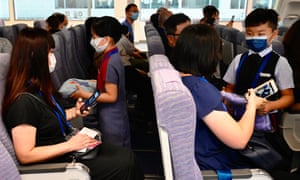 Singapore Airlines even opened up one of its giant A380 aircraft as a restaurant while some started selling their in-flight food to nostalgic, would-be but grounded passengers.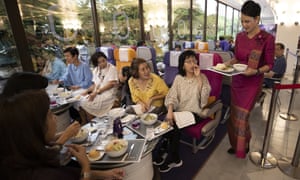 Millions of Europeans faced tough new coronavirus restrictions as governments stepped up efforts to slow the surge in infections, after the World Health Organization reported a "very concerning" 44% rise in European cases over one week.
From Saturday evening, Paris and several other French cities go under a night-time curfew that will last at least a month. England is banning mixed household gatherings in the capital and other areas, and Italy's most populous region is limiting bar openings and suspending sports events.
The US Senate will vote on Wednesday on a $300bn Senate Republican coronavirus relief bill that is far below the estimated $2tn that Democrats have demanded.
The bill, dubbed a "skinny" relief bill for its pared-down funding, was already rejected by Democrats in September and is again expected to fail.
Senate majority leader Mitch McConnell said in a statement Saturday that the vote would follow a standalone vote on additional Paycheck Protection Program (PPP) funds on Tuesday.
House Speaker Nancy Pelosi and Treasury secretary Steven Mnuchin spoke Saturday night and will continue negotiations, Treasury spokeswoman Monica Crowley said on Twitter.
Pelosi spokesman Drew Hammill said that there was progress on coronavirus testing but "there remains work to do to ensure there is a comprehensive testing plan".
He added there are numerous other differences "that must be addressed in a comprehensive manner in the next 48 hours".
Hammill also said "decisions must be made by the White House in order to demonstrate that the administration is serious about reaching a bipartisan agreement that provides for Americans with the greatest needs during the pandemic".
The White House declined to comment.
On 10 October, Mnuchin proposed a $1.8tn economic stimulus proposal in talks with Pelosi but many Senate Republicans have baulked at a package that big.
Time is running out before the 3 November presidential election to reach agreement on a new coronavirus relief package.
Reports coming from around the world:
China reported 13 new coronavirus cases in the mainland for 17 October, the same as a day earlier, the health commission said on Sunday.
All of the new infections were imported, according to a statement by the National Health Commission.
As of Saturday, mainland China had 85,672 confirmed coronavirus cases, the health authority said. The Covid-19 death toll stands at 4,634.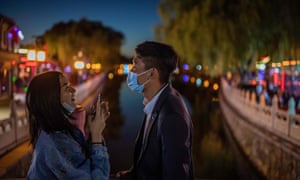 In Germany, there were 5,587 new cases, bringing the total number of known infections in that country to 361,974, according to the Robert Koch Institute.
Another 10 people died from the virus in the past 24 hours, bringing the total number of Covid deaths in Germany to 9,777.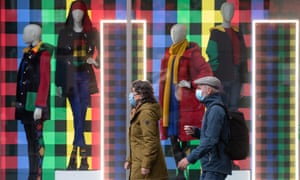 Saudi Arabia allowed its citizens and residents inside the kingdom to perform prayers in one of the most holy religious sites in Islam, Al-Haram mosque in Mecca, for the first time in seven months, state television reported early on Sunday.
Earlier this month Saudi Arabia allowed citizens and residents to perform the Umrah pilgrimage at Islam's holiest sites, Mecca and Medina, after a seven-month pause due to coronavirus concerns.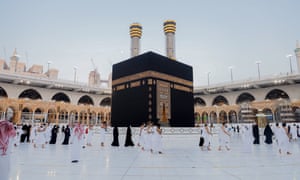 The Thomson Reuters Foundation reports that the Covid-19 has left millions vulnerable to exploitation, abuse and trafficking:
Human traffickers are capitalising on the coronavirus pandemic to target people ranging from jobless migrants to out-of-school children, two United Nations specialists said, warning that the fallout from Covid-19 had driven the crime further underground.
The global economic slowdown has left countless people jobless, desperate and at risk of exploitation, while victims of trafficking are less likely to be found or receive help with attention and resources diverted elsewhere, the experts said.
An estimated 25 million people worldwide are victims of labour and sex trafficking, according to the United Nations, with concerns growing that more will fall prey as support services are halted and efforts to secure justice are hindered.
"The difficulty is that trafficking is now even more underground and less visible," said Siobhan Mullally, the recently-appointed UN special rapporteur on human trafficking.
"More people are at risk … especially in the informal economy … there are opportunities for traffickers to recruit, to exploit, to prey on people's desperation," Mullally said ahead of the global Anti-Slavery Day on 18 October.
About 2.5 billion people – more than 60% of the world's workforce – are informal workers, leaving them particularly at risk of being underpaid and abused, labour advocates have said.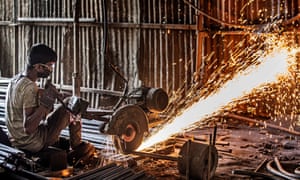 From India to Cambodia, workers in sectors such as textiles and tourism have lost their livelihoods due to Covid-19 and resorted to taking out loans that can lead to debt bondage or accepting work on worse terms and in exploitative conditions.
Many of the world's estimated 164 million migrant workers are stranded abroad and unable to go home or unwilling to seek help due to closed borders and restrictive immigration policies, leaving them vulnerable to traffickers, according to Mullally.

'Worsening horrors'
Two decades after the adoption of a landmark UN anti-trafficking protocol, Mullally said the issue was still seen mainly as a criminal justice matter, and called for a much broader focus encompassing labour rights and social protection.
"An economic crisis … and recession or even depression … may be used as an excuse to curtail workers' rights, with the knock-on effect of a greater threat of trafficking," she said.
Extreme poverty will rise for the first time this century, the World Bank said last week, predicting that the Covid-19 fallout could spawn 115 million "new poor" this year alone.
Ilias Chatzis, head of the trafficking unit at the UN Office on Drugs and Crime (UNODC), said his department was still gathering information about the impact of coronavirus on the crime but warned that early evidence showed "worsening horrors".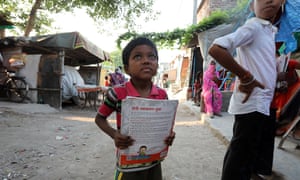 He cited the example of children spending more time online and being vulnerable to sexual exploitation – remotely – by global predators. Europol said in May that online child sex abuse in the European Union spiked at the start of the pandemic.
While acknowledging the "complexity" of tackling trafficking during Covid-19, Chatzis sounded a note of hope for the future.
"It's not all darkness ahead, there is light at the end of the tunnel," he said. "We abolished [chattel] slavery, we can abolish trafficking."
It now seems up to 55 people who flew into Australia from New Zealand have travelled on to Victoria, despite that state not being part of the travel bubble. It's exquisitely confusing, but Amy Remeikis has expertly summarised it here:
The Wallis and Futuna islands have recorded their first Covid-19 case.
The French island collectivity, north-east of Fiji in the South Pacific Ocean, had been Covid-free since the beginning of the pandemic, aided by its remoteness, and the fact it can only be reached through New Caledonia (which has a mandatory quarantine regime in place).
The infected patient, who is asymptomatic, arrived on 3 October, and has been confined to a hospital isolation ward.
Until this confirmed case, Wallis and Futuna was the only French-administered territory without the coronavirus.
The Pacific is the least Covid-infected region on Earth. The small and remote island nations and territories of Kiribati, Marshall Islands, Micronesia, Nauru, Palau, Samoa, Tonga, Tuvalu and Vanuatu are believed to be still free of the virus.
Dan Andrews is into the nitty-gritty of how the new restriction regime will work.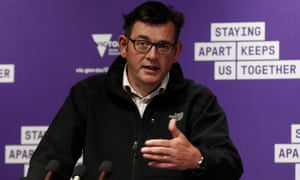 The restrictions across Melbourne and Victoria are complex, their staged easing likewise. For the full details on Victoria's new regimes, see here.
After months of gruelling lockdown, Melburnians with disabilities or injuries will once again be able to access hydrotherapy pools.
Previously, Victoria's Department of Health and Human Services (DHHS) said people could access private hydrotherapy pools for medical reasons, but it's clear this was not occurring as the vast majority of these facilities are not allowing outpatients inside.
Lina Pane, who suffers from a muscular disorder, has had her condition seriously deteriorate over lockdowns, as swimming in a heated hydrotherapy pool was her only viable form of exercise. She told Guardian Australia she was terrified that she might lose the ability to walk by the end of the pandemic.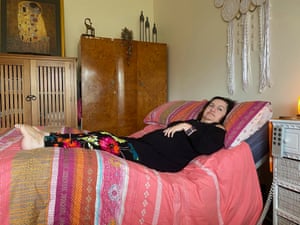 After Pane's story was published by Guardian Australia, Premier Daniel Andrews said he would try and resolve the issue, and although Pane was contacted by his office she was still unable to access an indoor pool.
But, with Andrews specifically stating pools are able to open for "one-on-one hydrotherapy with health professionals", Pane said she is hopeful she may soon receive some relief from her pain.



It's about bloody time! But you know I need to see it for real to believe it. I'll be calling around all my local swim centres to see who is open to let me in.

It's a relief. That fear of ending up in a wheelchair is further away now. I'm ready to start moving and get into the water. That will make such a difference to me.
But Pane said she was frustrated that this took so long, given the DHHS had deemed this activity as safe weeks ago.



All the pain I've gone through, being in my bed for so many hours a day, and the serious drugs that I'm on, it's ridiculous that it had to get to this stage.
Activists have also questioned the requirement for individual sessions with a health professional as many low-income people use unsupervised hydrotherapy as an affordable and effective form of pain relief and medical treatment. For those without NDIS support, a personal hydrotherapy training session may be prohibitively expensive.
You can read Pane's full story below:
Back in Victoria, in Australia, premier Daniel Andrews, is answering questions.
He says that if any stage of the plan to ease restrictions can be moved to earlier than what has been announced today the government will do that, if it can be done safely.
He also says that the border checks between regional Victoria and Melbourne remain in place for now and will be subject to stronger checks.
Andrews has a few things to say about pressure from the federal government, including the health minister Greg Hunt, to open up the state.
"I don't accept that anybody has a more complete picture of what this virus is doing in Victoria than the Victorian chief health officer, the Victoria deputy chief health officer, the Victorian health minister and the Victorian premier," he says.
"My position to the Victorian communities but I'm not doing what is popular, I am doing what is safe. Because we don't want to be back here again."
Andrews urges Victorians who are talking to contact tracers to be honest and complete with the information they provide. If people have an "off the books" job, he's not going to the tax office he says.
Tracers just need the health information. "It's like going to your doctors," Andrews says.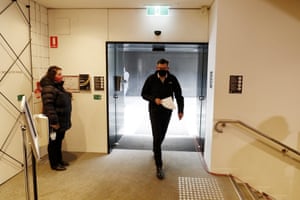 Mexico's health ministry reported on Saturday 5,447 more cases of the novel coronavirus and 355 more deaths in the country, bringing the official number of cases to 847,108 and the death toll to 86,059.
Health officials have said the real number of infected people is likely significantly higher than the confirmed cases.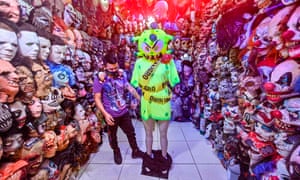 Now here are the changes for regional Victoria from 11.59pm tonight:
Two adults and two children will be able to visit a home.
Hospitality venues can increase their capacity to 70 people outside and 40 people inside.
Outdoor religious gatherings will increase to 20 people.
Indoor pools will open for people 18 and under to a maximum of 20 people.
One-on-one hydrotherapy with health professionals will also be allowed.
Libraries will reopen to a maximum of 20 people.
Households will now be able to visit a care facility, rather than one person visiting at a time.
Then from 11.59 pm on Sunday 1 November in regional Victoria:
Non-contact indoor sport will resume for under 18-year-olds. Spectators will be allowed but with some limits.
Andrews also says that a consultation process will commence next week for people, including in Melbourne, who need to prepare properties in regional Victoria for the fire season and for potential floods.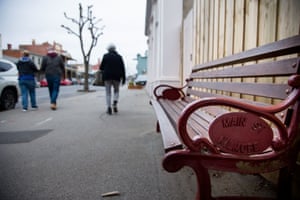 Read the original article at The Guardian