Coronavirus Latest News
Coronavirus live news: Egypt loosens lockdown despite surging infections as India passes 500,000 cases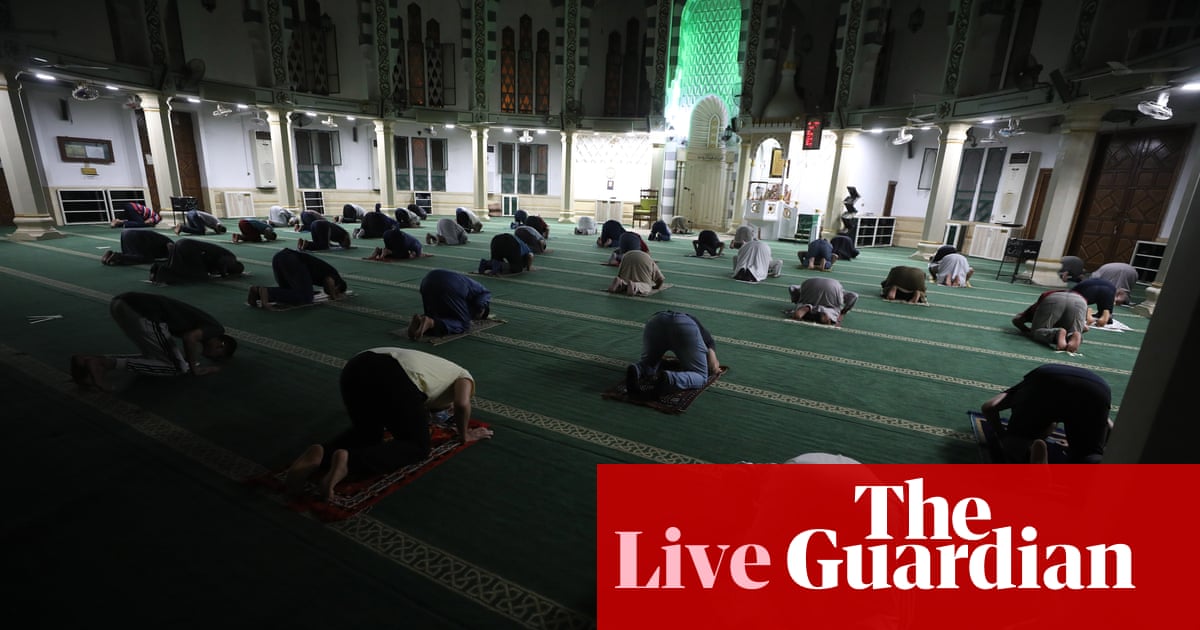 I'm going to be heading off soon, but before I go, here's a summary of key developments in the global pandemic over the past few hours.
Thank you all for reading along with me – a special thanks to those who got in touch with tips and pointers, it's always much appreciated. I hope you're all staying well, wherever you're reading from.
The official coronavirus death toll in the UK has reached 43,514. There have now been 310,250 confirmed cases.
There have been no new deaths from coronavirus in Scotland for the second day running.
Hi everyone, I'm taking over the blog again for a little while now Aamna has finished for the day. Thanks to all those getting in touch with tips and pointers, it's always much appreciated. You can reach me on Twitter – I won't always be able to reply but will do my best!
Pregnant women from black, Asian and minority ethnic backgrounds should be fast-tracked to hospital because of their increased risk of coronavirus, NHS England has said.
Doctors and midwives have been told to relax their criteria for reviewing and admitting BAME women to hospital or escalating any concerns about their health. NHS England also said it wanted to see "tailored communications" specifically aimed at supporting women from BAME backgrounds.
The healthcare body is also recommending that women with darker skin, or who cover their skin while outside, consider taking daily vitamin D supplements throughout the year, after research suggested that those with lower vitamin D levels were at higher risk from coronavirus. Hospital staff will be expected to discuss vitamins with all women.
This summer will usher in some of the worst catastrophes the world has ever seen if the pandemic is allowed to spread rapidly across countries already convulsed by growing violence, deepening poverty and the spectre of famine, the BBC war reporter Lyse Doucet has warned.
Speaking exclusively to the Observer, she says she fears "a terrifying mix of violence and the virus" will soon overwhelm countries such as Yemen, Afghanistan and Somalia, where Covid-19 has yet to reach its peak. Already, in southern Yemen, gravediggers can't keep up with the dead and dying, she says. "Conflict will also be magnified and multiplied by impoverishment, starvation and despair … Expect a hot summer."
She will take part in Reimagining Victory, an online series of events for the Imperial War Museum Institute and the peacebuilding charity Conciliation Resources to mark the 75th anniversary of the end of the second world war this summer.
Pakistan's cricket team will leave behind 10 players who tested positive for coronavirus this week when they depart for their tour of England.
Wasim Khan, chief executive of the country's cricket board, said the players will be allowed to rejoin the squad after giving two negative test results.
Shadab Khan, Haris Rauf, Haider Ali, Fakhar Zaman, Mohammad Rizwan, Wahab Riaz, Imran Khan, Mohammad Hafeez, Mohammad Hasnain and Kashif Bhatti first tested positive earlier this week. Follow-up tests found Bhatti, Rauf, Ali and Imran Khan were still positive.
The team will undergo a 14-day isolation after arriving in England, and the first test against in Manchester in August is expected to take place behind closed doors.
A further 78 people who had tested positive for coronavirus have died in hospital in England, NHS England have announced.
The patients were aged between 56 and 97 years old, and two patients, aged 73 and 96, had no known underlying health conditions.
This brings the confirmed death toll in hospitals to 28,635.
Read the original article at The Guardian