New Zealand has reported two new Covid cases. One is an imported case in managed isolation and the other is a worker at one of the managed quarantine facilities, the Jet Park Hotel in Auckland. The health ministry says the returnee in managed isolation arrived from South Africa on 8 September and remains in quarantine in Canterbury.
Five household contacts from the hotel worker are in isolation at their home and are being tested today.
"This case is still being investigated to determine if the infection came from the community or from within the quarantine facility, though at this stage no obvious links to other cases in the community have been established," the ministry of health said in a statement
"Thorough tracing of which people in quarantine the health worker had contact with is being undertaken, as is genome testing to see what strain of the virus the health worker has to help identify the source."
The case was found through routine weekly testing. Last week the worker returned a negative test, so must could have picked up the virus in between the weekly tests.
The person is the first staff member at the hotel to test positive for Covid, in nearly six months of operation, the ministry said.
"In that time the facility has managed 2532 individuals and their close contacts, who have been transferred from the border, from other managed isolation facilities and the community."
Here's an update from Melbourne and those anti-lockdown protesters from Australian Associated Press:



Police have arrested one person as anti-lockdown protesters massed at Melbourne's Queen Victoria market.

Sunday's protest follows ones on Saturday when about 100 people demonstrated against strict Melbourne coronavirus restrictions across various locations.

Police arrested 14 people and fined at least 50 for breaching health directions on Saturday.

The second protest for the weekend comes hours after a woman shared footage of police dragging her from a car. The masked driver refused to get out of her car after talking with an officer about a phone charger at Wallan, about 60km north of the city.
The UN refugee agency is stepping up efforts to curb the spread of Covid among tens of thousands of Syrians in camps in Jordan after the first cases were confirmed last week, Reuters reports.
The UNHCR confirmed three cases in the country's largest camp for Syrian refugees, Zaatari, near the border with Syria, and two cases in a smaller camp, Azraq.
The infections in the two camps that house a total of about 120,000 refugees were the first confirmed cases since the pandemic was first reported in the kingdom last March.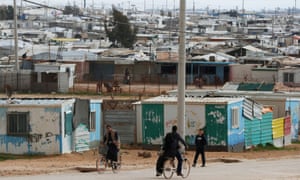 "The developments this week have obviously been a worrying situation for all, but especially for refugees living in the camps. Crowded spaces and cramped living conditions make social distancing difficult," said Dominik Bartsch, the UNHCR representative in Jordan.
The refugees who tested positive have been sent to an isolation area set up by the Jordanian government near the Dead Sea while families of those in contact with them have been quarantined inside the camp.
Jordan's health ministry is, meanwhile, conducting thousands of tests, restricting movement in and out of the camps and training medical staff, Bartsch said.
Jordan is a major host country for Syrian refugees who have fled an almost decade-long civil war in their homeland. There are about 655,000 UN-registered Syrian refugees in the kingdom.
We'll keep an eye on what's going on there in Melbourne, but internationally Brazil has recorded 814 coronavirus deaths over the last 24 hours and 33,523 additional cases, the nation's health ministry said on Saturday evening.
The South American country has reported 131,210 total deaths and 4,315,687 confirmed cases.
Brazil ranks third in the world after the United States and India in total coronavirus cases, and it is second only to the US in deaths.
There have been protests against the lockdown in Melbourne again this morning, and a heavy police presence, including mounted police.
Sutton is also giving what appears to be some relatively good news on the numbers in Melbourne. He says the rolling day average of new cases in the city is 56.9. This is important because it's a key figure in determining the city's pace out of lockdown. The second step out of lockdown can occur only when the daily average rate is between 30 and 50 cases over the previous 14 days (but restrictions won't change before 28 September).
Sutton says:



The numbers fluctuate a little bit every day. We are looking at the 40 mark now. If you project forward 14 days you would expect the 14-day rolling average to the end of September would be absolutely no more than 48 – is more likely to be between 20 and 30. I would hope no more than the 40s.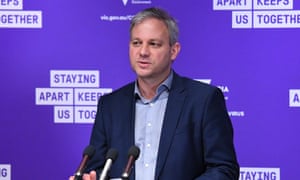 The remaining steps are subject to these conditions, (which you can read on Victoria's health department's website):
Third step – metropolitan Melbourne moves to the third step when the daily average number of cases is less than five state-wide over the previous 14 days and there are fewer than five cases with an unknown source in the past 14 days (statewide total). Restrictions won't change before 26 October. Regional Victoria moves to the third step when the daily average case rate is fewer than five new cases over the previous 14 days and there have been no new cases with unknown source over the past 14 days.
Last step – Victoria moves to the last step when there are no new cases for 14 days in Victoria. Restrictions won't change before 23 November.
Covid normal – Victoria moves to Covid normal when there are no new cases for 28 days, no active cases in Victoria and no outbreaks of concern in other states or territories.
Victoria's chief health officer, Brett Sutton, is talking at the press conference now. He's asked whether he thinks there will always be cases in aged care, the setting which has borne the brunt of fatalities of this outbreak … and gives some slightly positive news.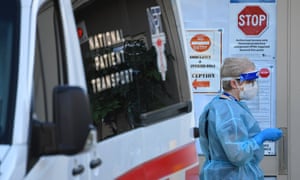 I think we have seen a slow and steady decrease in the number of active cases in aged care, it is now almost below 500; it has always been about 50% of total active cases. So our totals are now close to 1,000, our aged care active cases are now close to 500, but it was above 300 a month, and is going in the right direction.
Just a bit more detail on the nine new cases in the Australian state of New South Wales. We know that four are returned travellers in hotel quarantine, four are locally acquired and linked to known cases, and one is locally acquired and under investigation.
NSW Health said on Sunday that two of the new cases are household contacts linked to the Eastern Suburbs Legion Club cluster and the other two are linked to St Paul's Catholic College, Greystanes. All four cases have been in self-isolation while infectious.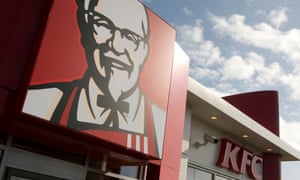 NSW Health also advised an infected person visited KFC in Concord on 6 September. Anyone who was at the restaurant between 1pm and 1.20pm that day is considered a casual contact and is advised to monitor for symptoms.
NSW Health acting director Dr Christine Selvey urged people to immediately get tested if they feel unwell and to maintain social distancing.
NSW Health is treating 83 Covid-19 cases including six in intensive care, three of whom are being ventilated.
Queensland's top doctors have called for critics of the state's chief health officer to "back off" over coronavirus border closures, AAP reports.
The state's chief health officer, Jeannette Young, has been repeatedly targeted for advising that the state should remain isolated from Victoria, NSW and the ACT.
The Australian Medical Association president, Chris Perry, says the group supports Young's scientific decisions.
"We're an evidence-based organisation and we follow what the chief health officer says," he said on Sunday. "What the chief health officer in Queensland says goes. It's the law."
Perry said there had been many "stressful" personal attacks on Young. The criticism had mostly been by online trolls but he acknowledged the federal government also had a "different point of view".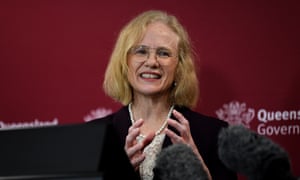 "Back off. Leave her alone. We think this chief health officer is doing a great job," he said.
"We're doing a very, very good job in this state. Probably because Queensland politicians are listening very carefully to a very well qualified physician."
Perry said Young's decisions over exemptions to cross the state's border or quarantining rules had been fair.
"It hasn't just been footballers and wealthy people," he said.
He said the AMAQ remained concerned about another coronavirus wave.
"Victoria is a very stark demonstration about what can happen if we lower our sights too quickly," he said.
There were no new cases in the state overnight: 30 remain active.
Just stepping away from Victoria for a moment to the neighbouring Australian state of New South Wales, the country's most populous state and the government has announced nine new cases, four of which are in hotel quarantine.
We are now hearing from Victoria's treasurer, Tim Pallas, who is outlining a $6bn state support plan, which equates to about 25% of the state's annual revenue.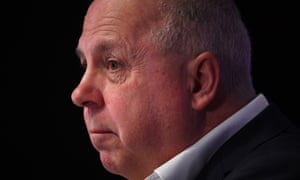 "This is the single biggest package of its kind in the history of the state of Victoria," Pallas says.



We know that there have been enormous sacrifices been made to drive the virus down and we have asked [Victorians] to not only keep safe but also to recognise that their collective effort helps us all. We secure a Covid-safe future by making these sacrifices, but recognising that government has to be there every step of the way to assist and support the business community, as well as, of course, recognising that the community at large is making enormous sacrifices, sacrifices that the strategy that the premier has outlined is working, and I think the figures make it quite clear that that is the case. We know that businesses are hurting … they let us know. But we also know there is no other strategy that works.
Daniel Andrews is going through the changes to regional Victoria, which is ahead of the metropolitan hub of Melbourne and has a rolling 14-day average of 4.1 cases a day.
He says regional Victoria's next step could happen this week, with a further easing of restrictions. The details: from midnight regional Victoria moves from stage 3 restrictions to the second step of the roadmap which sees up to five people able to gather together in outdoor public spaces, a maximum of two households. Outdoor pools and playgrounds will reopen.
Andrews says the region may be able to take another step this week in relation to pubs, restaurants and cafes.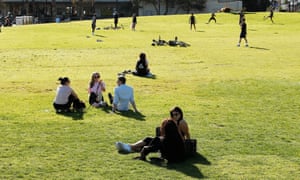 He says Melbourne should look to what has happened in regional Victoria as proof that the strategy against coronavirus is working.
He says:



I'm confident that every metropolitan Victorian and every metro Melbourne Victorian will look at what's occurring and what is about to occur in all likelihood in regional Victoria and see that for what it is: proof-positive that this is not a theoretical thing. It is real, the strategy is working and we are delivering the safe and steady opening up that should give Victorians hope, that should see Victoria positive about beating this thing, opening and staying open. That is the key.
From midnight, Melbourne will move to its new rules on the roadmap out of the stage-four lockdown, Daniel Andrews says:



I wanted to remind, as part of that safe and steady steps, part of the roadmap, from 11.59 tonight, so essentially from midnight tonight, Melbourne moves from stage 4 restrictions to the first step of our roadmap which brings small, I fully acknowledge, small changes that allow for more social interaction and more time outside.

Social bubbles for those living alone or single parents – they will be allowed to have one other person in their home. Exercise is extended for two hours, split over a maximum of two sessions, but that goes obviously from one hour to two hours, and the notion of time outside, time outdoors, whilst at the moment it is just for exercise, it will also now be from midnight tonight for social interaction with one other person or members of your household.

Of course, as we move towards the warmer months, the curfew is extended from 8pm from tomorrow essentially, from midnight tonight, so he apply fromMonday night from 8pm to 9pm, so an extra hour of that freedom of movement.
Daniel Andrews says there are 4,285 cases from an unknown source in Victoria and 1,157 active cases in the state. There are 52 active cases in regional Victoria and no new cases today in regional Victoria.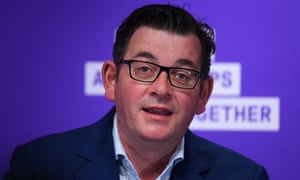 He says the state of emergency in Victoria has been extended for four more weeks, but there will be changes from today in regional Victoria.



Regional Victoria will take one step today, and they will potentially, around the middle of the week, reach those thresholds of less than five cases, a 14-day average. They are at 4.1 cases now per day.
Hello, this is Alison Rourke picking up the blog from my colleague, Martin. Farrer.
We can cross live to Melbourne now where the Victorian premier, Daniel Andrews, is talking. He confirms there are 41 new cases in the state and seven deaths, six of which are connected to aged care outbreaks.
John Lewis, once the all-conquering retailer in the UK with its department store chsain and Waitrose grocery stores, has had a tough few months thanks to Covid-19.
Our retail expert in London, Zoe Wood, says this week's upcoming results from the much-loved chain, will not be pretty.
Here's her full story:
Mexico has reported 5,674 new confirmed cases of coronavirus infection and 421 additional fatalities on Saturday.
The country now has a total of 663,973 infections and 70,604 deaths, according to the health ministry.
Electronics, home cooking treats and alcohol are the big spending items for Australian households during the pandemic.
Despite the country plunging into its first recesion for nearly 30 years, household savings are going up as they are denied the chance to splurge on nights out and overseas holidays.
But, as my colleague Naaman Zhou explains, they are taking comfort in more home cooked meals and indulging in more beer, wine and spirits to wash it down.
Here's his full story:
Read the original article at The Guardian