Coronavirus live news: France sees another record daily rise as Victoria records 14 new cases
Wu Zunyou, chief epidemiologist at the Chinese Centre for Disease Control and Prevention, says a fifth wave of the virus in China is possible, amid warnings that vigilance was needed for the approaching winter.
The South China Morning Post reports Wu characterised the four waves so far as:
The first outbreak in Wuhan, controlled by early March
A regional outbreak in northeaster China in April and May, driven by imported cases
The outbreak starting at a Beijing food market in June
Sporadic cases in the northeastern Xinjiang cities of Dalian and Urumqi
"Except for the initial outbreak in Wuhan, the outbreaks were sporadic, regional cases and they were effectively controlled," Wu said.
The federal government has refused to release information on the number of Australians still using the Covidsafe contact tracing app on the grounds it could risk public safety and harm commonwealth-state relations.
Covidsafe relies on large numbers of the population running the app on their phones when out in the community to help identify close contacts in the event of an individual positive Covid-19 test.
Since the app's launch in April, the government has used the number of downloads to sell the success of the app, and encourage more people to download it. More than seven million people in Australia have downloaded the app, but that metric doesn't tell the full story of how and whether it is being used.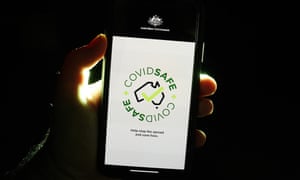 Queensland has recorded two new coronavirus cases.
The premier, Annastacia Palaszczuk, said on Sunday both cases were already isolating with one among a close contact of a known case and the other an international traveller in hotel quarantine.
It has been nine days since the sunshine state has recorded a community transmission of Covid-19, while its number of active infections has fallen to 29.
The result comes as Queensland prepares to welcome ACT travellers on Friday and double its intake of international arrivals by the end of October.
The border will open only to Canberrans who arrive by plane and anyone coming from NSW via the ACT will have to wait 14 days before being allowed to fly.
Queensland will also lift its quota on international arrivals from 500 to 1,000 by 24 October, with the government calling for expressions of interest from Brisbane and Cairns hotels to take returnees.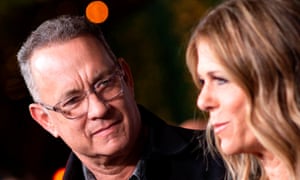 The figures come as the premier again had to field questions about celebrities receiving special quarantine exemptions after reports US actor Tom Hanks and other members of a film crew were staying on a property in the Gold Coast hinterland.
The actor is in Australia to finish filming an Elvis Presley biopic by Australian director Baz Luhrmann.
Palaszczuk said she had been advised the Oscar-winner was "staying in a hotel" not a house.
"Very few countries are producing movies at the moment," she said. "There are a whole lot of jobs relying on that industry."
Asked about the music industry recovery funding, Victoria's creative industries minister Martin Foley says venues had to apply and there was a sliding scale of criteria.
Hundreds applied, but 106 were approved for the first tranche and they'll start receiving their money between now and 28 October.
From AAP: more than 1.6m Australians will have to wait until after the October budget to learn if the government will extend its coronavirus supplement to jobseeker.
Social services minister Anne Ruston announced on Saturday that the government would not make a call until it could see the impact of a scheduled reduction in payments from next week.
"We will not be making announcements in budget," she said.
"We don't know what Australia is going to look like on the other side of this pandemic. We don't know when it's going to end.
"So we will remain agile and we will continue to provide the support that is needed for Australia and Australians."
About 1.6m Australians receive unemployment payments, which were boosted in April by $550 a fortnight. From next week, the supplement will be cut to $250 a fortnight.
That reduction alone will plunge many families into hardship, Australian Council of Social Services chief executive Dr Cassandra Goldie said.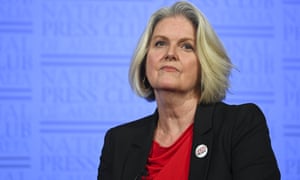 Add in the uncertainty about the boosted payments continuing into 2021 and Goldie said people would have to start skipping meals and forgoing fresh fruit and vegetables to scrounge Christmas gifts for their children.
"While it might suit some within government to not make decisions yet … 1.6 million people are worrying today about how they are going to get through Christmas," she said.
ACOSS wants the Morrison government to legislate a permanent increase to jobseeker or at least guarantee a level of increased payments beyond this year.
"The government says that it has peoples' backs – that means delivering adequacy of income support and confidence that is not going to be taken away in just a few months time," Goldie said.
Ruston also said that although the aged pension would not be indexed as usual due to economic conditions, extra support for older Australians would be announced in the budget.
Victoria again: Dan Andrews is asked about the continuing anti-lockdown protests and the cost of the police response (which has been heavy and high-profile). He doesn't know but says this of protesters:
"It's unlawful, it's selfish, and it can achieve but one thing and that is the spread of this virus.
"It's any protest … Stay home, follow the rules, and then you can do all the protesting you like some time in the future."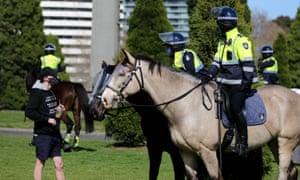 Sixteen anti-lockdown protesters were arrested yesterday and 21 fined by police amid chaotic scenes. Footage of police on horses chasing people through parks were widely shared on social media.
Protesters indicated there would potentially be further demonstrations today.
The NSW premier, Gladys Berejiklian, has also been holding a press conference this morning, primarily about preparation for the approaching fire season.
She's also spoken about the new Covid figures: two new cases and one death.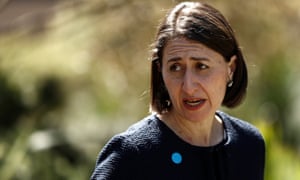 "I want to extend our deepest condolences to a man in his early 70s who unfortunately [died] at Royal North Shore hospital yesterday. He got the disease from one of the CBD clusters recently and unfortunately succumbed to the disease and our thoughts are with his family and friends at this very difficult time."
NSW has seen a bit of a drop in testing, with only about 13,500 in the last reporting period. Berejiklian is urging anyone with symptoms to come forward and get tested as soon as possible.
Asked about the reclassification of one death announced today – the sixth so far – Andrews says reports come in from private nursing homes.
Andrews is hammering the "get tested" message today. Victoria's testing numbers are lower than NSW.
"Any symptoms, don't put it off, get tested today. It's the most important thing you can do.
"This is not a zero outcome; we're not trying to eradicate this. We're trying to control it and suppress it and keep those numbers low.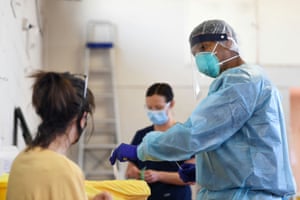 "Every person who goes in, you know, December, January, whenever it might be, and gets a test, even if they're positive they're doing the best of work because then we can wrap our arms around that person, protect them, protect their family and protect the overall settings and leave the place open.
"It's when things bubble along and get to very big numbers and you don't know [why] and the proxy for testing becomes the number of people who have been admitted into hospitals needing machines to breathe. That's when you got a real problem."
Asked about the Casey cluster, which has grown to 40 people, Andrews says he doesn't think the investigation has identified the original source of the infection.
"It may well be that we never know where that index case is, who the person is these 40 got it from," he said.
"We've had so much community transmission around the place that these riddles might never be solved."
Back in Victoria, Andrews is asked if he's still ruling out lifting restrictions on the current set date, even if the state does reach its target – of five new cases over a 14-day rolling average – sooner:
"We set a range of between 30 and 50 cases [by 28 October] and we are on track to meet that," he says.
"To do this, just off one single 14-day period, or to do it off one day or a five-day grouping, that runs the risk that you're not getting the most complete picture. We're confident that come Sunday, we'll be able to make some significant announcements because we'll be in that 30-50 band.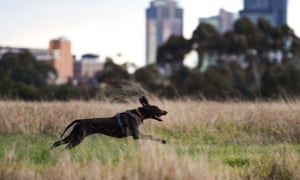 "But that should lead to no sense of complacency. We've just got to stay the course. All of us, every single Victorian, by following the rules, playing our part, doing the things that matter …
"I'd love to be able to announce that everything is opening up tomorrow. Of course I would. And maybe that would be something that would be praised by many people.
"I don't think that that praise would be around only a few weeks later when we had to close the place down again. So we only have one way to go here, and that's to do it safe, steady and then lock it in."
A quick detour to New South Wales where the health department has just released the case numbers from the past 24 hours.
Two new cases of Covid-19 were diagnosed in the 24 hours to 8pm [yesterday], bringing the total number of cases to 4,011. There was one Covid-related death reported, taking the overall number of deaths to 55.
A man in his 70s, whose infection was linked to the Sydney CBD cluster, died on Saturday 19 September.
There were 13,635 tests reported in the 24-hour reporting period, compared with 15,239 in the previous 24 hours.
Of the two new cases to 8pm:
one is a returned overseas traveller in hotel quarantine
one is locally acquired, and early investigations indicate the infection may have been acquired at Liverpool hospital. Investigations and contact tracing are continuing.
NSW Health is treating 78 Covid-19 cases, including two in intensive care, one of whom is being ventilated. 86% of cases being treated by NSW Health are in non-acute, out-of-hospital care.
The Victorian government is also announcing the rollout of a $13m package today for the state's $1.7bn live music industry to be Covid-safe and Covid-ready to come back when restrictions allow.
An initial tranche of 106 live music venues (from small places to venues of 1,000+ capacity) will receive $9.6m to keep their businesses going.
"In addition to that we'll also announce a series of measures to actually protect those venues which the industry has made very clear is a priority during this shutdown," said creative industries minister Martin Foley.
"The state planning scheme will be amended to ensure that the value socially, economically and culturally, that live music presents, will be reflected in the state's planning scheme, and we will be strongly encouraging all local government areas to move quickly once that amendment has happened to protect not just music venues but live music presents wherever they are across the state.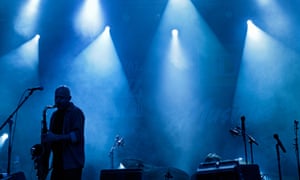 "Finally, there's also a $3m package for further supports of a whole range of musicians, of festivals, associations, peak bodies, of crews as a part of the support acts, support to make sure that the wellbeing of the whole set of workforce that goes with our live music industry is protected."
Among the venues to share in the funds are the Northcote Social Club, Queenscliff's Blues Train, the Westernport Hotel in San Remo, Castlemaine's Theatre Royal and Loop in Melbourne's CBD.
The Grace Darling in Collingwood, Richmond's Corner Hotel, the Night Heron in Footscray, the Hotel Warrnambool and the Wool Exchange in Geelong will also get help.



This is a good day. A day where Victorians can be proud of the work that they've done, their commitment, their resolve to see this off. To defeat this virus in its second wave properly, comprehensively and sustainably.
The Victorian premier, Dan Andrews, is giving his daily briefing to media. He has some updates on the figures I posted earlier.
To confirm, there are 14 new cases and five new deaths. Nine of the new cases are linked to known clusters. The fatalities include four people in their 80s and one in their 90s.
There are no additional cases in regional areas.
There are 94 people in hospital with Covid-19.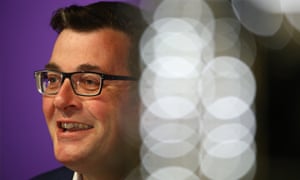 There are still 4,267 cases with an unknown source, but that's a drop of seven since the previous day.
There are 743 active cases across Victoria, including 117 health workers, and 20 in regional Victoria.
The rolling 14-day average is down to 36.2 in metropolitan Victoria and 1.8 in regional Victoria.
"These numbers are coming down," says Andrews. "We are, thanks to the hard work of every single Victorian, the vast, vast majority of Victorians who are following the rules, doing the right thing, getting tested as soon as they have symptoms."
Read the original article at The Guardian