Coronavirus live news: global cases pass 35m as Walter Reed physician calls Trump drive 'insanity'
Here is more on that interview with the US president's niece:
Mary Trump has said the United States is "in the horrible place we're in" because members of the family, including the president, see illness as "a display of unforgivable weakness", whether it is in themselves or others.
Speaking on NPR's Fresh Air, Mary Trump, who recently published the tell-all book Too Much and Never Enough: How My Family Created the World's Most Dangerous Man, said: "That's why we're in the horrible place we're in, because he cannot admit to the weakness of being ill or of other people being ill."
She spoke as the US president was criticised by doctors for unnecessarily exposing his staff and his security detail to coronavirus by performing a drive-by to wave to supporters outside Walter Reed military medical center where he is being treated for the disease.
Mary Trump is suing the president and two of his siblings, alleging that they cheated her out of millions of dollars over several decades while squeezing her out of the family business.
On Sunday, Mary Trump said both the president and his father, Fred Trump, held the view that illness was "unacceptable". "Which sounds incredibly cruel, but happens to be true," she said.
India's coronavirus case tally rose by 74,442 in the last 24 hours to 6.63 million on Monday morning, data from the health ministry showed.
Deaths from coronavirus infections rose by 903 to 102,685, the ministry said.
India's death toll from the novel coronavirus rose past 100,000 on Saturday, only the third country in the world to reach that bleak milestone, after the United States and Brazil, and its epidemic shows no sign of abating.
Last week, India further eased restrictions and permitted states to open schools and movie theatres.
State health officials in New Jersey have contacted more than 200 people who attended a campaign fundraiser at the Trump National Golf Course in Bedminster on Thursday, hours before the president announced he had Covid-19, as they try to contain the spread of the deadly virus.
AP reports that Somerset County officials are meanwhile contacting employees who worked the event, most of whom live in the county. In a joint statement issued Sunday, the officials asked guests and employees to monitor their symptoms and, if they were close to President Trump or his staff, to quarantine for 14 days.
The officials, who started seeking the information on Friday, said on Sunday that the White House had sent them a list of 206 guests. They declined to say when they had received the names. They were advising guests not to be tested for five to seven days out from the event.
Last week it emerged that Trump attended the fundraiser after White House officials learned Hicks was symptomatic.
"While the risk is low, a negative test earlier than that time cannot definitively rule out that Covid-19 will not develop," the statement said.
White House spokesman Judd Deere said the president had no contact with any donors or staff that would be considered to be close based on CDC guidelines (more than 15 minutes and within 6 feet)."
During the roundtable event and remarks, the President was more than 6 feet away from all participants, he said.
Hi, Helen Sullivan here. Send news from your part of the world, interesting Trump updates or analysis, questions and comments to me on Twitter @helenrsullivan.
A world away from the US or Europe: coronavirus restrictions in the New Zealand's largest city will be lifted this week, prime minister Jacinda Ardern said, as she expressed confidence a second wave of Covid-19 infections in Auckland has been almost eliminated.
Reuters report the city will move to alert level 1 from 11.59pm on Wednesday, joining the rest of the country, after reporting no new cases in the Auckland cluster for 10 consecutive days.
"There is now a 95% probability of the cluster being eliminated," Ardern said at a news conference on Monday. "Covid-19 will be with us for many months to come. But we should still mark these milestones."
New Zealand, a nation of 5 million, appeared to have stamped out community transmission of Covid-19 earlier this year following a tough nationwide lockdown that was subsequently lifted.
In non-Trump news, the number of confirmed coronavirus cases in Germany increased by 1,382 to 300,619, data from the Robert Koch Institute (RKI) for infectious diseases showed on Monday.
The reported death toll rose by five to 9,534, the tally showed.
Germany has recently seen highs of more than 2,500 daily cases. Monday's figure is low – but Germany's figures are often markedly lower after the weekend.
The New York Times, citing medical experts, reported on Sunday that Trump's medical treatments suggest that the president has a "severe" case of Covid-19.
The times report, which asks several doctors to decipher how ill Trump may be – amid confusing and contradictory reports from his medical staff and the White House – based on the treatments he is taking.
It also suggests that Trump may be directing his own treatment:



Some experts raised an additional possibility: that the president is directing his own care, and demanding intense treatment despite risks he may not fully understand. The pattern even has a name: V.I.P. syndrome, which describes prominent figures who receive poor medical care because doctors are too zealous in treating them — or defer too readily to their instructions.
The president is has been given several drugs, including experimental treatments. Here is a list of his treatments so far, compiled by CNN:



Regeneron's monoclonal antibody therapy: On Friday afternoon, the White House said in a letter that Trump was treated with an 8-gram dose of the experimental antibody therapy cocktail made by the biotechnology company Regeneron. The investigational cocktail, known by its investigational name REGN-COV2, has been in clinical trials since June.

Remdesivir: President Trump is being given a five-day course of the antiviral drug remdesivir, one of the doctors treating him said during a briefing on Saturday. The treatment is intended to shorten recovery time for Covid-19 patients. In a Phase 3 clinical trial, remdesivir was found to speed recovery in moderately ill patients with pneumonia from Covid-19, according to results published in the medical journal JAMA in August.

Dexamethasone: Trump was given the corticosteroid drug dexamethasone on Saturday after his oxygen level transiently dipped, White House physician Dr. Sean Conley said during a briefing on Sunday. The drug is typically given to patients on supplemental oxygen or needing ventilation.

Supplemental oxygen: After previously telling reporters on Saturday that Trump "is not on oxygen right now," White House physician Conley said during a briefing on Sunday that the President had been given supplemental oxygen and had two episodes of transient drops in his oxygen level. Oxygen therapy, or supplemental oxygen, is a treatment that delivers oxygen gas for patients to breathe who may have difficulty breathing.
In non-coronavirus news, my colleague Elias Visontay reports from Australia that one of the world's most famous beaches, Sydney's Bondi Beach, is set to be closed off this afternoon as thousands of Sydneysiders enjoying the warm public holiday weather bring the beach near its Covid-19 safe capacity.
The news comes as the state of New South Wales – home to Bondi – celebrates its 10th straight day with no new locally acquired coronavirus cases – its longest stretch without community transmission since the pandemic began.
In what appears to be the first big test of its Covid plan for controlling crowds during summer, Waverley Council are warning people against travelling to the beach for the rest of the day.
Last week, Waverley Council said it would shut off the iconic beach if it neared its capacity of about 6,000 people is reached.
The White House gift shop has a "President Donald J. Trump Defeats Covid" coin for sale.
The pre-order only ships in 14 November, however, which is after the election.
The pin was launched on 4 October.
So it gives Trump a while to "defeat" Covid if the pin refers to his personal battle with the illness.
The White House has released another photograph of Trump inside Walter Reed.
The photo allegedly shows Trump participating in a conference call with Vice President Mike Pence, the Secretary of State Mike Pompeo and the Chairman of the Joint Chiefs of Staff, General Mark A. Milley.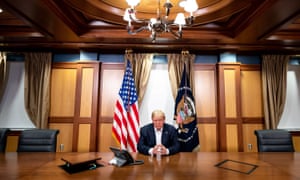 The caption also indicates that White House Chief of Staff Mark Meadows was physically present in the room but is not pictured. It does not indicate whether he was wearing a mask.
A reminder that the CDC guidelines state, "If you have or think you might have COVID-19, it is important to stay home and away from other people."
Here is where Meadows sat at the Rose Garden:
Here is also a reminder of what happened the last time the White House released photos of Trump working (and why I use the word "allegedly" above):
Donald Trump's niece Mary Trump has just given an interview on NPR in which she says that Trump "cannot admit to the weakness of being ill or of other people being ill," and that this is why the US is "in the horrible place we're in".
She says that Trump's father saw illness as "unacceptable".
"Which sounds incredibly cruel, but happens to be true."
Mary Trump wrote the tell-all book Too Much and Never Enough: How My Family Created the World's Most Dangerous Man. She is currently suing Trump and other family members.
And here is how Trump's message was written about in a campaign email attributed to Donald Trump Jr. and sent on Sunday evening, before the drive took place but after the US president had published his video taken inside the hospital.
It paints Trump as simply not being able to "sit back":



Day two into this and he's working hard and looking great. If it was anyone else, I'd be surprised, but, that's just OUR President.

He even released an official video message from Walter Reed Medical Center because he wants to speak DIRECTLY TO THE AMERICAN PEOPLE, directly to you.

…

President Trump couldn't sit back while this was going on – he had to go forward and lead our nation. Leaders confront challenges head-on, and that's exactly what my father is doing.
Read the original article at The Guardian