Coronavirus live news: Madrid lockdown looms; 34m jobs lost in Latin America
South Africa will reopen its borders to all African countries from today while barring tourists from around 50 nations with high infection rates, including Britain, France, India, Russia and the US.
The continent's most industrialised economy shuttered its borders at the start of a strict nationwide lockdown on 27 March to limit the spread of the virus.
Australian prime minister Scott Morrison says the country will open its border with New Zealand "very soon".
Morrison told Adelaide radio station 5AA on Thursday that Kiwis will soon be allowed to fly into Australia with no requirement to complete a two-week quarantine, but said New Zealand was unlikely to reciprocate immediately.
"We'll be able to move on that very soon," he said. "New Zealanders being able to travel to Australia – that's good for Australian tourism."
Morrison said this would also help ease pressure on the international hotel quarantine system that has meant thousands of Australians trapped overseas are unable to return.
"[It] frees up more places for Australians to come home," he said.
The prime minister said South Australia and New South Wales would be the first to benefit from new Kiwi travellers, suggesting states insisting on quarantine for domestic travel would not be included in the bubble.
"We can't have New Zealand tourists coming and taking up those quarantine places in those states," he said.
It is unclear if prospective New Zealand tourists would be required to quarantine on their return home, but a fully functional trans-Tasman bubble appears to be some way off:
Oscar-winning film directors James Cameron, Clint Eastwood and Martin Scorsese joined forces with movie theatre owners on Wednesday in an appeal for financial help, saying they feared for the future of the industry, Reuters reports.
In a letter to the leaders of the U.S. Senate and House of Representatives, they said the coronavirus pandemic had dealt a devastating blow to movie theatres and that without funds "theatres may not survive the impact of the pandemic."
The letter was signed by more than 70 directors and producers along with the National Association of Theatre Owners, the Directors Guild of America and the Motion Picture Association.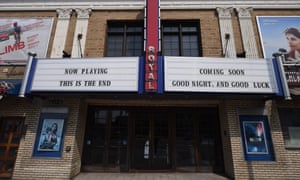 The pandemic forced movie theatres to close their doors in mid-March. Big chains including AMC Entertainment and Cineworld Plc's Regal Cinemas have reopened, with reduced capacity, in many U.S. cities, but not in the biggest markets of Los Angeles and New York City.
The letter said that 69% of small and mid-sized movie theatre companies will be forced to file for bankruptcy or close permanently unless help is forthcoming.
"Cinemas are an essential industry that represent the best that American talent and creativity have to offer. But now we fear for their future," the letter said.
Others signing the letter included James Bond movie producers Barbara Broccoli and Michael G. Wilson, "Wonder Woman" director Patty Jenkins, and action movie director-producer Michael Bay.
They asked Congress to redirect unspent funds from the coronavirus aid package passed earlier this year, or enact new proposals that would help movie theatres weather the pandemic.
The number of confirmed coronavirus cases in Germany increased by 2,503 to 291,722, data from the Robert Koch Institute for infectious diseases showed on Thursday.
The reported death toll rose by 12 to 9,500, the tally showed.
Hundreds of Hondurans formed a caravan headed towards the United States on Wednesday, seeking to improve their living conditions as coronavirus has killed over 2,000 people and paralysed the economy in the Central American nation, local media reported.
The migrants, mostly young men and women carrying backpacks and small children, departed from a bus terminal in the northern city of San Pedro Sula headed toward the Guatemalan border, according to local television.
Wednesday's group marks the first caravan to depart Honduras in 2020, as the nation suffers the largest recorded economic decline in its history after six months of strict lockdown measures aimed at slowing the spread of the novel coronavirus, Reuters reports.
Cuba said on Wednesday it was lifting a curfew and partial lockdown in Havana, in place since 1 September to contain a second wave of the new coronavirus, Reuters reports.
The governor of Havana Reinaldo García Zapata said cases had dropped to an average of 21 per day over the last week for an infection rate of 0.87 in justifying the decision.
Most of the Caribbean nation began returning to a new normal months ago, though there have been minor and quickly contained outbreaks of the virus in a few provinces and a new surge is still to be contained in central Ciego de Avila province.
Cuba has credited its free community-based health system and strict isolation of the sick and their contacts in preventing the rapid spread of the virus in much of the region.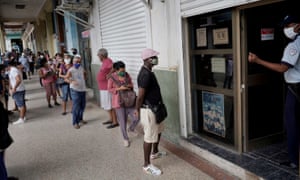 The Communist-run country has reported just 6,000 cases and 122 deaths from Covid-19 to date. More than 90% of those cases were contacts traced through spreaders.
Over the next week public transportation will resume in Havana, stores will return to normal schedules, and eateries and other services will reopen at 60% capacity.
Schools are scheduled to open in November while airports remain closed.
Wearing masks, social distancing and similar measures remain mandatory and violators face stiff fines.
Garcia said the city of 2.2 million people, 20% of Cuba*s population, would remain isolated from the rest of the country for now.
Podcast: Has Covid-19 turned the clock back on women's equality?
Women seem to be bearing the brunt of the economic fallout and taking on a greater share of domestic work and childcare. Guardian columnist Gaby Hinsliff looks at whether the virus has meant a huge step back for women's rights:
American Airlines and United Airlines, two of the largest US carriers, said they were beginning furloughs of over 32,000 workers on Thursday as hopes faded for a last-minute bailout from Washington, Reuters reports.
Both airlines told employees, however, in memos seen by Reuters on Wednesday that they stood ready to reverse the furloughs, which affect about 13% of their workforces before the pandemic, if a deal was reached.
Tens of thousands of other employees at those airlines and others including Delta Air Lines and Southwest Airlines have accepted buyouts or leaves of absence aimed at reducing headcount as carriers battle a health crisis that has upended the global travel industry.
US airlines have been pleading for another $25 billion in payroll support to protect jobs for a further six months once the current package, which banned furloughs, expires at midnight EDT.
Police in Canada have charged dozens of people and seized millions in assets after discovering that a sprawling mansion north of Toronto was thriving as a underground gambling den while legal casinos were shuttered due to the coronavirus lockdown.
York region police announced 74 charges on Wednesday connected to a months-long investigation into illegal gambling operations in Ontario. As well as making 29 arrests, police seized more than $10m in assets, firearms, cash and high-end liquor:
Stormont's health minister is to recommend the introduction of further coronavirus restrictions in Northern Ireland, as it recorded its highest number of infections in a 24-hour period – 424 – since the region's testing regime was expanded, PA Media reports.
Northern Ireland's seven-day cumulative number of cases per 100,000 population has almost doubled to 103.6 from 58.1 in the last week.
Robin Swann said it would be "inconceivable" that the powersharing Executive will not move to announce fresh measures after ministers meet on Thursday.
The minister said while a two-week full lockdown – a so-called circuit breaker – would not be introduced on Thursday, he raised the prospect of such a move over the Halloween mid-term break, or potentially even earlier.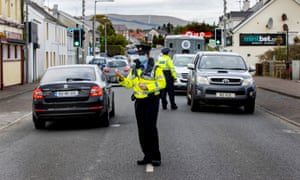 "We are now looking at a severe crisis full in the face," he said. "I can't put this in any more stark terms – a crisis for our health and social care service and for many victims of Covid-19."
Mr Swann added: "I am now more concerned about what lies ahead in the next few months than I have been since becoming health minister."
Households currently cannot meet indoors in Northern Ireland while outdoor social gatherings are limited to six people from no more than two households. An 11pm curfew on pubs and restaurant closing will come into effect on Thursday.
Mr Swann hinted that further restrictions could include added limitations on the hospitality sector, on family and community interactions and on individual travel.
He said the places where the wearing of face coverings was mandatory may be expanded.
The Derry City and Strabane council area of Northern Ireland has one of the highest infection rates of anywhere in the UK – with more than 300 infections per 100,000 people.
The UN's International Labour Organization said Wednesday that at least 34 million jobs have been lost in Latin America due to the coronavirus pandemic.
The ILO urged countries in the region to adopt immediate strategies to deal with the problem, AP reports.
The count was up from the ILOs previous estimates in early August that 14 million jobs had been lost in the region.
The organization's Director for Latin America and the Caribbean, Vinícius Pinheiro, called it an unprecedented challenge.
Pinheiro said the third quarter had brought a recovery in economic activity and, according to preliminary data, a tentative recovery in employment.
He said the region faced structural problems like low productivity, income inequality and a large percentage of people working off the books.
The ILO figures were based on data from nine countries which account for 80% of the region's workforce.
The ILO lists Latin America and the Caribbean as the worst-hit region in the world in terms of lost working hours, with a drop of 20.9% in the first three quarters of the year, compared to an average of 11.7% worldwide.
Residents of infection hotspot Madrid are to be barred from leaving except on essential trips under new rules to fight the coronavirus resurgence, Spain's government said on Wednesday.
But regional authorities said the decision had no legal basis, Reuters reports, setting the stage for a political showdown in an area accounting for more than a third of Spain's 133,604 new cases in the past two weeks.
"Madrid's health is Spain's health. Madrid is special," Health Minister Salvador Illa told a news conference to announce the new regulations, due to come into force in days.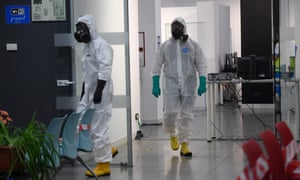 The capital city, with more than 3 million people, and nine surrounding municipalities with at least 100,000 inhabitants each, are to see borders closed to outsiders for non-essential visits, the government said.
People would be allowed to cross boundaries for work, school, doctors' visits or shopping, but not for leisure.
Other measures include the closure of bars and restaurants at 11 p.m., from a previous curfew of 1 a.m., as well as shutting parks and playgrounds.
Social gatherings will be limited to six people.
Madrid has 735 cases per 100,000 people, one of the highest of any region in Europe and double Spain's national rate.
Hello and welcome to today's live coverage of the coronavirus pandemic.
My name is Helen Sullivan and I'll be bringing you the latest from around the world and as always, would be delighted to hear from you wherever you are. Get in touch on Twitter @helenrsullivan or via email: helen.sullivan@theguardian.com.
Madrid residents are set to be barred from leaving the city except on essential trips under new coronavirus restrictions announced by the Spanish government.
Here are the key developments from the last few hours:
Experts warn virus is out of control in the UK. British health experts have admitted Covid-19 is out of control in the country as case numbers and hospital admissions rise despite a slew of new restrictions on social gatherings. "Things are definitely heading in the wrong direction," the UK chief scientific adviser, Patrick Vallance, told a government press conference, as a further 7,108 cases and 71 deaths were reported.
Pandemic travel slump may cost 46 million jobs globally. The impact of the coronavirus on travel may cost as many as 46 million jobs globally, according to projections published by an aviation industry group.The Air Transport Action Group (ATAG) predicted that the travel slump and a slow recovery will threaten 4.8 million aviation workers and more than half of the 87.7 million total jobs supported directly or indirectly by the sector, in related leisure industries and supply chains.
No clear link between school opening and Covid surge, study finds. Widespread reopening of schools after lockdowns and vacations is generally not linked to rising Covid-19 rates, a study of 191 countries has found, but lockdown closures will leave a 2020 "pandemic learning debt" of 300bn missed school days. The analysis, by the Geneva-based independent educational foundation Insights for Education, said 84% of those 300bn days would be lost by children in poorer countries, and warned that 711 million pupils were still out of school.
Young people as diligent about Covid measures as older people, survey finds. Young people are as diligent about coronavirus hygiene routines as their older peers but also more stressed out by the pandemic and willing to give up a higher percentage of their income to stop it, according to a global survey that calls into question the stereotype of feckless youth driving up infection rates.
The Italian Senate has been suspended after two members fell ill with Covid-19. Parliamentary activity was suspended after Marco Croatti and Francesco Mollame, from the ruling Five Star Movement, tested positive.
The Czech Republic is to enter a state of emergency to control a surge in cases. Earlier, health minister Roman Prymula said the government would call the state of emergency for 30 days, and limit gatherings to 20 people outdoors and 10 people inside for at least the first two weeks.Audiences will also be banned from sports events, while secondary schools will be closed and medical students will be summoned to help in hospitals for at least 14 days as part of the measure.
Read the original article at The Guardian