The World Health Organization is sending a team to China next week to investigate the origins of the coronavirus, its head Tedros Adhanom Ghebreyesus has said.
The United States, the WHO's largest critic which has said it is leaving the UN agency, has called for an investigation into the origin of the coronavirus.
President Donald Trump and secretary of state Mike Pompeo have said it may have originated in a laboratory, although they have presented no evidence for this and China strongly denies it.
The number of people who died from Covid-19 in France rose by 35 to 29,813 over the last three days, health authorities announced on Monday, and hospitalisations for the disease have followed their long-running downward trend.
For the first time since the outbreak of the Covid-19 virus, no daily figures were given over the weekend by the authorities, who said that would now be the new procedure going forward.
In more bad news for British holidaymakers hoping to get to Greece, the few flights that had been scheduled to islands that are particularly popular with UK travellers are in the process of being cancelled.
Local media on the Ionian isle of Cephalonia said the Greek government's decision to further extend the ban on airlinks from the UK would affect at least six flights – all due to arrive up and until 15 July.
The no frills airline, Ryanair, which had lined up two flights out of London's Stansted airport on the 5 and 12 July, will be the first to be hit by the decision.
Easyjet and TUI had similarly been forced to reschedule programs until late July and early August, respectively, according to the reports.
The continued suspension of commercial airlinks with the UK and Sweden follows Athens' announcement that it will adopt 'smart testing' to help detect possible passengers infected with the virus.
Under a new protocol requiring all travellers to complete obligatory questionnaires 48 hours prior to boarding planes, those entering the country will be given scannable barcodes.
Depending on the uploaded information, the barcodes will determine whether travellers should be tested or not.
Those who are sent to screening areas and ultimately subject to covid-19 tests will have to isolate while waiting for results.
Any breach of the isolation rule will result in a €5,000 fine.
New York governor Andrew Cuomo has said president Donald Trump should issue an executive order mandating that people wear masks in public, and he should "lead by example" by wearing one himself.
He told a media briefing:



The other states are just starting to do it now, states that were recalcitrant, governors who said 'we don't need to do this, masks don't work.'

Now they're doing a 180…let the president have the same sense and do that as an executive order.
Turkey will extend its wage support system for one month to continue offsetting fallout from the coronavirus pandemic and related lockdowns, president Tayyip Erdoğan has said.
Speaking after a cabinet meeting, Erdoğan said cash aid to low-income families would also be extended for a month.
He said 18bn lira ($2.6bn) had been disbursed so far under the two programmes.
The so-called short labour pay – which partially covers wages of formally-employed workers whose hours are cut – will extend into July.
It came into effect in March shortly after the first Covid-19 case was identified in Turkey.
Some officials in tourism and other sectors had said the system should be extended by another three months.
Thailand will lift its ban on international flights on 1 July, its aviation regulator has said.
The announcement came after the government earlier on Monday approved some foreign travel to the country, including business travellers and foreigners with spouses, work permits or residency in the country.
Thailand has so far reported 3,169 Covid-19 infections, including 58 deaths, while 3,053 patients have recovered.
But the country has gone 35 days without community transmission and new cases have been among Thais returning from abroad and detected during quarantine.
Broadway theatres will remain closed through to 3 January 2021, industry group the Broadway League has said, extending their coronavirus shutdown for another four months.
The theatres, which went dark in mid-March, had previously set a tentative reopening date of 6 September.
The spike in coronavirus cases in the United States and elsewhere shows Canadians must remain vigilant as the economy gradually reopens, prime minister Justin Trudeau has said.
Trudeau also told a daily briefing that fewer people were being admitted to hospital in Canada and the overall death toll was increasing at a smaller rate than before, although some hot spots remained.
The Covid-19 pandemic is not even close to being over, World Health Organization chief Tedros Adhanom Ghebreyesus told a briefing on Monday.
Tedros noted that, six months after China first alerted the WHO to a novel respiratory infection, the grim milestones of 10 million confirmed infections and 500,000 deaths had been reached.



Most people remain susceptible, the virus still has a lot of room to move

We all want this to be over. We all want to get on with our lives.

But the hard reality is that this is not even close to being over.

Although many countries have made some progress globally, the pandemic is actually speeding up.
The head of the WHO's emergencies programme, Mike Ryan, told the briefing that tremendous progress had been made towards finding a safe and effective vaccine to prevent infection, but there was still no guarantee the effort would succeed.
In the meantime, countries could fight the spread of the disease by testing, isolating confirmed cases and tracking their contacts, he said.
He singled out Japan, South Korea and Germany for their "comprehensive, sustained strategy" against the virus.
The WHO plans to convene a meeting this week to assess progress in research towards fighting the disease, Tedros said.
Germany's North Rhine-Westphalia state has extended a coronavirus lockdown on a district hit hard by an outbreak at a slaughterhouse, but lifted the restrictions on a neighbouring area.
The districts of Guetersloh and Warendorf last Tuesday became the first in Germany to go back into lockdown since the coronavirus shutdowns began easing in May, affecting over 600,000 people.
It was the country's first big setback in tackling the pandemic.
The western state's premier, Armin Laschet, said Guetersloh would remain on lockdown until 7 July "as a precaution", even if testing showed only a limited spread of the virus from the slaughterhouse to the wider population.
The neighbouring district of Warendorf however will be able to exit lockdown as planned on 30 June, Laschet told journalists in Duesseldorf.
For Warendorf, "from tomorrow the same rules will apply as elsewhere in North Rhine-Westphalia", he said. That means cinemas, swimming pools, bars and gyms will be allowed to reopen just as the summer holidays get going.
Laschet, a leading candidate to succeed Angela Merkel as the conservative CDU party's chancellor candidate in next year's election, added that the Covid-19 outbreak that started at the Toennies meat processing plant in Guetersloh was "under control".
Serbia has announced masks will be mandatory on public transport and in closed spaces in the capital Belgrade as the country battles a second wave of coronavirus infections.
After reining in its first outbreak of Covid-19 in early May, the Balkan state is now reporting a fresh surge, logging more than 200 cases daily in recent days compared to around 50 a month ago.
The spike comes after Serbia rapidly shed its lockdown measures to allow mass gatherings such as sporting events and national elections to go ahead in June.
Reported infections have risen markedly since the 21 June election, with several top officials recently testing positive, including defence minister Aleksandar Vulin and Marko Đjurić, chief of a government office dealing with Kosovo.
Starting on 30 June, "the use of masks on public transport and in all closed spaces is obligatory in Belgrade, without any exception," the government said in a statement.
Masks will also be mandatory inside malls, restaurants, gyms, night clubs and other closed areas, it added.
The move comes after epidemiologist Predrag Kon, part of a team managing the health crisis, warned last week the situation in the capital "is again threatening".
A growing outbreak has also been reported in the southwest city of Novi Pazar.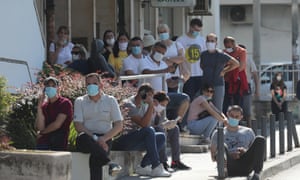 Serbia was recently in the spotlight for allowing its tennis star Novak Djokovic to host a regional tournament that started in Belgrade in mid-June before a slew of Covid-19 infections forced organisers to cut it short.
Djokovic himself tested positive for the virus as did three other tennis players who participated in the Adria tour, which was cancelled during its second leg in Croatia.
Some 4,000 fans attended the matches in both countries.
Five football players from Serbian club Red Star Belgrade also tested positive for the virus earlier in the month after facing their rivals Partizan before a crowd of some 16,000 people.
Seventy sailors from west Africa have tested positive for Covid-19 after arriving in the Seychelles to join a fleet of Spanish tuna fishing boats, health authorities said.
The sailors from Ivory Coast, Benin, Burkina Faso, Senegal and Ghana are part of a group of 200 who arrived last week on the archipelago to replace crew who had spent six months at sea fishing for tuna.
The Seychelles, which had recorded its last cases of the virus in April and had come out of confinement after all 11 patients were healed, had taken measures to ensure the sailors were free of the virus.
"Before coming to the Seychelles, they were tested in Senegal and in Ivory Coast and their results were negative, which allowed them to obtain the Covid-19 certificate which is a condition for entry into the Seychelles," public health commissioner Jude Gedeons said on Sunday.
He said there were "a total of 70 positive" cases.
"The sailors are currently in isolation on their vessel, because they have no symptoms of the illness."
The Seychelles, whose economy relies on tourism, closed its borders in April to stop the spread of the virus, and banned cruise ships from the main island Mahe.
To make up for the loss of tourism revenues, the Indian Ocean archipelago has turned towards its second-largest sector fishing, by accepting the rotation of international teams on its soil, to obtain foreign currency.
A spike in US coronavirus infections is fuelled in large part by people ignoring public health guidelines to keep their distance and wear masks, the government's top infectious disease official has said.
A daily surge in confirmed cases has been most pronounced in southern and western states that did not follow health officials' recommendations to wait for a steady decline in infections for two weeks before reopening their economies.
Anthony Fauci, who directs the National Institute of Allergy and Infectious Diseases, told CNN in an interview broadcast on Monday:



That's a recipe for disaster.

Now we're seeing the consequences of community spread, which is even more difficult to contain than spread in a well-known physical location like a prison or nursing home or meatpacking place.
More than 2.5 million people have tested positive for the coronavirus in the United States and more than 125,000 have died, according to a Reuters tally.
The US tally is the highest in the world as the global death toll in the pandemic surpassed half a million people on Sunday.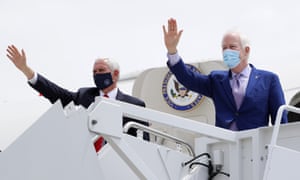 California ordered some bars to close on Sunday, the first major rollback of efforts to reopen the economy in the most populous US state, following Texas and Florida ordering the closure of all their bars on Friday.
Arizona and Georgia are among 15 states that had record increases in cases last week.
US vice president Mike Pence on Sunday pressed Americans to adopt face masks during a trip to Texas and wore one himself, a sharp turnaround for the administration.
Republican president Donald Trump has refused to cover his face in public.
Pence and other top health officials were expected to visit Arizona and Florida later this week.
In places where cases are soaring, US health officials are also considering "completely blanketing these communities with tests," Fauci said, to try to get a better sense of an outbreak.
They would either test groups, or "pools," of people or have community groups do contact tracing in person rather than by phone.
Contact tracing involves identifying people who are infected and monitoring people who may have been exposed and asking them to voluntarily go into quarantine.
Fauci said that he was optimistic that a vaccine could be available by the end of the year but that it was unclear how effective it would prove to be, adding that no vaccine would be 100% effective and citing challenges to achieve so-called herd immunity.
The top Republican in the US House of Representatives, Kevin McCarthy, on Monday stressed individual actions to stop the spread of the virus, deflecting criticism from Democrats and some health experts that Trump botched the prevention effort.
McCarthy told CNBC:



You can't say the federal government should do everything, and then say the federal government can't tell the states what to do.

The governors have a big responsibility here but every American has a responsibility. They should wear a mask.
The Guardian's film critic, Peter Bradshaw, has reviewed Homemade – a short film anthology curated for Netflix, featuring work from 17 filmmakers around the world during lockdown about the theme of lockdown.



Some filmmakers have stuck toughly to the spirit of lockdown, with lo-fi pieces shot on their smartphones within their own four walls.

Sebastian Schipper creates something starring himself with TikTok-style visual gags about doppelgangers and triplegangers.

Rungano Nyoni gives us a wacky comedy about the texting life of a separated couple forced to share a small flat.

Other directors have sneakily upgraded things a bit, with better cameras, flashy drone cinematography, remote post-production work and actors and technicians who have apparently been used in accordance with local rules about lockdown co-operation.

A lot of the pieces are in the lightly fictionalised video-diary mode, with directors often amusingly – and touchingly – using their children, just as they might have roped in their siblings to be in the home movies they themselves made as kids.
Amazon said it will spend $500m on one-time bonuses to its frontline employees and partners working through the coronavirus crisis.
Employees and partners who have been with the e-commerce company through June will receive bonuses ranging from $150 to $3,000, the company said.
The world's largest online retailer, which delivers about 10bn items a year, has been facing intense scrutiny from US lawmakers and unions over whether it is doing enough to protect staff during the Covid-19 pandemic.
Earlier in the day, workers at six Amazon sites in Germany decided to go on strike in protest over safety after some staff at logistics centres tested positive for coronavirus, labour union Verdi said on Sunday.
Greece has extended its ban on direct flights from the UK and Sweden until 15 July.
The decision comes a day before the current ban was due to expire, and two days before the country's regional airports will open to to international flights on 1 July.
All travellers to the country will be required to fill in a form 48 hours before arrival which will determine whether they need to be tested for the coronavirus.
The coronavirus pandemic has intensified the effects of the hostile environment on undocumented migrants in the UK, with many experiencing loss of income, unsafe working conditions and scared to seek help if they have the virus, a report has found.
The Kanlungan Filipino Consortium and human rights charity RAPAR uncovered evidence of exploitative employment and overcrowded living conditions, making physical distancing impossible.
More than half of Filipino migrants surveyed had lost all of their work and income and others were paid as little as £2 an hour. One was living in a five-bedroom flat with 13 other people, all of whom had Covid-19 symptoms.
Out of the 78 respondents, 59 of whom were undocumented, 13 had experienced coronavirus symptoms but only one had sought medical care, highlighting fears about costs and/or being reported to the immigration authorities.
Read the original article at The Guardian