Coronavirus live news: Trump falsely claims virus affects 'virtually' no young, as US nears 200,000 deaths
Asian markets extended the previous day's losses following another rout in New York and Europe as governments impose new containment measures as they struggle to fight off a second wave of virus infections, AFP reports.
After months of economic recovery helped by an improvement in infection and death rates, there is a worry that the coming northern hemisphere winter – which experts say could help the disease spread – will see a return to the strict stay-at-home rules.
Madrid has already put 850,000 residents in lockdown, while under new rules to come into force on Thursday, English pubs, bars and other hospitality venues will be required to close at 10 pm while food and drink outlets will be restricted to table service only.
While nationwide lockdowns – which devastated economies globally this year – have not yet been imposed, the prospect of financially damaging measures being put in place has spooked investors.
London's FTSE 100 and the CAC 40 in Paris tumbled more than three percent, while the Frankfurt DAX tanked more than four percent.
Wall Street also tumbled, though all three main indexes managed to end off their lows thanks to bargain-buying.
The selling continued into Asia but the losses were shallower.
Hong Kong slipped 0.6 percent and Shanghai shed 0.5 percent, while Sydney dropped 0.9 percent. Seoul, Manila and Jakarta all fell more than one percent.
Taipei and Singapore were also down.
Traders are becoming less optimistic US lawmakers will manage to hammer out a new rescue package for the beleaguered economy, with Democrat-Republican antipathy stirred by the death of Ginsburg.
Eight monks have tested positive for coronavirus and their monastery in a remote Orthodox Christian community in northern Greece has been quarantined, a Church official said on Monday.
One of the monks was taken to hospital in Thessaloniki in a serious condition, said the official who declined to be named. It is not the first outbreak at the Mount Athos site – four monks tested positive in March after travelling to Britain but recovered quickly.
Mount Athos, a 1,000-year-old site and one of the Orthodox Church's most venerated places, has 20 monasteries and almost 1,700 monks.
The community, known for its austere rules, is almost most completely isolated in a mountainous nature reserve in the Macedonia region.
The country's lockdown from March to May hit the Church hard, wrecking its Easter celebrations. Church leaders disputed some of the science behind the confinement rules – agreeing to halt masses but refusing to ban communion.
Greece has so far registered 338 deaths and more than 15,000 infections from the virus.
Czech Prime Minister Andrej Babis admitted Monday that his government had made a mistake when it eased restrictions aimed at containing coronavirus over the summer.
His mea culpa came as governments across Europe struggle with a second wave of Covid-19 infections following the holiday months in which the number of cases began rising sharply.
"Even I got carried away by the coming summer and the general mood. That was a mistake I don't want to make again," the billionaire populist said in a televised speech.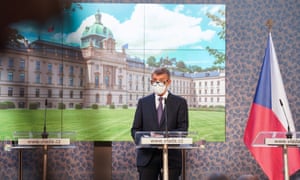 After fending off much of the pandemic earlier in the year with timely steps including mandatory face masks outdoors, the government lifted most measures before the summer holidays.
The Czech Republic registered a record high of 3,130 coronavirus cases last Thursday, almost matching the total for the whole of March, although testing capacity was low at the start of the pandemic.
Interior Minister Jan Hamacek said the country was now ranked second worst in the EU behind Spain in terms of daily case growth per 100,000 residents.
"The situation is serious. Experts say that if we exceed 120,000 new infections per month, we'll start running out of hospital beds. We'll do our best to prevent this," he said.
Health Minister Adam Vojtech – a lawyer known for singing in the Czech version of the "Idol" series – announced his resignation earlier Monday.
He was immediately replaced with epidemiologist Roman Prymula, who has helped coordinate government measures to curb infections.
British Prime Minister Boris Johnson will encourage Britons on Tuesday to go back to working from home if they can to contain the spread of coronavirus, The Telegraph reported late on Monday.
Johnson also warned MPs that by "taking action now we may not have to take drastic action later on", The Telegraph's chief political correspondent said in a tweet, citing sources:
China reported six new Covid-19 cases on 21 September, down from 12 a day earlier, the national health authority said on Tuesday, Reuters reports.
The National Health Commission said in a statement all of the new cases were imported infections involving travellers from overseas.
It also reported 15 new asymptomatic cases, also down from 25 reported a day earlier, though China does not classify these symptomless patients as confirmed Covid-19 cases.
The total number of confirmed infections for mainland China now stands at 85,297, while the total death toll remained unchanged at 4,634.
Mexico surpassed 700,000 confirmed coronavirus cases on Monday even as health authorities cited what they described as nearly two months of slowing infection rates, Reuters reports.
On Monday, the Health Ministry reported 2,917 new confirmed cases of the novel coronavirus in the Latin American country, bringing the total to 700,580 as well as a cumulative death toll of 73,697.
According to a Reuters tally, Latin America has recorded around 8.7 million coronavirus cases and over 322,000 deaths, both figures being the highest of any region.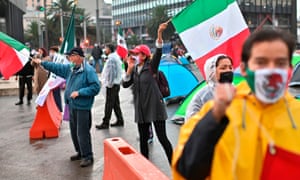 Trump vowed to nominate a Supreme Court Justice before the election.
"As the nation mourns the loss of our Supreme Court justice, Ruth Bader Ginsberg, I will soon announce a nominee for the Supreme Court," Trump said. "I don't want to make the crowd too angry, it will be a woman, is that ok?". The crowd chanted "fill the seat".
The US president falsely claimed that coronavirus, which has killed nearly 200,000 Americans, "affects elderly people. Elderly people with heart problems and other problems. If they have other problems, that's what it really affects. That's it."
He also falsely claimed that it affects "virtually" no young people.
Many people in the crowd did not wear masks.
Trump claimed the US has "among the lowest case fatality rates of any country in the world." This is not true: The US has one of the highest fatality rates per 100,000 population, at 57.97. Here is a map from Our World in Data of the rates per million: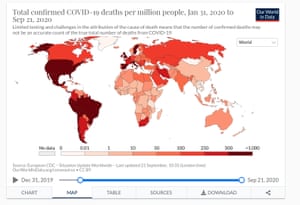 A break from the US now, to a country whose response to the pandemic could not have been more different.
By Charlotte Graham-McLay:
New Zealand recorded no new cases of Covid-19 on Tuesday, as restrictions on much of the country were entirely removed, and measures imposed on Auckland, the largest city, were due to ease further.
There are 61 active cases of the coronavirus in New Zealand, 32 of them diagnosed as part of a community cluster in Auckland. The community outbreak prompted a second lockdown of the city last month, which is now easing.
There is no recorded community spread of the virus in the rest of New Zealand, where the government lifted all physical distancing restrictions and limits on gathering numbers overnight.
A further 29 cases of the virus are contained in managed isolation facilities for travelers returning to New Zealand.
The country has reported 1,464 cases of Covid-19 since the pandemic began, with 25 deaths. Three people are currently in hospital.
Here is Trump dancing to YMCA by the Village People, which is what played when he was finished speaking: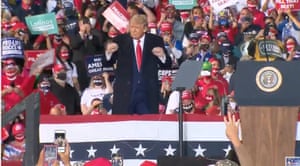 The rally has ended with the following words from Trump – I'll have a summary up soon:
"Together with the wonderful people of Swanton, Ohio we will make America wealthy again. We will make America strong again. We will make America proud again. We will make America safe again. And we will make America great Again."
Here is Trump falsely claiming coronavirus affecting 'virtually nobody" young. "Take your hat off to the young," he says. "By the way, open your schools. Everybody open your schools."
Read the original article at The Guardian