Coronavirus Latest News
Coronavirus live news: Victoria awaits lockdown decision; anti-mask protests held in Europe
Victorian premier Daniel Andrews will hold a press conference at 12pm to announce the roadmap out of stage four restrictions.
A draft of the roadmap leaked yesterday showed that Melbourne would remain in stage four lockdown – with a curfew in place between the hours of 8pm and 5am and permits required for anyone travelling to work – until 28 September.
Modelling released by the government today suggested that restrictions could be in place until mid-October. So it's not expected to be a happy announcement.
Victorian children have now been enduring remote schooling for about 17 weeks or almost two terms – virtually half of their 2020 school year. Earlier in the year, Naplan was abandoned, and for year 12 students in Victoria a "consideration of educational disadvantage" process will calculate final-year students' ranking for university entry.
For primary school kids, half-yearly reports were adjusted to reflect the emotional wellbeing of the student and report broadly on their progress, rather than stick to any attempt to assess as per normal. Expectations across the board have had to be tweaked, partly to prioritise wellbeing, and partly because it's so difficult to assess kids remotely. So what are the lessons from learning in lockdown?
Melbourne could remain under stage-four restrictions until mid-October, according to modelling from the University of Melbourne, which suggests if restrictions are lifted before the 14-day average drops below 25 new cases a day there would be a third wave of infections.
The modelling was released by the Victorian government in the lead-up to a much-awaited press conference by the premier, Daniel Andrews, on Sunday which will set out the plan for moving the state out of lockdown.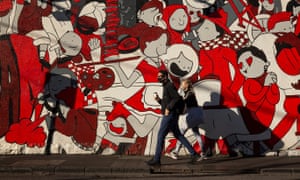 Stage-four restrictions, which were introduced in Melbourne on 2 August, are due to expire on 13 September. Andrews has already hinted they may be extended.
The modelling, circulated by the premier's office, indicates that the restrictions could be extended until the daily case numbers average 25 new cases a day or lower – which, on the current rate of decline, would mean extending stage four for four to five more weeks.
Read the original article at The Guardian