Coronavirus Latest News
Coronavirus live news: warning that Diwali could be 'super spreader event'; world record 136,000 daily US cases
Germany's Robert Koch Institute for infectious diseases said on Thursday the number of Covid-19 deaths is set to rise and it expects an uncontrolled spread of the disease in some parts of the country, reports Reuters.
Global oil demand is unlikely to get a significant boost from the roll-out of vaccines against Covid-19 until well into 2021, the International Energy Agency (IEA) said on Thursday, a view that is likely to dampen oil price gains since vaccine progress was announced earlier this week.
"It is far too early to know how and when vaccines will allow normal life to resume. For now, our forecasts do not anticipate a significant impact in the first half of 2021," the IEA said in its monthly report, reported by Reuters.
"The poor outlook for demand and rising production in some countries … suggest that the current fundamentals are too weak to offer firm support to prices."
Who's getting their hands on the #Covid19 vaccine? Not frontline healthcare workers in low- and middle-income economies. It's also not time to reinvigorate outdated debates about China, Russia and western scientific races.
Interesting article in our Comment section by Clare Wenham, assistant professor in global health policy at the London School of Economics, and Mark Eccleston-Turner, lecturer in global health law @KeeleUniversity
The Gates Foundation added another $70m of funding on Thursday to global efforts to develop and distribute vaccines and treatments against the Covid-19 pandemic, saying it hoped other international donors would also pledge more.
An extra $50m will go to the Covax Advance Market Commitment (AMC) led by the Gavi vaccine alliance, the foundation said, and another $20m to the Coalition for Epidemic Preparedness Innovations (Cepi) which is co-funding development of several Covid-19 vaccine candidates, reports Reuters.
"We have to ensure that everyone gets equal access to tests, drugs, and vaccines when they are available – no matter where you live in the world," the foundation's co-chair, Melinda Gates, said in a statement. "Our pledge today … means we are getting closer to having the resources needed to help the world fight this virus."
Along with the World Health Organization, Cepi and Gavi are co-leading a global scheme known as the Access to Covid-19 Tools (Act) accelerator, which aims to speed up development, production and fair access to Covid-19 drugs, tests and vaccines.
European shares retreated from eight-month highs on Thursday as surging coronavirus infections raised doubts about a quicker economic rebound and overshadowed several upbeat quarterly earnings reports, reports Reuters.
The pan-European Stoxx 600 index was down 0.7% by 08.04 GMT, taking some of the shine off gains of more than 13% this month that had set it on course for its best monthly performance ever.
London's FTSE 100 fell 0.9% as data showed the UK economy grew by a slower than expected 1.1% in September from August, even before the latest restrictions on businesses.
The German engineering group Siemens shed 3.4% even as it reported better-than-expected profit at its industrial business in the final set of results overseen by Siemens' long-standing chief executive, Joe Kaeser.
Israeli's prime minister, Benjamin Netanyahu, has said he is working "around the clock" to make a deal with the pharmaceutical giant, Pfizer, following promising preliminary results from its Covid-19 vaccine trial.
Fearing Israel could be left without an early vaccine, the country's leader said he had held two phone calls with Pfizer's CEO, Albert Bourla – one at 2am local time on Thursday – in the hopes of signing an agreement.
Netanyahu said in a statement that the call was "very warm and cordial" but did not announce an agreement had been signed. "The whole world wants to get [Pfizer's] medicines. We are negotiating with them," he said.
Interim results from Pfizer this week suggested that its two-shot vaccine, developed with the German firm BioNTech, was 90% effective.
Local media in Israel, a country of 9 million people, reported the prime minister was looking to source about 6m doses. Pfizer has not commented on any deal.
Israel has deals in place with at least two other pharmaceutical firms for vaccines and is developing its own, but officials do not expect to start vaccination drives with those unreleased products for several months.
AP is looking at whether it is safe to fly during the pandemic. From 1 December, reports the news agency, Southwest Airlines will join United and American in allowing every seat on planes to be sold. JetBlue will scale back the number of blocked seats, and – along with Delta and Alaska – plans to drop all limits some time next year.
The airline industry says it is safe to fly, pointing to a report it funded that found the risk of viral spread on planes very low if everyone wears a mask as planes have good ventilation and strong air filters.
But the US Centers for Disease Control and Prevention notes that sitting within 6ft of other passengers – sometimes for hours – can still increase your risk of infection. And although airlines are still requiring passengers to wear masks, there is no guarantee everyone will comply. More than 1,000 people who refused to wear masks have been banned by US airlines.
Remember, says AP, that flying also means spending time in airport security lines and gate areas, where you might come into close contact with others.
In an October travel update, the CDC emphasised the importance of wearing a mask and recommended checking whether infections are rising in the area to which you're travelling.
The Philippine health ministry has reported 1,407 new coronavirus infections and 11 more deaths, the lowest daily increase in fatalities in nearly three months.
The ministry said total confirmed cases rose to 402,820, while deaths reached 7,721. The Philippines has the second highest Covid-19 cases and deaths in south-east Asia, next to Indonesia.
A senior health department official in Delhi has said that Diwali, starting on 14 November, could be "a super spreader event [but] the public just doesn't see the threat", reports Reuters.
India has so far reported about 8.6m coronavirus infections – the world's second highest after the US – and 127,571 deaths. But overall, it has been adding fewer cases daily since a mid-September peak, and its fatality figure of 92 per million people is well below the world's tally of 160 and the US's 711.
Still, the state-run Indian Council of Medical Research says the recent fall in cases nationally could be undone if there is a resurgence in infections around Diwali.
Federal authorities have asked the local government in the capital to prepare resources to handle as many as 15,000 cases a day and test more aggressively.
More than half of the city's 16,511 Covid hospital beds were occupied as of Wednesday, government data showed, with more than 24,000 other patients isolating at home. There is no separate data for ICU beds.
Indonesia has signed $1bn loan deal with Australia's government to be used to help combat the coronavirus pandemic in the south-east Asian country, Indonesia's finance minister, Sri Mulyani Indrawati, said on Thursday.
"Everybody, all parts of society, are hurt by this Covid-19 [outbreak] and the role of fiscal policy, together with other instruments, like monetary policy, is very critical during this difficult time," Sri Mulyani told a streamed news conference.
Indonesia has recorded the highest number of coronavirus infections and fatalities in south-east Asia, with 448,118 cases and 14,836 deaths by Wednesday, according to the country's Covid-19 task force.
Italy is experiencing a virus surge with hospitals facing breaking point, according to a report by AP.
The Italian doctors federation called this week for a nationwide lockdown to forestall a collapse of the medical system, marked by the closure of non-emergency procedures. The government is facing tougher criticism than in the spring, when the health crisis was met with an outpouring of solidarity.
As of Wednesday, 52% of Italy's hospital beds were occupied by Covid-19 patients, above the 40% warning threshold set by the Health Ministry.
Nine of Italy's 21 regions and autonomous provinces are already securely in the red-alert zone, above 50% virus occupancy, with Lombardy at 75%, Piedmont at 92% and South Tyrol at an astonishing 99%.
Lombardy, Italy's most populous and productive region, is again the epicenter of Italy's pandemic.
The region's hospitals are responding by reorganising wards in a bid to avoid shutting down ordinary care, as happened spontaneously during Italy's first deadly coronavirus spike.
But nonetheless, hospitals in Lombardy and neighbouring Piedmont — designated red zones by the government last week — have closed surgical, paediatric and geriatric wards to make room for COVID patients. Veneto, still a lowest-tier yellow zone, is preparing to cancel all non-urgent procedures this week.
Turkey has banned smoking in public places across the country to curb the spread of Covid-19, AP is reporting.
The interior ministry said smoking would be banned in busy streets, bus stops and public squares when necessary. It said the nationwide mask mandate in public spaces, which has been in effect for several months, must be followed at all times and smokers were routinely violating the mask rule.
The ministry also said provinces can decide to impose curfews on senior citizens above the age of 65 if they are seeing increases in the number of critical patients. The governors of Istanbul and Ankara have already reintroduced measures this week, allowing senior citizens to leave their homes only between 10 a.m. and 4 p.m.
Turkey has seen a spike in infections since lifting partial lockdowns and reopening businesses in late May. The latest Health Ministry figures show 86 new fatalities in the past 24 hours, bringing the death toll to 11,145.
Good morning from GMT – and starting gently with you all, I've got news from Reuters that while lockdown may have shut Czech theatres, Prague residents hungry for entertainment have found that watching a live performance can be as easy as grabbing a takeaway
Prague troupe Cirk La Putyka has opened a "Culture Window" at a Prague marketplace building where an audience of up to four outside can watch a five-minute live show of music, acrobatics and dancing inside, while still observing social distancing rules.
The window, which opened on Tuesday for two nights of performances, draws its inspiration from pick-up windows for food orders at restaurants that have also been forced to shut dining spaces due to tighter restrictions to curb the spread of the coronavirus.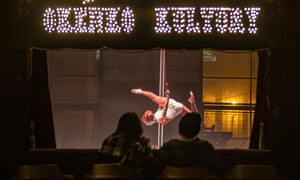 That's it from me, Helen Sullivan, for today. I'm handing over to my splendid colleague Amelia Hill.
Here are the key developments from the last few hours:
The US confirmed its highest 24-hour infection total to date – with a world record of 136,000 cases recorded in one day. The US also suffered its highest death toll since early May, with 1,984 coronavirus deaths.
Texas passes 1m cases. Texas on Wednesday became the first state with more than 1 million confirmed Covid-19 cases, and California closed in on that mark as a surge of coronavirus infections engulfs the country.
Auckland, New Zealand asks people to work from home tomorrow. The department of health has asked all New Zealanders who live or work in Auckland central city to stay home tomorrow after further details emerged of the mystery case of Covid-19, whose point of infection is as yet unknown.
Athletes arriving at Tokyo Olympic Games will be exempt from isolation requirements. Athletes arriving in Tokyo for next year's Olympic Games, postponed from 2020 because of the coronavirus pandemic, will be exempt from the 14-day isolation period Japan has imposed on anyone arriving from overseas to help stop the virus spreading.
Cyprus has announced partial lockdowns in the towns of Limassol and Paphos to curb a surge in Covid-19 cases. The local measures, which include a ban on travel into and out of the towns and a nightly curfew, will take effect from Thursday and last until the end of November.
Sweden's PM, Stefan Lofven, said his government plans to ban nationwide the sale of alcohol after 10pm in bars, restaurants and night clubs from 20 November in an effort to curb the spread of Covid-19. Sweden has witnessed record numbers of new coronavirus infections in past weeks, which is burdening the country's health care system and intensive care wards.
Spain's coronavirus death toll surged to over 40,000 with infections passing the 1.4 million mark, while the rate of new cases continued to grow, health ministry data showed. A further 349 people died in the past 24 hours, bringing the death toll to 40,105 in Spain – the fourth-highest within the European Union after the United Kingdom, France and Italy.
South Africa will open up travel to all countries and restore normal trading hours of alcohol, despite having the highest number of confirmed Covid-19 cases on the continent, in an effort to boost the tourism and hospitality sectors, the president Cyril Ramaphosa said.
Officials and doctors in Pakistan urged people to stay at home as the air quality in Lahore deteriorated to hazardous levels, putting an additional burden on the fragile healthcare system amid a surge in coronavirus deaths and new infections.
The New York governor Andrew Cuomo imposed a new round of restrictions aimed at curbing the spread of the coronavirus as the infection rate climbed and hospitalisations soared in the state. Taking effect on Friday, Cuomo ordered bars, restaurants and gyms in the state to shut down on-premises services at 10pm nightly, and capped the number of people who could attend private parties at 10.
Turkey banned smoking in crowded public places to slow a recent surge in symptomatic patients with coronavirus, as the government warned citizens to abide by protective measures. It comes as daily cases surged to 2,693 on Wednesday.
Greek authorities announced stricter restrictions on movement, extending a curfew nationwide after infections broke fresh records, reporting 2,752 new cases on Wednesday. Four days after the country went into a second lockdown to curb the surge in cases, the government said all circulation would be banned between 9pm and 5am.
Spain will demand a negative Covid-19 test for all travellers arriving from countries with a high risk for coronavirus from 23 November. Visitors will need to show evidence of a negative PCR test result within the previous 72 hours to be granted entry and officials will be allowed to ask for proof of the test results.
Athletes arriving in Tokyo for next year's Olympic Games, postponed from 2020 because of the coronavirus pandemic, will be exempt from the 14-day isolation period Japan has imposed on anyone arriving from overseas to help stop the virus spreading.
Olympic organisers said on Thursday details still need to be worked out, but measures for athletes are likely to include coronavirus testing within 72 hours before arriving in Japan. But they warned decisions on spectators from overseas have yet to be made, saying a 14-day quarantine was "impossible".
"Athletes, coaches and Games officials that are eligible for the Tokyo Games will be allowed to enter the country, provided significant measures are made before they get to Japan," Tokyo 2020 Chief Executive Officer Toshiro Muto told a news conference.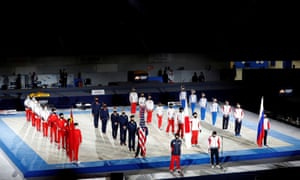 Muto was speaking after a meeting between officials from the Tokyo Metropolitan Government, the national government and Tokyo 2020 organisers on infection prevention procedures during the Games.
He said a decision on foreign spectators would be made next year, depending on pandemic developments.
"By next spring, we will be coming up with a plan for spectators, including non-Japanese spectators," he said. "It is impossible to set a 14-day quarantine period for foreign spectators, so tests before and upon arrival are needed."
Japan has held several recent test events, including a four-nation gymnastics meet last weekend, in which spectators have been admitted, but these were limited to residents of Japan.
International Olympic Committee head Thomas Bach is due in Japan for a three-day visit next week, at which Muto said he expected details of coronavirus counter-measures would be ironed out.
California looks set to be the second state — behind Texas — to eclipse a million known coronavirus cases. The grim milestone in a state of 40 million comes as the US has surpassed 10 million infections.
The state currently has 989,400 cases confirmed.
The timeline of Covid-19 in America often comes back to California. It had some of the earliest known cases among travellers from China, where the outbreak began. The Feb. 6 death of a San Jose woman is the first known coronavirus fatality in the U.S. That same month, California recorded the first US case not related to travel and the first infection spread within the community.
On 19 March, Governor Gavin Newsom issued the nation's first statewide stay-at-home order, shuttering businesses and schools to try to prevent hospital overcrowding.
The spread slowed, but California faced the same challenges as other states: providing enough protective gear for health workers, doing enough testing and providing timely results, tracking infections and those potentially exposed.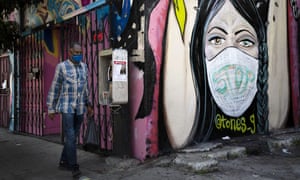 As the state tried to balance public health and the economy, cases rose as it relaxed business restrictions. Eleven counties this week had to reimpose limits.
The virus has struck poor Californians and Latinos especially hard. Latinos make up 39% of the population but account for more than 60% of infections.
In working-class neighborhoods near downtown Los Angeles, one in five people tested positive at community clinics during the pandemic's early days, said Jim Mangia, president and chief executive of St. John's Well Child and Family Center.
Many caught the virus in essential low-wage jobs or on public transit and brought it back to crowded homes.
The United States continued to notch up grim records on Wednesday as it battles through the coronavirus pandemic, with a worsening outbreak in the northeast of the country adding pressure on top of an already reeling Midwest, Reuters reports.
New Covid-19 infections of 142,279 were at an all-time daily high for a second day in a row and above 100,000 for an eighth consecutive day, according to a Reuters tally.
The number of people hospitalised with the virus also surged, to at least 64,939 by late Wednesday, the highest ever during the pandemic. The death toll rose by 1,464.
New York Governor Andrew Cuomo was the latest state official to impose a new round of social distancing restrictions on Wednesday, in an attempt to protect a state that was the epicentre of the US outbreak in its early stages.
The US has reported a total of about 10.4 million cases and 241,809 deaths throughout the pandemic.
Read the original article at The Guardian