Coronavirus Latest News
Coronavirus live news: WHO hopes crisis can be over within two years; Italy records biggest daily infection rise since May
The latest developments in Australia.

The premier of the Australian state of Queensland, Anastacia Palaszczuk has confirmed six more cases of Covid-19 at the Brisbane Youth Detention Centre, and another three from crew members on ships. There are now 7 active cases linked to the youth detention centre.

As a result, people in Brisbane, Ipswich, Logan, Lockyer Valley and Moreton Bay and Redlands will only be allowed to have gatherings of 10 people indoors and outdoors.

For the rest of the state it is limited to 30 people. Palaszczuk said she expects more cases could be linked to the cluster but they are waiting for the test results to come back. She says staff and children at the centre are "well looked after".

The state is still currently not accepting visitors from NSW, the ACT, and Victoria.

In the southern state of Victoria, there is hope the state has passed the peak of its second wave, with daily case numbers dropping below 200 for the first time since 13 July. Also a cause of hope was the fact that just 24 of those cases were so-called 'mystery cases' where the source of the infection is unknown.

Authorities are not getting complacent, however, and this weekend marks just the halfway mark of stage four lockdown and curfew for Melbourne, and stage three for the rest of the state.
British holidaymakers have endured long last-minute drives and forked out thousands of pounds in a bid to return home from Croatia before the imposition of new travel quarantine rules.
From 4am on Saturday travellers arriving to the UK from the Mediterranean country will have to self-isolate for 14 days after a spike in coronavirus cases led to the British government removing Croatia from its safe travel list.
At London Heathrow Airport's Terminal 5 on Friday evening, British Airways flights arriving from the Croatian city of Dubrovnik and the capital Zagreb were among the last to arrive in the UK before the quarantine deadline.
Adam and Katie Marlow, from Buckinghamshire, were forced to drive a hire car three hours from the coastal city of Zadar to Zagreb to catch a new flight home instead of returning on Saturday.
The couple decided to come back earlier than planned due to 33-year-old Ms Marlow's pregnancy and her need to return to work on Monday.
They said their new flights costs around 300, while the care hire was another 100.
Asked about the government's handling of the travel corridor rules, Mr Marlow, 37, who works for a financial company, said: "With most of the changes I support everything they do, I would say though that they should publish the criteria for where the cases are.
"Then we could have kept have an eye on it… and we could have maybe made a different decision and maybe an earlier decision and it might have cost us a bit less money."
Mrs Marlow, a sales manager, who is due in October, added: "Completely understand why they are doing it, but it would be good to have a bit more warning, because we only had 24 hours notice. That's all we had."
Steve Laws, 53, a company director from Oxfordshire branded the government's actions as "shambolic".
The global death toll from coronavirus has passed 796,000, according to Johns Hopkins University's tracker.
The figure has reached 796,095 with the US having the most fatalities with 175,204 followed by Brazil with around 113,000.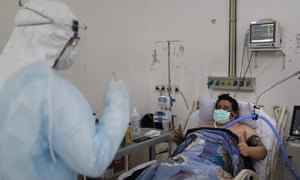 Brazil reported 30,355 new cases of coronavirus and 1,054 deaths in the past 24 hours, the health ministry said on Friday.
Brazil has now registered 3,532,330 cases of the virus since the pandemic began, while the official death toll from Covid-19 has risen to 113,358, marking the world's worst coronavirus outbreak after the United States.
Fifteen Minnesota residents have contracted the coronavirus after being exposed during the 10-day Sturgis Motorcycle Rally in South Dakota, health officials said, warning that they expect the number to grow.
One patient was hospitalised as of Friday, said Kris Ehresmann, infectious disease director at the Minnesota Department of Health.
The first Sturgis-linked case was reported Thursday, she said, while the 14 others were added on Friday.
"We're expecting that were going to see many more cases associated with Sturgis," Ehresmann said.
"Thousands of people attended that event, and so it's very likely that we'll see more transmission. Obviously it takes a while for people to develop symptoms and get tested and for us to get those results."
The Sturgis rally, which ended Sunday, brought hundreds of thousands of people to western South Dakota.
An elderly care home resident in Australia who was transferred to hospital from a facility that was beleaguered with Covid-19 died with 18 sores on her body and was suffering from "pure neglect", a nurse who treated her has told the Guardian.
Sweden has chosen the right strategy in fighting the spread of the new coronavirus, prime minister Stefan Lofven said, defending his government's decision not to adopt a strict lockdown as many European countries have done.
More than 5,800 Swedes have died of Covid-19, a much higher death rate than Norway, Denmark and Finland which adopted much tougher measures, leading many to question the government's approach.
But Lofven said Sweden made the correct choice.
"The strategy that we adopted, I believe is right – to protect individuals, limit the spread of the infection, etc," he said in an interview in daily Dagens Nyheter.
"What has been discussed most, and what we did differently in Sweden, was that we did not close schools. Now there are quite a few people who think we were right."
Whereas many countries enforced strict lockdowns, Sweden has relied mainly on voluntary measures focused on social distancing, though public gatherings have been limited and care homes – which saw a heavy death toll – quarantined.
While Sweden has seen more fatalities than its neighbours, it has not been as badly hit as countries like Britain and Spain, which adopted much stricter lockdown measures.
And many parts of Europe are seeing a pick up in new cases as they gradually loosen restrictions on travel and social interactions, Sweden has seen a decline in both infections and deaths in recent weeks.
Lofven also defended the decision by the Public Health Agency not to enforce the wearing of facemasks, as many European countries have done, to fight the spread of the virus.
"What they are saying, and what I absolutely believe, is that they cannot be the main tool we use," Lofven said.
"What is important still is social distancing, testing and tracking. Those must be our main focus in order to reduce infection."
The return of shell money: Papua New Guinea has seen a resurgence traditional farming practices, bartering and the use of tabu after Covid's blow to economy.
Rhode Island, the smallest US state, was able to reopen day care programs in the summer without high rates of coronavirus spread, a study said.
Robert Redfield, director of the Centers for Disease Control and Prevention which wrote the research, held it up as an example that could be replicated across the country.
"I think this is an inspiring article to tell individuals that there is a path where one can use or partner with their public health authorities and safely get these childcare programs reopened," he said.
A total of 666 out of 891 childcare programs, both center- and home-based, reopened in Rhode Island on June 1 following a significant decline in cases and hospitalisations in the state.
Officials imposed measures like universal masking for adults, daily symptom screening for everyone, routine disinfection, reduced class sizes (first up to 12, and later 20), and maintaining stable bubbles of staff and children.
South Africa's confirmed Covid-19 cases have surpassed 600,000, the health ministry said on Friday, despite the number of new cases declining since a peak in July.
The country now has 603,338 confirmed cases of the virus and 12,843 people have died, the ministry said in a statement.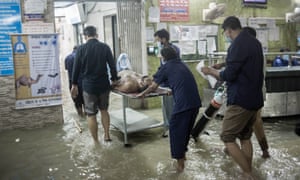 The World Health Organization (WHO) has recommended that children over 12 should wear masks in the same contexts as adults in the bid to rein in the Covid-19 pandemic.
STA Travel, a company which offered package tours for backpackers and adventurous young people, has become the latest business to cease trading because of the coronavirus pandemic.
The WHO hopes the Covid-19 pandemic will be over in less than two years. WHO chief Tedros Adhanom Ghebreyesus noted that the Spanish flu pandemic in 1918 took two years to end, and that we now had more technology and knowledge to stop a crisis.
Italy has recorded its biggest daily infection increase since May. On Friday, the country's health ministry registered 947 new infections, the largest 24-hour rise since 14 May, when it was still in lockdown.
Coronavirus cases are nearing 3 million in India, after it reported 68,898 new infections in a single day. Friday's tally was the third straight daily increase above 60,000 – taking the total to 2.91 million. Deaths also increased by 983 to 54,849.
Lebanon has imposed a partial lockdown to contain a surge of infections following the devastating Beirut explosion. On Thursday, the country reported a record 24-hour total of new coronavirus cases, with 613 new infections. Medics have said the virus has spread in the aftermath of the blast as hospitals were flooded with casualties.
Madrid residents have been advised to stay at home by the Spanish government as it recorded 8,148 new coronavirus cases on Friday. The number of new cases across Spain in the past 14 days now sits at 70,420, while around 30% were detected in the capital.
Coronavirus infections have been reported by at least 41 schools in Berlin, barely two weeks after they reopened. The disclosure by Berlin city education authorities that hundreds of students and teachers have had to quarantine has underlined once more how little is known about the risk of infection in school settings, despite the insistence of governments and experts that reopening schools is safe with the right precautions.
A plant capable of supplying 50 million N95 face masks a year will help stave off "terrifying" shortages during the coronavirus pandemic, the leader of Canada's most populous province said on Friday.
Ottawa and the province of Ontario decided to invest C$23 million ($17.5 million) each to expand the facility after experiencing serious problems as they tried to stock up on foreign-made personal protective equipment (PPE) for health care workers in the first weeks of the outbreak.
"We were left in a terrible, terrible situation … and the terrifying reality is, at one point back in April, Ontario was left with less one week's supply of N95 masks," Premier Doug Ford told reporters.
"I promised the people of Ontario that we would never, ever again be left at the mercy of other countries for this critical PPE," Ford spoke at the plant in Brockville, a town about 110 km (70 miles) south of Ottawa.
Starting next year, 3M Co Canadian will produce 25 million masks for the federal government and another 25 million for Ontario.
In April, Ford complained the US had blocked the export of more than 3 million face masks Ontario had bought.
Canada has reported 123,873 total cases and 9,054 deaths. Ontario accounts for the 31% of the death toll.
Federal Prime Minister Justin Trudeau said the plant would help "ensure we have the capacity to make whatever we need, here in our own communities" and could one day export masks.
The World Health Organization has recommended that children over 12 should wear masks in the same contexts as adults in the bid to rein in the Covid-19 pandemic.
The UN health agency, in cooperation with UNICEF, published fresh guidance on Friday on when it is appropriate for children to wear masks to impede the spread of the coronavirus crisis.
The two UN agencies had convened a group of experts to review the limited data available on children's contribution to the spread of COVID-19, as well as on the benefits of mask-wearing by children.
Based on those findings, as well as considerations surrounding children's developmental needs, they said the advice varied in different age groups.
WHO thus recommends that "children aged 12 and over should wear a mask under the same conditions as adults, in particular when they cannot guarantee at least a one-metre distance from others and there is widespread transmission in the area."
The document acknowledged that much remains unknown about to what degree children contribute to the spread of the novel coronavirus.
But it said that while there is some limited evidence that young children may have lower susceptibility to infection compared to adults, data indicated that teenagers "may play a more active role in transmission than younger children".
The UN agencies said that children under five should not wear a mask.
It comes after France's education minister, Jean-Michel Blanquer, said schools will reopen on 1 September as normal, but all staff as well as pupils over the age of 11 must wear masks.
Read the original article at The Guardian