Coronavirus live updates Australia: more 'prompt' response could have prevented Victoria's aged care deaths, says Brendan Murphy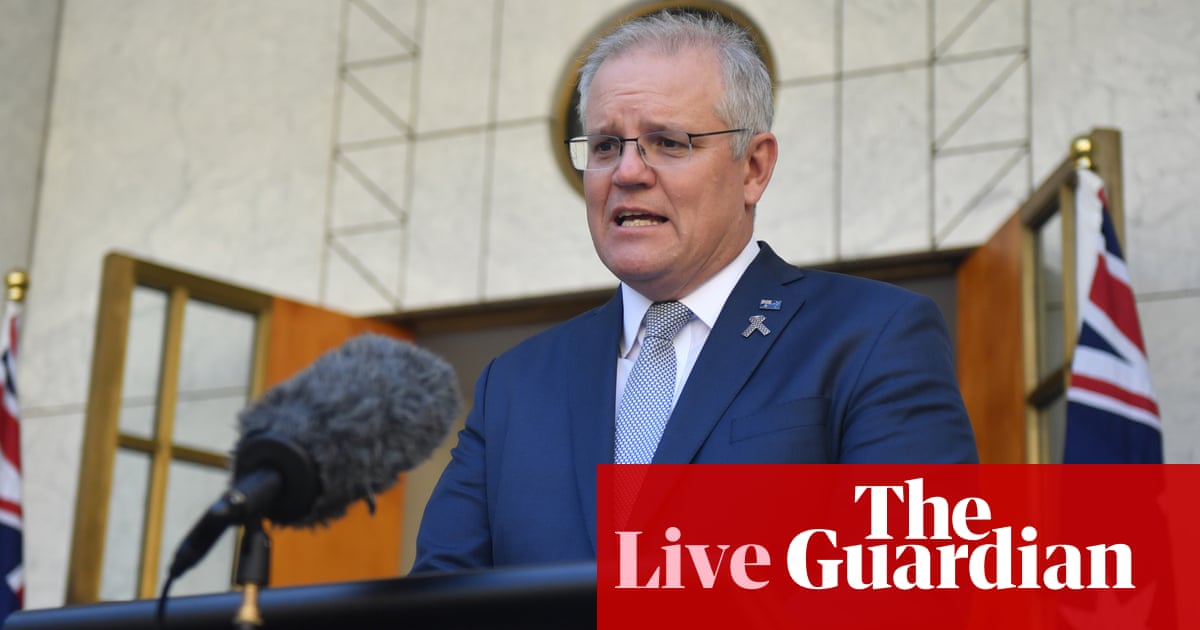 And it gets worse
Greens senator Larissa Waters has responded to the minister for families and social services, Anne Ruston's, re-announcement of domestic violence funding:



This funding is a fraction of the money needed to ensure women and children fleeing family violence have somewhere to go and get the support services they need.

Announcing 700 new crisis places which the government contends will house 6,000 women and children nationally, when its own data shows more than almost 10,000 survivors were already turned away from crisis accommodation pre-Covid, means the government is condemning a third of women and children to a choice between violence or homelessness.

Increased demand throughout Covid has meant Queensland Women's Legal Service hasn't been able to answer 50% of its incoming calls. Much of the 'emergency' funding announced by the government to address increased demand on family and domestic violence services in March is yet to reach the bank accounts of frontline services.

Funding for crisis accommodation and support services for victim-survivors has never been more critical. Yet services have been waiting months for the support promised by this government, and made clear that much more is needed.

The Greens support the sector's calls for a significant increase in funding to fix the domestic and family violence crisis. Next week's budget must fund all frontline services needed to keep all victim-survivors of violence safe, and effective primary prevention.
Also in the Covid hearing, the committee has just heard that for the 2019-20 year, 10,563 people passed away while on the home care waiting list.
A little earlier today, Scott Morrison also acknowledged the grim Covid milestone the world has passed – one million deaths:



Today also we pass a milestone that no one would want to have ever seen passed and that is a million lives lost to Covid-19 around the world. And it is a reminder that we are living in the midst of a global pandemic. This is a pandemic that has been visited upon Australia from outside our shores and is one that has impacted on us greatly. In Australia, 882 lives have been lost to Covid-19, 670 of those in aged care. This is a heavy blow when it comes to the health impacts of the pandemic and it has been a daily challenge to ensure that we remain, as best as we can, ahead of the challenges of this pandemic, and in Australia we have fared better than almost any other country in the world.

That is particularly the case when you combine the challenge we have with the Covid recession that has stemmed from the pandemic and our task has always been to manage both the health impacts of the pandemic and the economic impacts of the pandemic.

And Australia sits amongst a handful of countries that have been able to limit the economic blow as well as limiting the health blow to our country and that is a great credit to all Australians in what they've been able to achieve and the way that they've demonstrated resilience and, in particular, the people of Victoria and especially the people of Melbourne, who have most significantly undergone the heavy burden of those restrictions in recent months and together they have flattened that curve for Australia once again.

I said Australia will not win until Victoria wins and I believe Victoria is now beginning to win and that's good news for all Australians and we thank Victorians for their great sacrifice over these many months to ensure that Australia can move forward together.
Here is what Anthony Albanese had to say about today's announcement by the federal government:



I wanted, today, to respond to the latest re-announcement. The latest triumph of marketing and spin over substance from Scott Morrison and Josh Frydenberg.

Today's re-announcement is about the so-called 'digital strategy'.

But once again, when you look at the detail, it's more about announcement than delivery. Scott Morrison is always there for the photo op, never there for the follow-up.

The Digital Transformation Agency was set up by Malcolm Turnbull many years ago. The only thing we've heard of it in recent times is the extraordinary amount of money that they spent on stationery, which is ironic given that it is supposed to be about digital transformation.

Indeed, more than half of the money that has been re-announced today was actually announced in 2017 and in a funding envelope that was revealed last year to create a digital identification number.

Labor committed to a director identification number in May 2017.

Today's announcement follows the extraordinary humiliation of the backflip just a week ago by Paul Fletcher, when the government discovered that indeed, fibre, 21st century technology, was better than copper when it came to the National Broadband Network.

This, in spite of the fact that they trashed the model that was established under the Rudd Labor government to roll out fibre-to-the-premises for 93% of Australian households and businesses. During the pandemic we have learned again how necessary 21st century communications technology is. Not just to downloading but to communicating, to uploading, which was always the key for business. How important it is to drive jobs in regional Australia.

This government doesn't get new technology. It doesn't get helping to not just imagine the future but creating the future in a way that creates jobs and creates economic activity. And if today's announcement or re-announcement is the best job they can do, then I think Australians are entitled to have confirmed in their mind that this indeed is a government that just does re-announcements, that concentrates on marketing and spin and doesn't deliver when it comes to what is what is necessary.
Over at the Senate Covid inquiry, Brendan Murphy has been asked if any of the aged care deaths were avoidable.
His answer is below:



Of course, you can always look at whether a more rapid public health response to these early outbreaks – if you recall, earlier on in the outbreaks in New South Wales and in Victoria there was a very rapid response and containment, but even then, with those rapid responses in NSW, two facilities had widespread infection.

But I think if the public health response had been more prompt, we might have avoided some of the scale of the outbreaks in Victoria, and obviously we're looking at, for example, if we had stood up the Victorian aged care response centre, early on, if we had been aware, if we'd had prior warning the public health response may have been compromised, that's something that might have prevented some of the spread amongst facilities by responding more quickly.

And obviously, you know, one of the lessons that we have learned, out of the Victorian outbreak is that infection prevention control training which was done widely across the sector needs to be regularly reinforced and that's certainly something that the Victorian aged care response centre has been pursuing in facilities in Victoria.

So, so it's not possible to say what proportion could have been prevented as we've said on many occasions, once you have widespread community outbreaks, aged care outbreaks and unfortunately, deaths, particularly for people who are very frail and close to end of life are inevitable, but largely with the benefit of hindsight and in responding with a response centre, as I said a little bit earlier, we may have been able to prevent some of some of the spread.

I think we would always look at every, every episode that happens and see what else we could learn.
Gladys Berejiklian, the New South Wales premier, is not celebrating her state's fourth day of having no locally acquired cases.
As AAP reports, she is concerned people will get complacent:



Last time we were complacent the Victorian situation erupted and caused this enormous amount of stress.

It's very early days. The fact that we've had a few days now of zero community transmission is positive, but we can't get ahead of ourselves.
A further relaxation of restrictions is on the table, as soon it is safe to do so, she said.



We're always looking to see what we can do in NSW, but we need to do it at the right pace.
Labor's social media campaign has decided on a new format in recent days:
The Ernies – the awards given out for the most sexist and maladroit remarks – will be held virtually this year. The awards will be handed out on 1 October.
From founder and organiser Dr Meredith Burgmann's statement:



Some of the frontrunners for 2020 are old favourites Mark Latham, Jeff Kennett and Craig Kelly, joined by newcomers Adem Somyurek and Israel Folau.

It is remarkable that what began as a joke 28 years ago has become an institution. The winner of the Gold Ernie is often a surprise and in 28 years I have never managed to predict the winner.
You can find the finalists here. Or just add your predictions to the comment thread.
If you want to follow along with the Covid committee's hearings on the federal aged care response, you can find the link here.
Q: The prime minister has … [flagged] a possible return to home isolation rather than hotel quarantine. Do you believe that this can provide enough protection for returning travellers?
Anthony Albanese:



What we should be doing is taking the advice of the medical experts and the chief health officers, rather than making political decisions.
Q: And in terms of public servants returning to the office to encourage more CBD spending, do you support public servants going back to work in the office?
Albanese:



Well, I'm a public servant, I'm in an office right now. Thank you very much.
Q: Just very briefly – have you picked up the phone to [speak to Patrick's]?
Anthony Albanese:



No, I have not. And it's not my job, as the opposition leader. I'm not part of the government. And I suggest to the government that what they should be doing is trying to bring the parties together.
Q: As the leader of the Australian Labor party, do you support the MUA and their right to engage in what is protected industrial action?
Anthony Albanese:



Of course, we have an industrial relations system that provides for action. This government has been in place now in its third term.

This is the government's industrial relations system, but there should be, also, as well as formal processes, the commonwealth should be playing a role in trying to bring the parties together.

Now, we have a circumstance whereby, for example, earlier this year, we had an industrial relations minister say that he had never spoken to the secretary of the ACTU. I find that extraordinary.

They'd never picked up the phone, had had no contact whatsoever.

What we've seen from the government is a change in that rhetoric, and the government engaging with the trade union movement to try to achieve common outcome unless the interests of the national interest during the pandemic. I think that spirit should be taken to industrial relations.

It's the position that I put for a long period of time, that trade unions and employers have a common interest.

They have an interest in successful businesses, but, of course, successful businesses are ones as well that have a cooperative workforce; that have a history of not necessarily engaging in cooperative dialogue with the trade union movement.
The Labor leader's first question is on the Patrick Terminals dispute:



I think that the unions and the employers should have a cooperative relationship. There should be dialogue in the interests of both parties coming together, rather than conflict, and that the commonwealth should be playing a role in that rather than engaging in rhetoric for political purposes.

… If I was prime minister in this position, I would be trying to bring the parties together.

… I would be trying to bring the parties together in a cooperative way.

… I can't answer the same question in anything other than the same answer.
There are no new Covid cases in Queensland.
The Senate Covid committee is also holding hearings today – they start at 1pm.
It is about the aged care response today.
Read the original article at The Guardian