Coronavirus live updates: France's second wave 'faster than we thought' says top doctor; Melbourne lifts curfew
As Victoria reaches the end of its second wave of the coronavirus, the focus is now on ensuring a third wave doesn't hit as Australia heads into summer.
Guardian Australia spoke to leading epidemiologists about the lessons learned from other countries, particularly in Europe, that are experiencing a resurgence in cases.
What does Australia need to do to avoid a third wave? Lessons from other parts of the world show we should lock down early, rely on evidence – and get used to wearing masks.
Asked about any changes to be made to Victoria's contact-tracing system (which has faced criticism) since officials visited New South Wales, Andrews said both sides learned from each other but the biggest outcome was that NSW would be adopting Victoria's IT system.
As Andrews' press conference draws to an end, catch up on the global developments with our wrap here.
Q: Premier, on Friday you testified at the hotel quarantine inquiry, leading national cabinet, you had no expectation of defence force support at the hotel quarantine scheme, yet on July 27th, you responded: "We utilise private security, we will also utilise members of Victoria police and I'm very grateful to the prime minister for his offer of support from the Australian defence force." Why did you mislead the inquiry?
Andrews: Well, I didn't, because you omitted a very important word – extensive support. I had no expectation whatsoever of extensive support coming to us from the ADF. That is what I took away from the national cabinet meeting in very plain and clear terms. I fully acknowledge that there would be, in my judgment, a very different arrangement in New South Wales. I detailed why that was the case yesterday.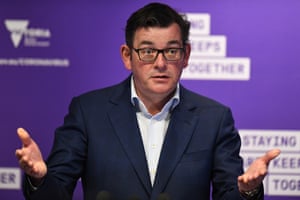 Asked about the resignation of health minister Jenny Mikakos, Andrews says he's spoken to many colleagues in the past 48 hours.
"No one is happy to see someone who is an incredibly hard-working member of the team go. When you make a decision you can't serve in the cabinet, you can't serve in the cabinet. You need to tender your resignation. That's what happened."
He wishes her well and he acknowledges her hard work.
"To do anything else would be simply wrong, it wouldn't be accurate."
Andrews says he's saddened by this but Mikakos made the only decision she could make once she decided she couldn't sit in cabinet.
Some questions now for the newly minted acting health minister Martin Foley is being asked about elective surgeries.
Q: How quickly are Melbourne hospitals going to be able to get up to the 75% elective surgery?
As soon as they are able and varying from place to place, says Foley.
Q: "Is there concern among the health industry or basically doctors and surgeons have been saying that there's no incentive for surgeons to assist in helping the blitz be carried out. Is there anything changing?"
A: "Of course, I've been in the job for not quite 15 hours. I'm happy to sit down with and I've had some initial exchange with the AMA. I look forward to sitting down with the colleges, I look forward to sitting down with them and working through the processes in the safest, most appropriate manner."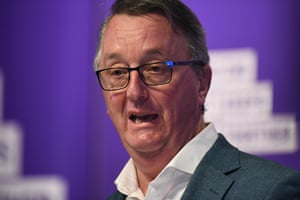 Someone might need to fill me in here on the apparent influence held by Melbourne's indoor dance community.
Q: The indoor sporting arrangements for the dance community which is very vocal, have pointed out that young children are not a risk and carrying out current classes for schooling. Can they carry out classes for children?
A: We're looking at that. I will tell you what I know, rather than what I think. I know the public health team is looking at this and it started with the professional dancers who looked at that, a matter of work, Australian Ballet – things of that nature. I know they were looking at this matter in the example you cite.
On the 127,000 people returning to work:
Supermarkets and food distribution centres will return to full capacity.
Abattoirs, seafood and meat processing plants will also increase, in line with the levels we know are safe.
At the same time, and recognising the increased risk in some of these environments, there'll be additional obligations for employers, including regular surveillance testing of staff, nightly deep cleaning, separating workers into consistent bubbles, and providing regular training for their workers.
Manufacturing can return with up to 90% of its workforce.
Sole traders doing outside gardening and landscaping can return – not in teams.
Retail pet grooming will also resume.
Questioned on the very short notice given to these industries, Andrews suggests he had no choice, and that if they announced it last week it would have been on non-current data and might have to be rolled back.
"I don't think too many of them will be complaining that this decision has been made was up I think they will be very pleased. And they will work hard over the coming days to come up to the permitted level of activity."
Questions now.
Andrews explaining the new exercise allowances. If you're at work, you can go for a walk or a run etc within 5km as long as you have your permit on you.
Public gatherings – now allowed in small numbers – do not mean your front or backyard. It means "in public places".
Rules around face coverings have been strengthened. From the press statement:
"Victorians will now be required to wear a fitted face mask, covering the nose and mouth. Some of the concessions we made as we adjusted to this new normal – things like wearing a scarf or a bandana or a face shield – will no longer apply."
Andrews declines to make any announcement on the possibility of face mask rules relaxing. He says he recognises that as it gets warmer the masks get more uncomfortable, but the benefits are really clear.
"I'm a hold out when it comes to mask, I think they play and important part and they're not going anywhere soon," he says. But the question of where they're used, such as workplaces and outdoor parks, is not settled and he'll listen to health experts.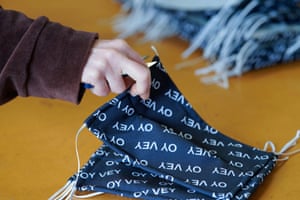 Virus reproduction rates are falling about 20% every five or six days, says Professor Allen Cheng, who is going through the modelling driving the restrictions and changes to those restrictions.
"These models are really best at describing or exploring 'what if' scenarios without actually having to live them," he says. For example:
"The Burnett model was able to explore what was the impact of relaxing restrictions early. This suggests we really can't open up too quickly. If we had opened up to the final step on the 14 September, this model suggested we would have an 86% chance of a resurgence up to 100 cases a day within four weeks. If we opened up tomorrow to the final step, they would still be a 41% chance of getting to 100 cases a date within four weeks."
"We're almost there. We need people with symptoms to be tested, so we can find the last cases and act. We need to hang in a little longer to make it as safe as possible before the next step."
Chief health officer Brett Sutton is up now.
"Today's numbers are a little bit of an illustration around why that decision was recommended by my public health team and why I have accepted and supported discontinuation of the curfew," Sutton says.
"That is a very different situation to where we had been in recent weeks, certainly even different to a fortnight ago when we had 50- 60-70 cases per day."
The epidemiology and demographics of the cases are different now, he says.
'The sporadic, individual community cases that we are seeing are now very small in number. Over the course of the last couple of weeks… we are getting down to one to three community cases per day and so in reflecting on the obligations of the Victorian Charter and the public health and wellbeing act and issue of proportionality, it is my view and it was the public health team's view, that the curfew is not a proportionate measure to have in place going forward."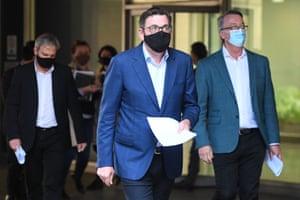 The much-maligned nighttime curfew is over from tomorrow morning.
In its place they are introducing a new fine of almost $5,000 for any unlawful indoor or outdoor gatherings.
"It mirrors the announcement we have put in place for people travelling to regional Victoria and potentially taking the virus with them without a lawful reason. If you are having a party at your house, that is unlawful. That was everything at risk."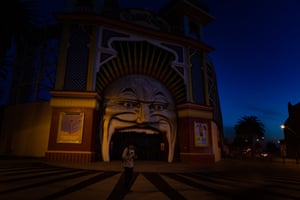 Some extremely hopeful news for Victorians.
The third and final steps of the roadmap will no longer be held to the announced dates, Andrews has announced.
"We believe we will be able to take the next step – which is when all the restrictions leaving your home when there is much more freedom of movement – on 19 October," says Andrews.
"We are at least a week ahead of schedule. But we must wait and see how things unfold over the next three weeks and then make those decisions and speak about likely timeframes in November. This is a strategy that is designed to get us to a Covid-normal Christmas."
More:
Faith-based activities: Five people plus one faith leader for outdoor gatherings and ceremonies will be allowed.
Weddings: A limit of five including the couple and two witnesses in outdoor places are allowed.
Exercise: Hiking, fishing and other exercises that don't involve a facility, are now allowed for a maximum of two hours within five kilometres of your home or – if you are a permitted worker – within five kilometres of your workplace. Tennis, golf, bowls etc clubs are still closed.
Read the original article at The Guardian