Coronavirus Latest News
Coronavirus US: New York sees steady decline in cases and deaths as other states face rapid rises – live
Florida has broken its one-day record for new coronavirus infections for a second straight day with an additional 9,636 positive cases, the state's department of health said on Saturday.
There were 76,129 tests conducted Friday, with a 12.7% positivity rate, officials said. Florida has more than 122,000 confirmed cases of Covid-19, with at least 3,366 deaths.
To help mitigate the alarming trends, Miami mayor Carlos A Gimenez is due to sign an emergency order closing all beaches in Miami-Dade County from 3 to 7 July.
On Friday, the state's faltering response to these soaring new coronavirus numbers came under renewed fire when the state's former leading Covid-19 data scientist accused his administration is "cooking the books" in an effort to hide the true impact of the devastating pandemic.



Rebekah Jones, who says she was fired from her job in charge of the state's official Covid-19 database in May for refusing to manipulate its figures, claimed on social media to have evidence that employees at Florida's department of health "have been instructed this week to change the numbers and begin slowly deleting deaths and cases so it looks like Florida is improving next week in the lead-up to July 4, like they've 'made it over the hump'."
The pandemic has forced organizers to move parades, marches and forums online across the United States in June for Pride Month, an annual celebration of the LGBTQ community and a renewed call for equal rights. Still, "canceling" Pride was not an option, said Cathy Renna, director of communications at the National LGBTQ Task Force.
"Our community just said, 'A year without Pride is not acceptable – let's find a way to try and create an experience online'," she said. "And in some ways, it's allowed an accessibility to Pride that we didn't have before."
Millions of people from every corner of the world are expected to tune in on Saturday to Global Pride, a 24-hour virtual broadcast to be streamed on YouTube and the Global Pride website, that organizers say could become the largest LGBTQ event ever. Among those scheduled to deliver remarks are Norwegian prime minister Erna Solberg of Norway, Luxembourg prime minister Xavier Bettel and Manvendra Singh Gohil, the first openly gay prince of India.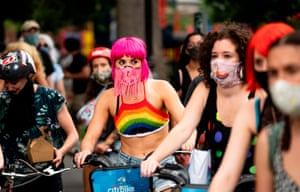 Some in-person demonstrations will still take place. On Sunday in New York City, the Reclaim Pride Coalition, a group of queer and trans activists, will hold its second annual Queer Liberation March which this year will focus on a protest against racial injustice and demands for police reform.
"Inspired by the historic, Black-led protest movement that has taken to the streets here in NYC and across the world, Reclaim Pride supports demands for immediate defunding, disarming, and dismantling of police forces,* the organization's Francesca Barjon said in a statement.'
Organizers of Reclaim Pride reject commercial sponsorship as well as the presence of uniformed police, and have asked participants to wear face coverings and maintain social distancing during the march.
Florida, Texas, Arizona and California have emerged as states experiencing a rapidly increasing number of coronavirus cases. Record seven-day case averages have now been reported by 13 states in total across a huge swathe of America, including Georgia, Idaho, Mississippi, Missouri, Oklahoma, South Carolina, Tennessee, Utah and Washington.
But New York, once the center of the US coronavirus crisis, appears to be heading in the right direction.
Andrew Cuomo, the state's Democratic governor, said on Saturday that less than 1% of the roughly 73,000 people tested for Covid-19 on Friday were positive.
The 703 new cases account for 0.96% of those tested, down from 1.4% the day prior.
"Today's numbers show a continued, steady decline in our hospitalization and death rates, and proves that a response based on science, not politics, is only way to defeat this virus," Cuomo said. "While this is good news, New Yorkers cannot become complacent – we must continue to remain vigilant and smart in the fight against Covid-19. Wear a mask, socially distance – be New York tough."
A small city on the outskirts of Houston has instituted a curfew starting Saturday night due to surging cases of the novel coronavirus, the latest move by officials in a dramatic retreat in the aggressive reopening of America's second-biggest state.
The mayor of Galena Park, a community of 10,000 people east of Houston, said she was heeding a warning from Harris County judge Lina Hidalgo, who on Friday raised the public threat level to its most severe, a sign people should shelter at home.
"It is crucial to continue to practice good hygiene, stay home as much as possible, avoid unnecessary trips, gatherings, and wear a face-covering at all times when you leave your home," mayor Esmeralda Moya said in a statement late on Friday.
Galena Park's curfew will run from 10pm to 5am daily.
The US recorded more than 45,000 new cases of Covid-19 on Friday, the largest single-day increase of the pandemic, bringing the total number of Americans who have tested positive to at least 2.46m. Hospitalizations in Texas, reported by state health officials, have now skyrocketed more than threefold over the past month.
"The harsh truth is that our current infection rate is on pace to overwhelm our hospitals in the very near future," Hidalgo said at a press conference on Friday. "We opened too quickly."
Donald Trump's motorcade has just arrived at Trump National Golf Club in Loudoun County, according to the White House press pool.
According to CNN senior congressional correspondent Manu Raju, this marks the 271st day he's spent at one of his golf clubs in the 1,254 days since taking office.
The pool reporter notes a group of protesters were there to greet the president outside the club, holding signs that included 'Trump makes me sick' and 'Dump Trump', while "a woman walking a small white dog nearby gave the motorcade a middle-finger salute".
The brother of a 20-year-old student who was shot and seriously injured by police at a protest in Austin, Texas, says officers' use of less lethal munitions, such as beanbags, should be reviewed. The AP reports:
When a participant at a rally in Austin to protest police brutality threw a rock at a line of officers in the Texas capital, officers responded by firing beanbag rounds ammunition that law enforcement deems "less lethal" than bullets.

A beanbag cracked 20-year-old Justin Howell's skull and, according to his family, damaged his brain. Adding to the pain, police admit the Texas State University student wasn't the intended target.

Protesters took to the streets in Austin and across the nation following the May 25 police killing of George Floyd in Minneapolis. In some instances, police reacted with force so extreme that while their intent may not be to kill, the effects were devastating.

Pressure has mounted for a change in police tactics since Howell was injured. He was not accused of any crime. He was hospitalized in critical condition on May 31 and was discharged Wednesday to a long-term rehabilitation facility for intensive neurological, physical and occupational therapy. His brother has questioned why no one is talking about police use of less lethal but still dangerous munitions.

"If we only talk about policing in terms of policies and processes or the weapons that police use when someone dies or when they are 'properly lethal' and not less lethal, we're missing a big portion of the conversation," said Josh Howell, a computer science graduate student at Texas A&M University.

The Austin Police Department said in a news release that, before June 1, its officers used Def-Tec 12-gauge beanbag munitions on protesters. According to the manufacturer's website, they have a velocity of 184 mph. Howell said any ammunition fired at that kind of speed has the potential to be deadly.

"Anything shot at 90 miles per hour is lethal," Howell said.
My colleagues Dominic Rushe and Amanda Holpuch have reported on the impact coronavirus could have on people's health insurance.
Millions of Americans who have survived Covid-19 or face future infections could lose their insurance or be barred from getting coverage should the Trump administration successfully repeal Obamacare.

The Trump administration asked the supreme court late Thursday to overturn the Affordable Care Act – a move that, if successful, would bring a permanent end to the health insurance reform law popularly known as Obamacare.

Under the ACA, insurance companies cannot deny coverage for pre-existing conditions. Its abolition would mean millions of Americans who have had or have cancer, multiple sclerosis or other diseases would struggle to find insurance.
… and welcome to another day of coverage of US politics, the coronavirus outbreak and anything in between.
The US reported more than 45,000 new coronavirus cases on Friday, marking its biggest single-day jump yet. Overall, US deaths from Covid-19 have surpassed 125,000.
Infection rates are on the rise in more than 30 states, among them Florida, where Miami mayor Carlos A Gimenez is due to sign an emergency order on Saturday closing all beaches in Miami-Dade County from 3 to 7 July, putting a damper on Fourth of July weekend in an attempt to contain an outbreak in a city responsible for more than 30,000 of the state's 123,000 confirmed cases.
Giminez said in a statement:
After consulting with our County's public health experts, I will be signing an emergency order on Saturday to close all beaches in Miami-Dade County starting Friday, July 3, and ending Tuesday, July 7. The closure may be extended if conditions do not improve and people do not follow New Normal rules requiring masks to be worn always inside commercial establishments and outdoors when social distancing of at least 6 feet is not possible.

As we continue to see more COVID-19 positive test results among young adults and rising hospitalizations, I have decided that the only prudent thing to do to tamp down this recent uptick is to crack down on recreational activities that put our overall community at higher risk.

Again, everyone should wear masks inside public establishments and outside if they cannot practice social distancing of at least 6 feet.

I have been seeing too many businesses and people ignoring these lifesaving rules. If people are not going to be responsible and protect themselves and others from this pandemic, then the government is forced to step in and restore common sense to save lives.
Elsewhere, US president Donald Trump has canceled today's planned trip to his New Jersey golf club and has no public events on his schedule for the next two days.
Read the original article at The Guardian