Coronavirus Latest News
Dominic Cummings leaves legacy of 'bullying, deception, hypocrisy and hubris', says Labour – live
Scotland's health secretary wanted to suspend freedom of information legislation in response to the coronavirus pandemic, according to internal government emails obtained by the investigative website The Ferret.
Jeane Freeman made the request as the government was preparing emergency legislation to deal with the pandemic, in response to a request for ministers to suggest items they felt were "urgently required".
In an email sent on behalf of the cabinet secretary, obtained by the Ferret, Freeman requested the "suspension of FoI legislation in order to allow staff (NHS and local government, but potential to extend more widely) to focus on essential activities".
Emergency legislation passed at the start of lockdown significantly extended the deadlines for public bodies to respond to FoI requests from the public from 20 to 60 working days. In some circumstances the Scottish government could extend deadlines for bodies other than itself for another 40 working days. But a month later in May Holyrood scrapped the controversial proposals with the second wave of emergency legislation reverting the rule back to the original 20-day deadline after opposition MSPs joined forces.
The Ferret notes that the emails were revealed after its freedom of information request was returned more than six months late. It also points out a number of high-profile health stories that have used FoI revelations recently, including a BBC Disclosure investigation into care homes and a Sunday Post exclusive that hospitals had discharged patients to care homes despite them having tested positive for coronavirus.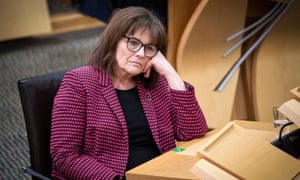 Here are three leading Conservative commentators on Dominic Cummings.
Paul Goodman at ConservativeHome says Cummings is "the greatest British right-wing campaigner of our age" but that his achievements in government have been limited.



Cummings is right-wing. But he has never as far as we know been a member of the Conservative Party. And he is certainly not a Tory: that's to say, a believer in the collective wisdom of institutions.

Indeed, he can't see one without savaging it, probably in a blog several thousand words long, as an emperor with no clothes. There is a seething side to his energy and brains – a restlessness, an impatience. He is not in politics, as some MPs of all parties are, for business as usual.

Cummings is sometimes thought of as preoccupied with levelling-up. This is not quite right. Rather, he seems to be in the tradition of Corelli Barnett, the military historian who argues that the cult of the gifted amateur among Britain's governing classes failed the nation in the last two centuries, and helped to collapse British power …

Political campaigning has a single aim: winning. In a modern democracy, governing does not. Rather, it must seek to resolve clashes between different interests. Indispensable to this task is the work of a civil service which was there before you came into government and will still be there when you leave.
James Forsyth in the Spectator says Cummings "bent the arc of history". He says:



Dominic Cummings is one of those rare individuals who has bent the arc of history. He has been crucial, if not indispensable, to several key moments in this country's recent past. His work at Business for Sterling is one of the things that put Tony Blair off attempting to take the UK into the Euro. Even more importantly, it is hard to believe that Leave would have won the 2016 referendum without the brilliant, heterodox campaign that Cummings devised.
Forsyth also says that later flow tests (the rapid-result ones) are only being rolled out now in the way they are because Cummings pushed the issue in government.
And Fraser Nelson in the Daily Telegraph (paywall), in a column filed before it was confirmed that Cummings was leaving, says he the "Vote Leave model of government – whatever its merits in Brexit negotiation – is failing".



The Tories who have always loathed Dominic Cummings know that they had best be careful what they wish for. As one puts it, "the only thing worse than Boris with Dom is Boris without Dom". Johnson is no micro-manager and needs someone with incredible work ethic and ability. He'd like his No10 to run as smoothly as Rishi Sunak's Treasury – and would certainly like his team to include Cummings. But not necessarily run by Cummings. The era of Vote Leave dominance, in other words, is over.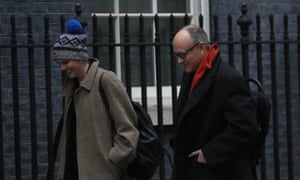 Turning away from Dominic Cummings for a moment, Grant Shapps, the transport secretary, gave an important commitment on coronavirus when interviewed on the Today programme earlier.
At the Downing Street press conference yesterday Alok Sharma, the business secretary, repeatedly failed to give a clear assurance that supplies of the coronavirus vaccine to the UK would not be affected by a no-deal Brexit (ie, no trade deal).
But this morning, when asked if he could rule out any possibility of vaccine imports being disrupted by the failure to strike a UK-EU trade deal, Shapps said he could. He replied:



Yes, I can rule that out, for two reasons.

First of all, we've done an immense amount of work on border readiness, and making sure that we're able to keep goods flowing.

And, even as a back-up to the back-up, as it were, we've also signed a freight contract, which is upwards of £100m, to make sure that we are able to get category one goods in, which it won't surprise you to hear, include things like vaccines.

So, even if there are [problems], which we very much hope that there won't be – and we've planned for there not to be – we still have a back-up.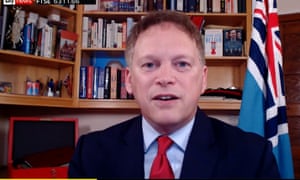 And this is from Sarah Wollaston, the former pro-remain MP who defected from the Conservatives to the Lib Dems (via Change UK) over Brexit.
Here is some Labour reaction to the departure of Dominic Cummings.
From Angela Rayner, the deputy leader
From David Lammy, the shadow justice secretary
From Jonathan Ashworth, the shadow health secretary
Downing Street has not formally confirmed that Dominic Cummings will leave his job by the end of the year. But, unofficially, No 10 sources are saying that the story is true, and that he is going.
Here is some response from journalists and commentators to the news that Dominic Cummings will be leaving No 10 by the end of the year.
From my colleague Gaby Hinsliff
From Mirror's Pippa Crerar
From the Independent's John Rentoul
From ITV's Paul Brand
From the Mail on Sunday's Dan Hodges
From David Skelton, the one-nation Conservatism commentator
From Lionel Barber, the former FT editor
From Joey Jones, a former Sky deputy political editor and former aide to Theresa May
From PoliticsHome's Alan White
From Steve Hawkes, the former Sun deputy political editor
From Michael White, the former Guardian political editor
The Conservative backbencher Sir Roger Gale has told Sky News that Dominic Cummings was a "malign influence" who was at the centre of power for too long.
Jill Rutter, a former Treasury civil servant who now works for the Institute for Government, says the Conservative party should pay for Sonia Khan's payoff (see 8.05am), not the taxpayer.
Jenkin says Boris Johnson needs to appoint "substantial people" to the government.
Ministers are very young and inexperienced, he says.
Q: Should the PM have a chief of staff?
Jenkin says he is sceptical of that idea. He says Margaret Thatcher never had one.
But the PM does need people around him who support him and understand what he wants to do. He says Johnson needs someone like the late Sir Simon Milton, Johnson's deputy for three years when he was mayor of London and someone widely respected as an administrator.
On the Today programme Sir Bernard Jenkin, the Conservative backbencher, says the depature of Dominic Cummings offers an opportunity for a "reset" in No 10.



It's an opportunity to reset how the government operates and to emphasise some values about what we want to project as a Conservative party in government.
Looking ahead, he says three watchwords are crucial: respect, integrity, trust.
Asked if he is making a point about Cummings, Jenkin says he does not want to talk about Cummings personally. "In many ways I've got a great deal of respect for him," he says.
He says they worked together at Vote Leave.
(They did – although Jenkin was also involved in the failed attempt by the Vote Leave board to get rid of Cummings, an episode dramatised in Brexit: The Uncivil War, the film staring Benedict Cumberbatch.)
UPDATE: Jenkin also said he was not surprised Cummings was having to leave.



I'm not surprised in a way that it is ending in the way it is. No prime minister can afford a single adviser to become a running story, dominating his government's communications and crowding out the proper messages the government wants to convey … Nobody is indispensable.
The news about Dominic Cummings's departure coincides with the revelation that Sonia Khan, who was sacked as a special adviser to the then chancellor, Sajid Javid, by Cummings, has been given a five-figure payoff by the government.
My colleague Rajeev Syal has the story here.
And here is the statement that Khan has issued this morning following the settlement.



Following 14 months of negotiation, I have today reached a settlement with the Treasury, my former employer, and as a result I am no longer pursuing my employment tribunal claim which was due to be heard in London in December.

I would like to thank the FDA [the civil servants union] who have supported this action and were instrumental in finding a settlement, alongside their legal advisers Slater and Gordon.

I would also like to thank the Metropolitan police service for their support during intense scrutiny and pressure for myself and my family, and my current employer, Cicero/AMO, for their wholehearted backing in the last year.

Having reached a settlement of these issues I am now moving on with my life and career. I have a fulfilling job as a consultant, I maintain great affection for the Conservative party and remain a committed Conservative. The party took me under its wing when I was a teen and I feel hugely privileged to have served as a special adviser under the last two prime ministers.
Good morning. Dominic Cummings, Boris Johnson's chief adviser, is set to leave No 10 by the end of the year. The BBC's political editor, Laura Kuenssberg, got the story last night. As always with Cummings, nothing is ever straightforward and he has not said yet on the record that he is going. He just said, for quoting, that his position had not changed since he said in January that he wanted to make his position largely redundant by the end of the year. But Kuenssberg has also had a conversation with a "senior No 10 source" who said Cummings would be out by Christmas, and this news is being widely reported this morning, including by journalists known to be close to Cummings.
Why does this matter? Well, when Boris Johnson ran for the Conservative party leadership, he ran as a relatively mainstream Tory. The only real policy difference between himself and Jeremy Hunt, his main rival, was that Johnson said the UK would leave the EU on 31 October 2019. (It didn't.) Johnson said nothing about hiring Cummings, the combative and controversial Vote Leave campaign director. Indeed, some MPs were even told that Cummings would not get a job in a Johnson administration.
But, then, when he became PM, Johnson promptly installed Cummings as the most powerful aide in No 10, and appointed a large number of Cummings' Vote Leave colleagues to run policy, and everything else, in Downing Street. In many respects it was a Vote Leave administration more than a Conservative administration.
This worked brilliantly for Johnson in the 2019 general election, which he won handsomely with Cummings' "Get Brexit Done" campaigning focus. But, in administrative terms, the Vote Leave record has been rather different. Even its supporters admit the team has struggled at times to govern effectively. Its critics say it has been a disaster.
Which is why the departure of Cummings, following the announcement of his ally Lee Cain's resignation on Wednesday night, is important; it is likely to mark a reset moment for the government, transforming it into something quite different. Or you could call it "shapeshifting", as they say in the US.
Here is our story on Cummings' departure.
And this is what Grant Shapps, the transport secretary, told Sky News about it this morning.



As [Cummings] wrote right at the beginning of the year in his own words, he planned to make himself largely redundant this year with the big thing that he worked on, of course, which was Brexit, coming to an end at the end of the transition period, which is 31 December.

Of course, the other big thing is helping to ensure we have the rollout mass testing to defeat this virus. Both these things are on the near-term horizon now.

He will be missed but then again we're moving into a different phase and Brexit will be, we've already left Europe, but the transition period will be over, and things move on and advisers do come and go.
I will be covering all the reaction to Cummings' departure this morning.
But it's an important day for coronavirus news too, and I will be covering that as well here. At 12pm we will get the ONS's latest Covid surveillance survey, and we will also get the government's latest estimate of R, the reproduction number, and the growth rate.
I try to monitor the comments below the line (BTL) but it is impossible to read them all. If you have a direct question, do include "Andrew" in it somewhere and I'm more likely to find it. I do try to answer questions, and if they are of general interest, I will post the question and reply above the line (ATL), although I can't promise to do this for everyone.
If you want to attract my attention quickly, it is probably better to use Twitter. I'm on @AndrewSparrow.
Read the original article at The Guardian