The US dollar is coming under some pressure today, helping to push the pound up by three-quarters of a cent to $1.236.
Ranko Berich, head of market analysis at Monex Europe, blames America's failure to get to grips with Covid-19.
With lockdown measures being re-imposed in several states, including Florida, Texas, California and Arizona, traders are anticipating more financial woes for the US.
Berich says:



"In weeks and months gone past the US dollar's "exorbitant privilege" as the global reserve currency and premier safe haven has meant markets have been willing to overlook the painful reality that is the relative mismanagement of the pandemic in the US.

However, with peer economies in Europe, Asia, and elsewhere re-opening without major virus spikes, the contrast to the ongoing crisis in the US is all the sharper and it looks like markets are finally willing to punish the dollar at the margin."
Over in Washington, top infectious diseases expert Anthony Fauci has tried to jolt policymakers into action, warning the Senate that the situation is deteriorating fast.
Newsflash: Britain's stock market has just recorded its best quarterly gains in a decade.
The FTSE 100 has rallied by 9% since the start of April, bringing some relief to investors after the crash which began in late February, and ran until mid March.
Stocks surged strongly in April, and in May, on hopes that the UK economy would recover from the worst recession in generations.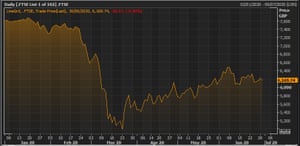 It's notable that shares rebounded even as the death toll from Covid-19 grew steadily in the UK, and around the globe.
The huge money-printing programmes launched in the UK, US and the eurozone helped to support asset prices, while new low-cost loans for struggling companies calmed fears of widespread defaults. Fiscal programmes, such as the UK's furlough scheme, also helped companies keep running.
That is the blue-chip index's fifth best quarter in the last 20 years, and trims its losses for 2020 to "only" 18%.
The index ended June with a whimper, though, losing 56 points or almost 1% to 6,169.
Newsflash: European equities have posted their best quarter since 2015.
The Stoxx 600, which contains Europe's biggest 600 listed companies, has just closed 0.3% higher tonight, the last day of June. That means it has surged by 12.64% during the last quarter.
However, the Stoxx 600 is still down by 13% for this year.
Germany's DAX had a particularly strong quarter, surging by 24% since the start of April.
German stocks rebounded strongly in recent weeks as Berlin agreed massive stimulus measures to fight the Covid-19 downturn, and as German shops and offices reopened for business in May.
That means the DAX is only down 7% this year, the best performance of any major European exchange.
France's CAC jumped by around 12.5% in Q2, leaving French equities down almost 18% for the year.
Italy's FTSE MIB has gained 13.9% in the last three months, but is still down 17.4% for this year after a horrendous plunge in February and March when the pandemic struck.
Gold has hit its highest level in almost eight years.
The spot price of bullion hit $1,785 per ounce this afternoon , a level not seen since October 2012.
Gold futures are even more bubbly, pushing over $1,800 per ounce.
Gold, a traditional safe-haven, has benefited from predictions that inflation will surge thanks to the massive money-printing operations from central banks.
Bank of England deputy governor Sir Jon Cunliffe has warned that more companies will enter financial distress, as the coronavirus hits the economy.
Reuters has the details:



"I would imagine that we are going to see a number of credit events and defaults in this crisis," Cunliffe said in an online discussion hosted by the Institute of International Finance.

Cunliffe also said the BoE should not be dogmatic over the possibility of negative interest rates and policymakers had yet to come to a conclusion about their viability in Britain.
Here's our news story on Andy Haldane's cautious optimism for the UK's economic recovery:



The Bank of England's chief economist has said the UK economy is on track for a V-shaped recovery from the Covid-19 crisis, but warned that a surge in unemployment could nudge the country off course.

Andy Haldane said economic activity had steadily recovered since hitting a trough in April, when the UK was a month into strict lockdown measures that forced mostbusinesses to close.

Speaking during a webinar on Tuesday, Haldane said: "There is a debate about which letter of the alphabet will best describe the path of the economy, with some scepticism about the V-shaped scenario path in the Bank's May monetary policy report.

"It is early days, but my reading of the evidence is so far, so V."
Over in the US, consumer confidence has jumped – despite rising Covid-19 infections in several states.
The Conference Board's monthly gauge of consumer morale jumped to 98.1 for June, from 85.9 in May. That's more than expected.
Consumers reported that their current economic situation had improved – suggesting that the easing of lockdown restrictions has fed through. Economic expectations also improved, but not by as much, indicating some caution about future prospects.
That's understandable, given some restrictions are now being reimposed in an attempt to stamp out an increase in coronavirus infections in California, Florida and Texas, for example.
More jobs gloom. UK pilots union BALPA has revealed that easyJet is proposing to cut one in three pilots.
Balpa was told today by easyjet that 727 of their pilots are at risk of redundancy, or almost a third of the roster. The budget airline is also proposing to completely close its bases at Stansted, Southend and Newcastle airports, Balpa adds.
Brian Strutton, BALPA General Secretary, says the scale of the planned cuts are a shock. The union is also unhappy that easyJet paid out £174m in dividends to shareholders back in March, even as it was seeking government help.



"We know that aviation is in the midst of the COVID crisis and we had been expecting easyJet to make an announcement of temporary measures to help the airline through to recovery.

"But this seems an excessive over-reaction and easyJet won't find a supply of pilots waiting to come back when the recovery takes place over the next two years. easyJet paid £174m out to shareholders, got agreements to furlough staff to protect cash, got £600m from the Government, has boasted of having £2.4bn in liquidity, and ticket sales are going through the roof so fast they cannot get pilots back off furlough quickly enough – so why the panic? It doesn't add up. We are meeting easyJet today and we will be fighting to save every single job.
There's some scepticism in the economics community about Andy Haldane's claim that a V-shaped recovery is on the cards.
Geriant Johnes, professor of economics at Lancaster University, points out that a surge in Covid-19 cases, either nationally or at local hot spots, could derail growth.
Former MPC member David Blanchflower also sounds unconvinced:
Wall Street has made an underwhelming start to the final trading day of the quarter (and what a quarter it was!).
The Dow Jones industrial average has dipped by 69 points, or 0.27%, in early trading to 25,526, while the broader S&P 500 index is 0.2% higher.
That means both indices are still on track to post their best quarterly gains since 1998.
The coronavirus pandemic has already had a very severe impact on workers around the globe – with women worst affected.
That's according to the UN's labor agency, the International Labour Organisation. It had found that total hours worked has slumped by 14% this year due to lay-offs, reduced hours, and furloughing schemes.
That's the equivalent of 400m full-time jobs, worse than the ILO previously expected.
And with female workers more at risk, modest progress in workplace gender equality is being undermined, as my colleague Larry Elliott explains:



The report said women were being especially hard hit by the crisis because they were over-represented in some of the economic sectors worst affected by the crisis, such as accommodation, food, sales and manufacturing. Globally, almost 510 million or 40% of all employed women work in the four most affected sectors, compared with 36.6% of men.

The ILO added that women were also more likely to be employed in the domestic work and health and social care work sectors, where there was a greater risk of job losses and infection. The pre-pandemic unequal distribution of unpaid care work had also worsened during the crisis, exacerbated by the closure of schools and care services.
The Harveys furniture chain has gone into administration, the latest in a series of UK retail casualties.
Some 240 jobs have definitely been lost, and another 1,300 are at risk if administrators can't find a buyer for the company.
My colleagues Sarah Butler and Zoe Wood have the details:



All its stores will continue to trade for now, but industry watchers believe a buyer is unlikely to be found. The retailer has been struggling for years and is also heavily reliant on sister chain Bensons for Beds with which it shares several sites.

Bensons was also put into administration on Tuesday, but has been bought out in a pre-arranged deal by its private equity owner Alteri Investors, with the aim of saving between 150 and 175 of the chain's 242 stores, its Huntingdon manufacturing operation and nearly 1,900 jobs.
The Canadian economy has suffered its biggest ever monthly contraction.
Canadian GDP shrank by 11.6% in April alone, the most on record, as the Covid-19 lockdown had an all-too predictable impact on the economy.
That's better than feared, and an improvement on the UK's 20% slump during the same month. It follows a 7.5% contraction in March, as non-essential Canadian businesses shuttered.
And while the worst may be over, the road to recover will be long and bumpy. Statistics Canada says its initial flash estimate for May points to growth of 3.0 per cent, so not the V-shaped recovery policymakers are hoping for.
Andy Haldane's claim that the UK economy is recovering faster than expected hasn't cheered the City much.
The FTSE 100 index of blue-chip shares has sunk by nearly 1%, or 55 points, back down to 6169 – wiping out much of Monday's rally.
Traders seem to be taking their lead from Wall Street, where the US market is being called lower.
Concerns over rising Covid-19 cases may be overshadowing economic optimism (market sentiment has been swinging between these two points for several weeks now).
But this shouldn't stop the FTSE posting its best quarter in a decade, while the US S&P 500 is on track for its best quarter in over 20 years.
In a blow to film fans, the UK's largest chain of cinemas has pushed back its scheduled reopening date by three weeks.
Cineworld is delaying its reopening until the end of July, rather than the 10th, due to delays in getting hold of new titles.
My colleague Catherine Shoard explains that cinema bosses are under pressure to ensure patrons comply with rules to prevent the spread of Covid-19:



Both AMC and Cineworld have outlined plans for new safety, hygiene and cleaning protocols on their premises. A backlash to the news that patrons would not be required nor encouraged to wear face coverings prompted U-turns from both companies, with all AMC venues and Regal cinemas now making masks mandatory.

However, no such requirement is currently in place at any UK cinema. The Cineworld Action Group, which represents staff at the chain, recently launched a petition in which they called for such a measure to be introduced.
Andy Haldane's comments are timely – a few minutes ago, Boris Johnson announced plans to boost infrastructure spending to help "level up" the UK and limit the damage caused by the recession.
An upbeat-sounding Johnson pledged £5bn for infrastructure spending, plus reforms to the planning rules to speed up home-building an extensions, and to help builders convert commercial properties to homes.
The PM said:



"We must work fast, because we've already seen the vertiginous drop in GDP, and we know that people are worried about their jobs and their businesses.

"And we're waiting as if between the flash of lightning and the thunderclap, with our hearts in our mouths, for the full economic reverberations to appear."
Johnson has suggested he's channelling the spirit of Franklin D. Roosevelt — however, today's plan is more like Small Potatoes than New Deal. These days, £5bn simply isn't a lot of money. It's about 0.2% of the UK economy.
As Alan Custis, Head of UK Equities at Lazard Asset Management, puts it:



"We would not expect these comments to amount to much from a market standpoint.

Whilst encouraging that we are not going back to the austerity approach that has been the hallmark of the last 10 years, the amounts being talked about are really not of a scale that the economy needs to get it moving and avoid an unemployment cliff as furloughing comes to an end.
Andy Haldane has also warned that the Covid-19 pandemic could drive up Britain's 'natural rate of unemployment'.
Reuters has the details:



The depth of the recession was likely to exacerbate any long-term damage to the labour market which could push up Britain's natural rate of unemployment (NAIRU), Haldane said.

A higher NAIRU means an economy is more likely to overheat and generate inflation as the labour market strengthens.

Historically, pandemics have not tended to have a persistent upward impact on prices. But a higher NAIRU would be one reason to be cautious before jumping to that conclusion," Haldane said.
Read the original article at The Guardian