We're going to close this blog down now. Thanks for reading and commenting. Here's a summary of the day's events.
The education secretary finally backed Ofqual a day after declining to do so. Gavin Williamson bowed to pressure to back Sally Collier's leadership of the beleaguered exams regulator for England after the exams fiasco.
The exam results algorithm was unlawful, the shadow attorney general claimed. Charlie Falconer, who was attorney general under Tony Blair and is now a Labour frontbencher in the Lords, argued that ministers and Ofqual would have been aware of at least three breaches of the law in the standardisation formula used.
About 15,000 pupils who were turned down by their first-choice university based on their algorithmic grades now meet the conditions of their offers. The figures from Ucas (the Universities and Colleges Admissions Service) show the scale of the problem now facing universities.
Schools and colleges were told not to issue BTEC results to students tomorrow. In a last-minute U-turn, the exam board Pearson asking them not to publish any results for the vocational qualifications so they could recalculate the final grades.
Support for Scottish independence has reached a record high of 55%, according to a poll. The results of the 2014 independence referendum were reversed, the polling company Panelbase found.
Sheffield University halted proposals to cut salaries and promotions for staff due to financial concerns related to coronavirus. That came after the institution found that more students planned to go there than expected, boosted by the government lifting its cap on intake numbers.
Aberdeen will stay under lockdown conditions after Scotland's first minister, Nicola Sturgeon, defied calls to ease them. She said it was not yet safe to lift the restrictions that have been in place since the start of the month, despite the city council's co-leaders calling for them to be lifted from Saturday.
A senior government adviser accused ministers of passing on the blame for failures during the pandemic. Jeremy Farrar, a member of Sage and director of the Wellcome Trust, called for the government to change tack and "listen, learn, reform & invest in a public health".
Rail fares are set to rise again, despite the crisis caused by the pandemic. Fares will go up by another 1.6% in January, adding about £100 to the cost of many annual season tickets after an unexpected jump in inflation last month. Campaigners called on the government to abolish annual fare rises when passenger numbers have plummeted because of Covid-19.
An official Covid-19 survey is to be expanded to test 150,000 people per fortnight in England, the health secretary has claimed. Matt Hancock, whose promises on testing have gone unfulfilled in the past, said the Office for National Statistics survey that currently tests about 28,000 people in that period will also collect data from Wales, Scotland and Northern Ireland.
That's it from me. If you'd like to continue following our coronavirus coverage, my colleague Lucy Campbell is running our global live blog:
Forcing Oldham into a tighter lockdown would not only "cripple" the local economy but fuel racial tensions, the council's deputy leader has warned the government.
Officials from the Cabinet Office toured Oldham on Wednesday, led by local politicians and health experts desperate to avoid a "Leicester-style" lockdown.
Arooj Shah, Oldham's deputy leader, told the Guardian racism was on the increase the district after it was singled out as an infection hotspot three weeks ago, with the Pakistani community particularly badly hit.



For those who have prejudices it is a really handy excuse. That's why the step the government takes cannot be a blunt tool of lockdown for places like Oldham. Not only will it cripple our economy but the social impact will be absolutely huge and the blame will lie at the door of the government.
The UK risks an exodus of talent from its creative sector, leading arts organisations and industry bodies have warned, as they call on the chancellor to extend financial support for freelancers until 2021.
Indoor live performances in England were given the green light from 15 August as part of the easing of Covid-19 restrictions. However, professional body the Incorporated Society of Musicians, and performing arts union Equity, fear venues will struggle to reopen because smaller audiences mean less profit from ticket sales.
They are asking for the Treasury's self-employment income support scheme (SEISS), which in its second round will award individual grants of up to £6,570, to run until spring 2021 – far beyond its current cut-off date of 19 October.
The Brit School, UK Theatre, the Society of London Theatre, the Glyndebourne Tour Orchestra and the London Symphony Orchestra are among the high profile signatories to the letter sent to the chancellor, Rishi Sunak.
Teenagers are being scapegoated, Scotland's children's commissioner has warned, amid growing concerns that house parties present significant infections risks to young people. Bruce Adamson has told the Guardian:



Young people have been really amazing at sticking to the rules, and made huge sacrifices both in their education and socially, but I'm now worried that there does seem to be scapegoating going on with some very mixed messages.

I worry that some statements from politicians seem to be apportioning blame or suggesting that young people are putting others at risk.
The warning comes as teachers and parents raise their own concerns about lack of consistency in distancing guidance for pupils in and out of schools, which returned full-time last week.
Following evidence that recent clusters in Glasgow and Lanarkshire were linked via a social gathering in a house where social distancing was not observed, Scotland's national clinical director Jason Leitch warned on Monday that "unregulated" house parties were a "real concern".
Sturgeon also went on to warn young people about the need to maintain social distancing whilst outside school, despite this no longer being required in the classroom.
Adamson said it was important to give "clear and consistent messaging", noting confusion around wearing of face masks and physical distancing on public transport, shops and classrooms.



We have to be careful this doesn't become accusatory and be aware of the impact on young people. Young people have said they feel the focus on house parties is unfair when it is often adults who are meeting up in that way.
Asked about these comments at her daily briefing, Sturgeon said:



I do fundamentally disagree with the idea that we are trying to scapegoat anybody. This is an infectious virus, it's nobody's fault.

But I've also got a responsibility to the nation to point out what we understand from the evidence are the higher risk areas for transmission. And we know that one of those is indoor social gatherings. Young people do like gathering together, it's not blaming them for that to point out it is a risk.
Sturgeon said the "impact on young people has been immense and we need to try for their sakes to get as much normality as possible". That, she said, is why she is so determined to keep schools open even if it means sacrifices from other parts of the community.



But I don't do them any favours if I don't point out where they are at greatest risk and try to minimise that, and explain the differences [for example in distancing at home and school].
The leaders of the four main churches on the island of Ireland today urged worshippers to wear face masks during religious services.
A joint statement by the Roman Catholic, Church of Ireland, Presbyterian Church of Ireland and the Methodist Church in Ireland said it has become "increasingly clear that the wearing of face coverings, in conjunction with hand-washing etc, is likely to reduce the spread of coronavirus, thus helping to protect others".
Ireland's top clerics said wearing masks in churches was "one way in which we can evidence protection for the most vulnerable, support for our health workers, and practical love for our neighbours".
They said they understood that some people in both Northern Ireland and the Irish Republic were exempt from wearing face masks because of health reasons they hoped the majority of worshippers would do so. The church leaders added that they hoped that parishioners would start wearing face coverings from this Sunday 30 August.
Sheffield University has halted proposals to cut salaries and promotions for staff due to financial concerns related to coronavirus after the institution found that more students planned to go there than expected, boosted by the government lifting its cap on intake numbers.
In an email to staff, the human resources department said that a recently-launched consultation on cost reductions would be closed. They said the pandemic had not "put students off going" and the government lifting the cap on how many people they could accept meant their intake could be higher.
They noted that other cost-saving measures had also helped, including voluntary redundancies resulting in "£12m in staff salary savings for 2020-21".
The measures that were being proposed included pay freezes, pausing incremental pay progression, cancelling or deferring promotions and a reduction in pay.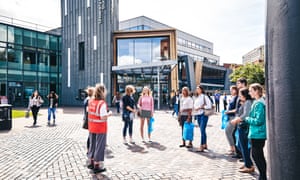 A new Covid test centre is ready to start rapid testing of inbound passengers arriving at Heathrow airport's terminal 2, as soon as the government gives it the go-ahead. Arrivals would find out results within 24 hours of being tested, replacing the need for a 14-day quarantine.
More than 13,000 passenger tests a day can be carried out in the facility, launched by aviation services firm Swissport and the Collinson Group, which runs airport lounges.
A second test centre will be ready at terminal 5 by the end of August, and operators say both centres are scalable according to demand.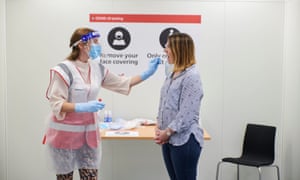 The proposed pilot scheme would use a two-test model, which has been used successfully in Iceland: this involves a first test taken at the facility on arrival in the UK, and a confirmatory test a few days later.
These are PCR swab tests, used to directly detect antigens, indicating the presence of the virus, rather than tests of the body's immune response, or antibodies. The optional tests will cost £150 each, but this could be reduced if the scheme was scaled up.
Read the original article at The Guardian