A federal appeals court has overturned Boston Marathon bomber Dzhokhar Tsarnaev's death penalty sentence for helping carry out the 2013 attack, which killed three people and wounded more than 260 others.
The 1st US Circuit Court of Appeals in Boston upheld much of Tsarnaev's conviction but ordered a lower-court judge to hold a new trial strictly over what sentence Tsarnaev should receive for the death penalty-eligible crimes he was convicted of, Reuters reports.
A spokeswoman for US Attorney Andrew Lelling said his office is reviewing the decision and will have more to say "in the coming days and weeks." A lawyer for Tsarnaev did not immediately respond to a request for comment.
Tsarnaev and his older brother Tamerlan sparked five days of panic in Boston on April 15, 2013, when they detonated two homemade pressure cooker bombs at the marathon's finish line and then tried to flee the city.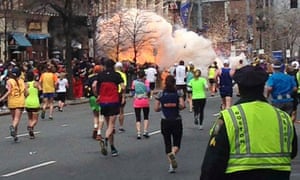 We'll bring the details as they come, but here is the bare news item.
Donald Trump spoke to the reporting pool at the White House earlier, before he departed for a trip to Florida. In the Cabinet Room the president and vice president, Mike Pence, sat with leadership of the National Association of Police Organizations.
The leading theme on the agenda appeared to be partisan division. Federal law enforcement agents under the umbrella of the Department of Homeland Security are in the process of withdrawing from Portland, Oregon, after clashes with protesters.
They had been very controversially dispatched there by the Trump administration ostensibly to guard the federal courthouse but have been witnessed plucking protesters off the streets and into unmarked vehicles and behaving, in the words of the Oregon governor Kate Brown, like an "occupying force".
In the Cabinet Room earlier, Trump said the federal agents in Portland had been "strictly defensive", which many local witnesses will dispute.
"They're not allowed to be offensive unfortunately," Trump said. There has been some tension between Black Lives Matter core peaceful protests and unwelcome fringe agitators infiltrating in Portland, as my colleague Chris McGreal has reported.
But Trump ups the ante, saying in sweeping terms that any issues in Portland have been caused by radical anarchists, "in many cases professionals".
He pledged that: "If it doesn't clean up we're going to do something very powerful … we have no choice" and referred to an "offensive force".
He said "left wing extremists have spread mayhem throughout the streets of different cities", said his rival for the White House, Joe Biden, supports defunding the police (which Biden has disputed) and is now further left than Bernie Sanders, which would be a surprise to the progressive wing of the Democratic Party.
Trump mentioned New York, Seattle, Milwaukee, and said: "As a result of the outrageous attacks on law enforcement violent crime has surged in certain Democrat run cities.
He said Chicago is "far worse than Afghanistan" and contrasted these places with "well run cities" that he said are "largely Republican."
Here's McGreal's report from today. Things have calmed down considerably in Portland now the feds are leaving. Protests there have been going on daily since George Floyd, a Black American man, was killed in Minneapolis under the knee of a white police officer in May.
This headline rings a bell from July 16.
Twitter hack: accounts of prominent figures, including Biden, Musk, Obama, Gates and Kanye compromised.
My colleagues Julia Carrie Wong and Kari Paul wrote at the time that:
Twitter suffered a major security breach on Wednesday that saw hackers take control of the accounts of major public figures and corporations, including Joe Biden, Barack Obama, Elon Musk, Bill Gates, Jeff Bezos and Apple.
The company confirmed the breach Wednesday evening, more than six hours after the hack began, and attributed it to a "coordinated social engineering attack" on its own employees that enabled the hackers to access "internal systems and tools". Twitter said it was "looking into what other malicious activity they may have conducted or information they may have accessed" in addition to using the compromised accounts to send tweets.
The hack unfolded over the course of several hours, and in the course of halting it, Twitter stopped all verified accounts from tweeting at all – an unprecedented measure. The company had restored most accounts by Wednesday evening, but warned that it "may take further actions". The company said that it had also locked the compromised accounts and "taken steps to limit access to internal systems and tools" while it continues its investigation.
Well now there's been an arrest, Tampa's WFLA TV station reports exclusively, under this headline: Tampa teen accused of being 'mastermind' behind Twitter hack that targeted high-profile accounts. With a pic of 17-year-old Graham Clark.
Hillsborough State Attorney Andrew Warren filed 30 felony charges against the teen this week, WFLA reports, for "scamming people across America" in connection with the Twitter hack. He's now in the county jail.
Florida has seen four successive days of record deaths from coronavirus.
The state has reported yet another record for Covid-19 deaths — 257 listed on Friday's pandemic data report. Nearly 100 of the victims were from Miami-Dade County, the Sun-Sentinel reports.
The state has now had four consecutive days of reporting a new high mark of coronavirus fatalities. These are people who died within recent weeks, but finally confirmed by authorities tracking the state's deadliest infectious disease.
For the entire month of July, Florida has reported 3,362 deaths from Covid-19 complications. For all of 2019, there were 2,703 deaths attributed to the flu and pneumonia in the state, the paper notes.
Public health experts say Florida should slowly improve in August, as the number of new Covid-19 cases has remained under 10,000 for six straight days.
Parts of South Florida remain under hurricane watch, relating to Hurricane Isaias, which is approaching from the south-east.
The paper has published an editorial, meanwhile, calling on governor Ron DeSantis to take more action to tackle the raging outbreak, with the headline "Help us out, Governor DeSantis, we're dying."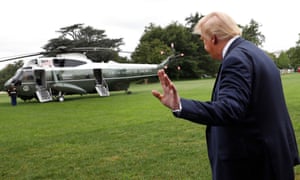 Donald Trump is on his way to Florida, a down-and-back trip to Tampa.
He has an event with Florida sheriffs, participates in a roundtable on Covid response and storm preparedness (as a hurricane barrels towards the coast), and speaks at a fundraiser at a golf club in nearby Belleair.
Florida governor Ron DeSantis is on his way to meet the president to request authorization for more troop assistance in the Covid-19 crisis, which is affecting the state badly (so badly that Trump has canceled the Republican National Convention that he was going to hold in Jacksonville, Florida, after moving it from North Carolina, in a summer of chaos).
Is this a first?
Donald Trump has praised Jim Jordan and Anthony Fauci in the same tweet after the congressional coronavirus hearing this morning.
Jordan is one of the president's favorite congressional attack dogs, as a Republican representative of Ohio, who kept trying to goad Fauci into saying people shouldn't protest and/or that the government should stop people protesting, because of the risk of spreading Covid. Fauci declined to take the bait.
And Fauci, the top US infectious disease public health experts who has served six presidents so far, told the hearing that the US must not rush to reopen without following federal health guidelines (which many states have failed to do).
But also told the hearing he is cautiously optimistic about the progress of US public-private research towards a vaccine and that the US could still (six months in) get control of the pandemic IF Americans wore masks in public, practiced social distancing, avoided crowds (especially bars), washed their hands and health authorities did more testing and contact tracing and had a steady decline in new cases before reopening.
It's been a very lively morning in US politics news and we haven't even got to some of it yet, such as what the president has been saying about federal law enforcement and protests.
Donald Trump will be on his way to Florida shortly, where the coronavirus surge is having a terrible impact. More on all this shortly, stay tuned.
Here's what else has happened this morning:
The House special committee on the coronavirus crisis finished its hearing a little while ago without any sign that there is a comprehensive national plan to bring the pandemic under control in America.
Congresswoman Maxine Waters asserted that the death from coronavirus of Herman Cain, a past Republican presidential candidate and active surrogate for Donald Trump, stemmed from his attendance at the president's indoor rally in Tulsa, Oklahoma, last month, where crowds eschewed masks. There is not confirmation or publicly-available proof of this.
White House chief of staff Mark Meadows said there was no deal with congressional leaders about further federal coronavirus economic aid, chiefly legislation to continue the $600 weekly supplementary payments keeping more than 30 million Americans' heads above water. Payments expire today.
America's top public health expert Anthony Fauci assured Congress that any approved US vaccine for coronavirus will be safe and made available to all who need it, with one hopefully emerging by the end of the year.
James Clyburn, Democratic congressman from South Carolina, and chairman of the special coronavirus House committee, said the Covid-19 pandemic is still "raging out of control" in the US.
The US is no closer to an agreed national grand plan for tackling the Covid-19 outbreak that has killed more than 150,000 people in America and is still "raging out of control".
After questioning the public health experts on the White House coronavirus task force for more than three hours today, there is no change from what the special coronavirus House committee chairman James Clyburn said at the start of the day, when he slammed the Trump administration saying it had "still not developed and implemented a national strategy to protect the American people" after more than six months of the outbreak.
The top public health expert, Anthony Fauci, has contradicted Donald Trump on many fundamental aspects of the crisis this month, from decrying the president's false promotion of anti-malarial hydroxychloroquine as a treatment for Covid to reiterating repeatedly that everyone should wear a face mask when out and about, and that the virus is not under control and is not going away.
And assistant health secretary Brett Giroir, who was pretty quiet at today's hearing, said last night on CNN that it was not acceptable that some people in the US who needed coronavirus testing still can't get it, despite the president both boasting about US levels of testing and musing inaccurately that there would be fewer cases if there was less testing.
Fauci spoke to that point as raised by New York Democrat Nydia Velazquez at the hearing.
California internal medicine specialist Dr Jorge Rodriguez told CNN after the hearing that he believed the gap between the White House and public health scientists was dangerous and that the experts should speak out more loudly about this and the lack of a comprehensive national plan to bring Covid-19 under control.
Clearly the measured tones we hear from people like Fauci (who Rodriguez said he has known for a long time), the CDC's Robert Redfield, Giroir and coronavirus task force coordinator Deborah Birx are not strong enough for Rodriguez, even though Fauci has made dire predictions in public about the pandemic's trajectory in the US if urgent action is not taken, Birx has decried hydroxy on TV and Redfield said the pandemic has brought America "to its knees".
"They need to step up [further]," Rodriguez told CNN. "They are being muzzled."
Coronavirus hearing chairman James Clyburn, of South Carolina, along with representative Nydia Velazquez, of New York, both Democrats, have decried the hugely disproportionate impact of coronavirus on African American and Latino communities across US hotspots.
This intersects so many layers of society, with Clyburn commenting that "our Black and brown communities already faced health and wealth disparities before this crisis".
He quoted the famous line from Martin Luther King Jr's 1963 letter from Birmingham jail.
"Injustice anywhere is a threat to justice everywhere."
My colleague Kenya Evelyn has written several vital articles on the issues.
And her article today is a must-read:
Read the original article at The Guardian