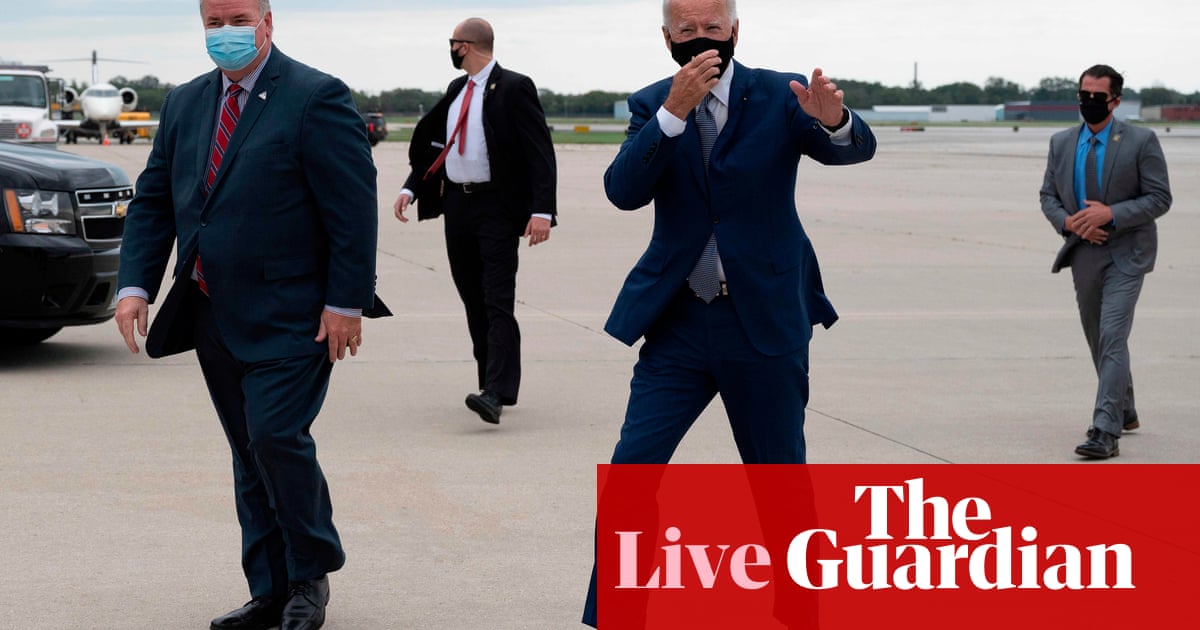 The recent deadly protest in Portland, where a far-right supporter was killed, was just one of many organized in recent weeks with the help of a network of pro-Trump, pro-police and anti-Black Lives Matter activists in a local Facebook-powered pro-police network in Oregon.
That network's ability to draw the support of far-right groups and more mainstream Republicans alike reveals an increasingly energized and militant grassroots Trumpist movement, which includes some members who are prepared to engage in violence, experts say.
The network is composed of like-minded activists in two overlapping groups, "Back the Blue PDX", and "COPS NW". Those activists are planning future events, and given the high tensions following the shooting death of one of its supporters – with the suspected shooter reportedly supportive of local leftwing anti-fascist groups – the prospect of more unrest is high.
That is especially true as the country enters the final stages of the presidential election with Donald Trump running on a law-and-order message, while inflaming racial tensions and offering support to his most extreme supporters, including those who engage in violence.
Working mostly on Facebook, the small group of local activists have helped stage a series of recent events in or near the Portland metro area.
Saturday's "Trump cruise" saw a large number of participants stray from the highway-only protest route agreed with the Portland police bureau (PPB) and roll into the downtown area for a confrontation with leftwing protesters. There, reporters recorded rightwing protesters discharging pellet guns and Mace into the ranks of nearby protesters and media.
Soon after, in a nearby street, a man wearing a cap bearing the insignia of Patriot Prayer, a prominent far-right group, was shot dead.
In an email announcing a memorial event, James Buchal, a lawyer and chair of the Multnomah County Republican party, identified the dead man as Aaron J Danielson. The Oregonian reported on Monday that a PPB homicide investigation was focused on a BLM supporter and regular attendee of downtown protests in recent weeks.
Danielson's death was highlighted by Trump who retweeted an account which had incorrectly identified the victim, adding "Rest in Peace Jay". He also defended the use of paintball guns by his supporters in Portland.
Read the full report:
The Trump administration has identified dozens of major fossil fuel, energy and water projects that could be fast-tracked by expediting environmental reviews amid the pandemic, according to internal government documents.
At least 19 of the projects are from companies that have spent a total of $16m lobbying the interior department since early 2017, according to an analysis by the conservation group the Center for Western Priorities. ConocoPhillips spent $11.2m of that amount lobbying the department, including on plans to drill for oil and gas within the National Petroleum Reserve in Alaska, the group said.
Three of the companies that could potentially benefit have met with the interior secretary, David Bernhardt, personally. Another is the Garrison Diversion Conservancy District, which Bernhardt represented as a lawyer at the firm Brownstein Hyatt Farber Schreck. The district is seeking to divert water from the Missouri River to supply the Red River Valley in North Dakota, a project environmental advocates oppose.
The list was obtained with a public records request by the Center for Biological Diversity and first reported by the Associated Press. It was written in response to an executive order Donald Trump signed in June directing agencies to use emergency authority to speed energy and infrastructure projects during the economic downturn from the coronavirus pandemic.
The administration had already prioritized the approval of many of the projects on the list before the executive order. Agencies are trying to finalize unfinished business before 20 January, in case Trump does not win re-election.
Leaks from former White House press secretary Sarah Sanders' new memoir continue to cause controversy, in today's case over a passage in which she calls Josh Raffel, a former aide to Ivanka Trump and Jared Kushner, a "liberal, aggressive, foulmouthed Jew from New York City".
The remark was reported by Jewish Insider.
The Guardian obtained its own copy, and can confirm that Sanders adds: "Despite our differences, I had grown to love Josh. He is one of the funniest people I know, intensely loyal, and probably the most talented communications strategist I've ever worked with. Nobody in the White House could work a story better than Josh, and he was always one of the first colleagues I turned to for help on the toughest assignments."
Raffel told Jewish Insider Sanders "is a close friend", but nonetheless Bend the Arc, a progressive Jewish group, said in a statement: "Joke or not, Sanders' depiction of Raffel relies on antisemitic tropes of Jewish men as crude and perverted – and these tropes can fuel further antisemitic sentiment and even violence against Jews.



That this type of humor was welcome in the Trump White House speaks volumes about the degree to which the Trump administration and the Republican party have fully embraced antisemitism – from Trump's own references to Jews as 'disloyal' and 'brutal killers' to Stephen Miller's record of sharing Nazi propaganda, to the Republican party's inclusion of antisemitic conspiracy theorists like Marjorie Taylor Greene in Georgia, and Laura Loomer in Florida."
Here's our story on the book, which concerned an anecdote about Kim Jong-un, an apparent wink and some boorish behaviour from the president:
Read the original article at The Guardian