Turkey infections rising; India tops global tally of new cases for 18th day – as it happened
This blog is now closing so thanks for reading. But you can keep up to date with all the pandemic news at our new live blog here:
Here's a quick recap of the latest coronavirus developments across the globe from the last few hours:
UK PM Boris Johnson drops advice against face mask use in English schools. Pupils in England will no longer be advised against using face masks in schools after prime minister Boris Johnson made an 11th-hour U-turn days before students head back to the classroom.
Lebanon service sector says it will rebel against lockdown. A representative of Lebanon's hospitality sector said that service and tourism businesses would defy a newly reinstated coronavirus lockdown that has compounded the crisis-hit country's economic woes.
The number of Americans newly diagnosed with the coronavirus is falling. About 43,000 new cases are being reported daily across the country, down 21% from early August, according to data compiled by Johns Hopkins University. Experts credit the development at least partly to increased wearing of masks, even as the outbreak continues to claim nearly 1,000 lives in the US each day.
Turkey recorded its highest number of new coronavirus cases since mid-June. Another 1,502 infections were confirmed on Tuesday, taking the official tally over 261,000. New cases were last this high on 15 June, two weeks after Turkey lifted a partial lockdown. The government has responded by banning some celebrations in 14 provinces.
India reported the highest number of new coronavirus cases globally for the 18th straight day. According to a Reuters tally, infections rocketed by another 1.5 million since the start of August, taking India's total to around 3.1 million, more than in the US and Brazil. The rate of new cases in the country is increasing rapidly, climbing by 60,975 in the latest 24-hour period, according to the federal health ministry.
Two European patients were confirmed to have been reinfected with coronavirus, raising concerns about immunity. Regional public broadcasters said a patient in the Netherlands and another in Belgium had also been reinfected. It follows a report this week by researchers in Hong Kong about a man there who had been reinfected four and a half months after recovering.
That's all from me Jessica Murray today, I'm now handing over to my colleague Ben Doherty in Australia.
Carnival's Princess Cruises has said it will cancel early 2021 cruises on two ships, citing travel, border and port restrictions due to the Covid-19 pandemic.
Cruise lines, hammered by a crisis that has seen some ships turn into infection hotspots, had earlier said they were expecting solid 2021 bookings, mainly as repeat cruisers were eager to book their trips.
Carnival's two ships affected, Island Princess and Pacific Princess, were set to sail from North America and Australia respectively.
Guests that had booked trips on these ships would receive a refundable credit for future trips for the fare they paid, and an additional non-refundable future cruise credit equal to 25% of the fare paid, the company said.
Earlier in the day, Carnival's Cunard also paused operations from November to up to 16 May 2021.
At least three Princess Cruises ships turned into hotbeds for coronavirus infections. One of them, the Ruby Princess, became part of a homicide investigation in Australia, being the source of the country's deadliest virus infection.
Kate Green, Labour's shadow education secretary, has called the Department of Education change on face coverings a "half baked U-turn".



Parents and schools needed clarity and leadership, but instead the government have just passed the buck back to them.

Face coverings should be compulsory in communal areas in schools.

Instead of this half baked U-turn the government should have given clear guidance and a plan to deliver it.
Geoff Barton, general secretary of the Association of School and College Leaders, welcomed the "flexibility" of the change in advice on face coverings in secondary schools.



It was inevitable that the policy on face coverings would change following guidance from the World Health Organization, and we recognise that the government in Westminster has responded to our call for a quick direction on this matter with the reopening of schools imminent.

The new policy is discretionary, other than in places where coronavirus restrictions apply, and secondary school and college leaders will welcome the flexibility this affords them to decide what best suits their circumstances.

We look forward to seeing the full guidance as early as possible.
Former Maldives president Maumoon Abdul Gayoom said he has tested positive for coronavirus as the island nation battles an increase in new cases.
Gayoom, who held power for three decades, was checked after he developed a fever, a former aide close to the family told AFP. No word was available on his condition.
"I have tested positive for Covid-19," the 82-year-old politician wrote on Twitter. "May Almighty Allah bless me and all other sick people with a speedy recovery and good health!"
After leaving office in 2008 Gayoom has remained an active political figure. Opponents have accused him of being an autocratic leader during his three decades in power.
However, he is also credited with being an early campaigner against global warming and sea level rise which he had warned could wipe the low-lying Maldives off the face of the earth.
The Maldives, known for upmarket island tourism, reopened its international borders to visitors in mid-July after a three-month halt that crippled the hospitality industry.
It has seen a steady increase in cases in recent weeks and has reported a total of 7,047 infections and 28 deaths.
General Motors and Ford said they are close to completing production of ventilators ordered by the Trump administration this spring, and are ramping down or exiting the operations.
Many of the ventilators assembled by the automakers and other manufacturers have gone into a US government stockpile as doctors have shifted away from using invasive ventilators with Covid-19 patients.
The government currently has 108,000 ventilators in its medical equipment stockpile, and 12,000 deployed at US hospitals, the US Health and Human Services department said on Tuesday.
GM and medical equipment maker Ventec Life Systems are on the "home stretch" towards completing a contract to deliver 30,000 critical care ventilators by the end of August under a $489m contract with the federal government, the automaker said.
GM and Ventec have already delivered more than 20,000 machines, GM spokesman Jim Cain said.
Ford has assembled about 47,000 of the 50,000 ventilators it agreed to supply to partner General Electric, Ford spokeswoman Rachel McCleery said. GE has a $336m contract with the government.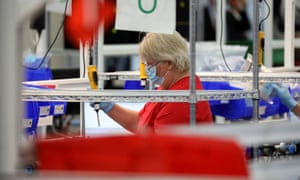 Ford and GM earlier this year said they would employ as many as 1,500 people on ventilator assembly lines. Automakers likened the efforts to their switch from making cars to tanks and planes during the second world war.
With North American car and truck factories back in operation, the Detroit automakers are winding down their forays into ventilator manufacturing, while continuing to make respiratory masks.
The automakers' efforts to build ventilators and other medical equipment were launched in a politically charged atmosphere as the first wave of the Covid-19 pandemic swamped the US economy and healthcare system.
The shortage of ventilators became a symbol of the nation's struggle to respond. President Donald Trump put pressure on the automakers as part of a broader push to secure more than 130,000 ventilators by the end of 2020.
The automakers used the medical equipment assembly operations set up in the spring to test safety protocols they later used to reopen their vehicle-making operations.
Irish prime minister Micheál Martin and deputy prime minister Leo Varadkar have said there were clear breaches of public health guidelines during European trade commissioner Phil Hogan's trip to Ireland.
They said in a statement:



Government guidelines clearly required him to restrict his movements for 14 days. He should also have limited his movements to and from Kildare for essential travel only, and he should not have attended the Oireachtas Golf Society dinner.
Hogan attended a golf dinner during the trip that has outraged the Irish public and led an Irish minister to resign and several lawmakers to be disciplined.
The number of Americans newly diagnosed with the coronavirus is falling, a development experts credit at least partly to increased wearing of masks, even as the outbreak continues to claim nearly 1,000 lives in the US each day.
About 43,000 new cases are being reported daily across the country, down 21% from early August, according to data compiled by Johns Hopkins University.
While the US, India and Brazil still have the highest numbers of new cases in the world, the downward trend is encouraging.
"It's profoundly hopeful news," said Dr Monica Gandhi, an infectious diseases expert at the University of California who credits the American public's growing understanding of how the virus spreads, more mask-wearing and, possibly, an increasing level of immunity.
"Hopefully all those factors are coming into play to get this virus under control in this country that's really been battered by the pandemic," she said.
The virus is blamed for more than 5.7 million confirmed infections and about 178,000 deaths in the US.
The decline in newly reported cases in the US comes even as deaths from the virus remain alarmingly high. Over the past two weeks, officials have reported an average of 965 deaths a day from Covid-19, down from 1,051 a day in early August.
The percentage of tests coming back positive for the disease has also declined over the past two weeks, from 7.3% to 6.1%. But that comes as the total number of tests administered has fallen from its August peak of more than 820,000 a day, levelling off in recent weeks at about 690,000 a day.
The situation has improved dramatically in several states that struggled with high caseloads earlier this summer.
In Arizona, for example, officials reported 859 new cases on Tuesday, down from a peak of 5,500 in late June. More than 2,000 people arrived at the state's hospitals showing symptoms of the virus on a single day in early July. This week, that number has been less than 1,000.
In Florida, where more than 10,000 people have died, the state reported 2,600 new cases on Tuesday. Earlier in the summer, it was regularly reporting more than 10,000.
Nursing homes in the US will now be required to test staff for Covid-19 and offer testing to residents, the Centers for Medicare & Medicaid Services (CMS) said.
In July, the Trump administration released an additional $5bn from the Provider Relief Fund to help nursing homes address critical needs, including hiring additional staff and increasing testing.
London mayor Sadiq Khan has welcomed the government's U-turn on face masks in schools.
Posting on Twitter, he said:



Our children must be able to return to school in a safe environment and I welcome the latest u-turn by the Govt – a step in the right direction.

However, it is of huge concern that yet again the PM has had to be forced into following the advice of public health officials.
Turkey's former economy czar and the leader of the opposition Deva (Remedy) Party, Ali Babacan, said he had tested positive for Covid-19 but was in good health, becoming the most high-profile Turkish politican to contract the virus.
Babacan, 53, also a former deputy prime minister, resigned from president Tayyip Erdoğan's AK Party last July over "deep differences" about the direction of the party he helped found. In March he formed his rival political party.
Babacan said on Twitter:



I just learned my Covid-19 test result is positive. Thank God, I am in good condition at the moment. My doctors said I needed to remain in quarantine with my family for some time. I will continue my work from home, God willing.
Turkey's daily number of new coronavirus cases has risen in recent weeks as the government has rolled back containment measures in the interest of shoring up the economy.
On Tuesday, the number of new cases jumped the highest since mid-June with 1,502 recorded infections.
More than 261,000 people have contracted the virus in Turkey according to official figures, while 6,193 people have died.
The government has warned citizens about rising cases, and responded on Tuesday by banning some events in 14 provinces, including the capital Ankara.
Read the original article at The Guardian