Coronavirus Latest News
UK coronavirus live: council workers appeal for calm after 'frightening' levels of abuse on coast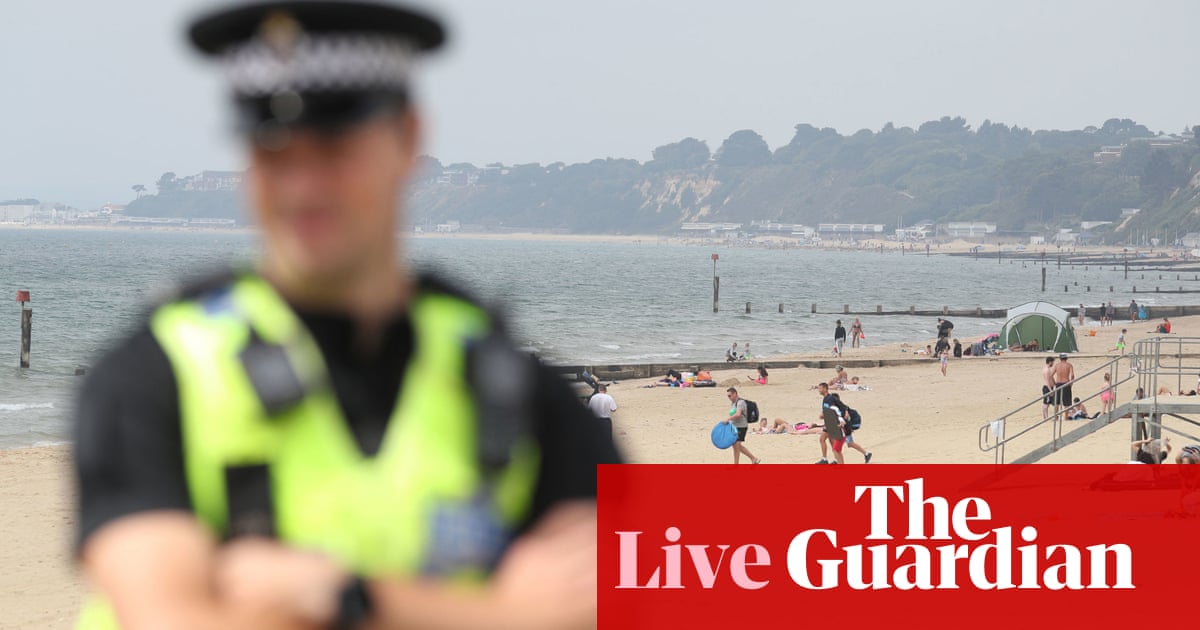 Another three cases of coronavirus have been confirmed at a meat processing factory in the Midlands.
Tulip Ltd confirmed on Friday that three employees, including two from the same household, had tested positive after a fresh batch of tests were carried out on more than 100 staff on Monday.
All three, alongside other employees who may have been infected during close contact, are isolating at home.
The company said it was continuing to work with Public Health England Midlands, the Health and Safety Executive, the local NHS and Sandwell council, after confirmation of other coronavirus cases last week.
Dr Lisa McNally, Sandwell's director of public health, said:



We have now proactively tested 104 staff at Tulip Ltd for coronavirus and have had three positive cases. Tulip has asked a further 16 employees to isolate at home as a precautionary measure.

The site has had a number of cases since the outbreak of Covid-19 in the UK and are able to report that they have all returned to work safely. We will be conducting further testing across the workforce in the coming days so that we can identify and isolate any further positive cases.
Unless the government comes up quickly with a financial package for them, about a third of Britain's fringe theatres will not reopen after the coronavirus crisis, writes Francis Beckett.



The fringe is where risks are taken; where new writers, actors, stage managers and directors get their chance.

The big names adorning West End and big subsidised theatres more often than not started out here. Without it we might never have heard of Jez Butterworth or Meera Syal, to pick two out of a countless number.

Some artists stay on the fringe, writing, directing and performing work that bigger venues won't risk. […]

Uncertainty is dreadfully demotivating. I intended to use the lockdown to write a new play that's been nagging at me, but I've hardly written a word. For the first time in a decade and a half, I cannot see much prospect of getting it performed.

Writers, actors and directors – as well as audiences – need fringe theatre to be healthy and secure.
Although Covid-19 scuppered Glastonbury's 50th anniversary, organisers Michael and Emily Eavis discuss the moments that made it the world's greatest festival – from the healing fields to Stormzy.
More than 50 organisations have urged the prime minister to develop a new mental health plan to prevent and respond to damage arising from the coronavirus outbreak.
The current system will not be able to cope with an expected surge in demand as the nation starts to rebuild after Covid-19, Boris Johnson has been warned.
The Samaritans, Rethink Mental Illness and Mind are some of the charities who have said he must place mental health at the heart of the government's recovery plan.
Almost half of the UK population have experienced high levels of anxiety during the pandemic, while 80% of people living with mental illness say it has deteriorated, the charities say.
They estimate a further half a million people are likely to go on to experience mental health problems as a result of the economic impact of the crisis.
The coalition of voluntary and social sector organisations is calling on the government to work with them to develop a mental health renewal plan.
Their letter to Johnson reads:



We know, as you do, that no one organisation, agency or government department can provide the solutions to the enormous challenge facing us.

But as prime minister, you have the authority to convene all the right people to make this happen.

Together we can lead the world in delivering a Covid-19 recovery that puts the nation's mental health at its heart.
Mark Winstanley, chief executive of Rethink Mental Illness, said: "Mental health care has been chronically underfunded for decades and we were only just starting to see the impact of investment when the pandemic hit.
"Covid-19 has changed the course of the journey we are on and we need to pool all our knowledge and resources to navigate the challenges ahead, with support at every level of government.
"There's an opportunity here to provide the nation with a renewal plan for mental health and to reduce some of the most damaging health inequalities in society. If we do not seize this chance, we will feel the impact of that failing for decades."
Ben Waugh, who runs a bicycle hire shop on the seafront at Bournemouth, has lived in the seaside resort all his life but has never seen so many people packed on to the beach – and so much terrible behaviour.
"I understand why people wanted to come," he said, as the cleanup continued around him. "It's the best beach around and when the weather's good it's like being in Benidorm. But what happened here this week was horrific."
Waugh watched aghast as groups of revellers took drugs and drank their way through countless crates of beer. "There was a Lord of the Flies vibe to it. The atmosphere was ugly."
"I miss the joy of random events, of not knowing what will happen between the hours of 2pm and 4pm," writes Guardian columnist Zoe Williams.



I am having the unsettling realisation that it was never organised entertainment that entertained me, but the random stuff in between.

I miss outdoor events taking place, but, even with a gun to my head, I couldn't tell you which outdoor event I want to attend (there is usually a county show in my local park, where you can pet a cow. I would consider that, obviously having first checked bovine potential as a transmission vector).

I want non-essential shops to be open, but there is nothing I want to buy. Sure, I want to see my friends.

Really, though, I want to be in a room that is at least half full of people I don't know and have a meandering conversation with them for no reason – and who would waste their friendship allowance on that?

Mr Z said that the problem isn't any one thing; it is waking up knowing that every day is going to be the same as the previous 95.

It is Groundhog Day retold as tragedy (at least Bill Murray's endless day began in a new place, with new people); it is a fairytale curse, which none of us will be allowed out of until we have learned something about ourselves.
Union leaders have called for calm this weekend after council workers suffered "frightening" levels of abuse as huge crowds flocked to Bournemouth beach this week.
The GMB union said its members employed by Bournemouth, Poole and Christchurch Council (BPC) were subjected to verbal abuse and threats of physical violence.
More than 550 parking control notifications were issued on Thursday around the area, which had become gridlocked with visitors, with more than 40 tons of rubbish needing to be removed from the beaches.
One council worker, who wished to remain anonymous, said:



While we are trying to go about our job, the levels of abuse are frightening.

Be it clearing rubbish or asking people not to light barbecues, we are seeing abuse and confrontation like never before and we simply want the public to consider the impact of their actions not only for themselves, but also for the wider community.
Adrian Baker, GMB regional organiser, said: "GMB are calling for calm ahead of the weekend when we anticipate more and more visitors coming to the Bournemouth, Poole and Christchurch area.
"While people are obviously looking to enjoy the hot weather, our members should not have to put up with these kind of attacks – not to mention that we want them to be able to remain safe doing their jobs.
"We ask for members of the public to respect social distancing at all times according to the government advice and help our members and their families to stay safe and protected."
A "large amount" of the Covid-19 virus is still circulating in Greater Manchester according to new testing data, the region's mayor Andy Burnham said.
He warned the public to stay cautious as the country emerges from lockdown after the region received pillar 2 test results – swabs of the wider population – for the first time across its 10 boroughs.
Previously the authorities in Greater Manchester had only been able to release pillar 1 test data in which swabs are taken at Public Health England labs and NHS hospitals for those with a clinical need, and health and care workers.
This week, Burnham said the number of positive pillar 1 positive cases was 78 – a continued decrease – but leapt to 465 when combined with the pillar 2 data.
Speaking at his weekly coronavirus press conference, he said:



Finally we have been able to put pillar 1 and pillar 2 together and get much more of a truer picture in terms of what's going on with the spread, the circulation of Covid-19 in Greater Manchester.

It represents a significant number of new cases and while the overall numbers are coming down and transmission is reducing, nevertheless there is still a significant amount of Covid-19 circulating within Greater Manchester. For the first time we are seeing the true picture.
He stressed though that more tests were being carried out in the region than "pretty much anywhere else in the country" and the figures were a reflection of increased testing activity.
However he added it was a "warning sign" and they would monitor the figures in the coming days and weeks.
He said: "Council leaders in Greater Manchester are concerned the message is going out – as people look at the images of beaches across the country, particularly Bournemouth, and what we have seen in gatherings in towns and cities – that lockdown is over. Well what I would say is it can't be.
"Everyone needs to refocus on what the Chief Medical Officer (Chris Whitty) is saying. The risk is clearly present and people need to focus again on the government's advice, particularly in this period where people are beginning to emerge from lockdown and return to a degree of normality.
"Clearly it can't be the case we are back to normal, we are not. There is a large amount of this virus circulating in Greater Manchester and people need to know that and they need to take precautions."
Today's statistics have now been published. They relate to information covering the whole of the UK.
As of 5pm on June 25, a further 186 people had died from Covid-19 . The total number of deaths, according to this mode of calculation, is 43,414.
As of 9am on June 26, there had been 1,004 positive tests conducted in the UK over a 24 hour period.
The DHSC says data on the number of invidivuals tested for Covid-19 has been temporarily paused to ensure consistency of reporting.
The Department for Health and Social Care, which this afternoon will publish the latest data on Covid-19 infections and deaths, has today posted a new advert on the importance of maintaining social distancing in the outdoors.
Hallo, this is Paul MacInnes stepping in for Jessica as she has a deserved lunch break.
Read the original article at The Guardian