Coronavirus Latest News
UK coronavirus live: daily cases jump to 1,522; Switzerland, Czech Republic and Jamaica added to quarantine list – as it happened
Here's a round-up of the key events of the day.
• The government announced the biggest single-day increase in coronavirus cases since 12 June with 1,522 new cases, taking the total to more than 330,000. There have now been 41,477 deaths.
• Jamaica, Switzerland and the Czech Republic were removed from the travel corridor list by the transport secretary, Grant Shapps, while Cuba was added. The new rules mean people arriving into the UK from the first three countries after 4am Saturday will have to quarantine for two weeks, while those arriving from Cuba after that time will not.
• An outbreak at a poultry plant in Norfolk has led to its partial closure. At least 350 staff and their households will have to self-isolate as a result.
• Pret a Manger announced it had cut 2,800 jobs, significantly more than the 1,000 figure on redundancies that it warned of in July. The Royal Shakespeare Company also said it will begin redundancy consultations.
• The government missed its contact-tracing target for the ninth week in a row, with 75.5% of close contacts reached through the NHS system against the 80% target.
• Ed Davey became the leader of the Liberal Democrats, comfortably defeating his rival Layla Moran and immediately signalling that he would try to move beyond the party's narrow appeal to remain-voting supporters at the last election.
• Health secretary Matt Hancock faced uncomfortable questions over the £13 a day on offer to those asked to self-isolate. LBC's Nick Ferrari asked: 'Is £13 a day enough to persuade someone not to leave the house? I'm not going to stay indoors for £13. Are you, secretary of state?"
We're closing the UK blog shortly, but you can continue to follow our world coronavirus coverage by clicking below.
Even as the government seeks to take a hard line on refugees crossing the Channel and the Home Office tweets that "activist lawyers" are disrupting the removal of migrants with no right to be in the UK (before later agreeing not to use the phrase), new figures reveal that the number of asylum applications has almost halved as a result of coronavirus.
A total of 8,455 claims to be granted asylum in the UK were submitted in the first three months of the year, compared with 4,850 from April to June, figures from the Home Office showed.
The UK offered asylum or other forms of humanitarian protection to 16,952 people in the year to June – 8% fewer than in the same period last year.
Meanwhile, a resettlement programme had to be suspended because of coronavirus, prompting campaigners to call for it to be reinstated.
The Vulnerable Person Resettlement Scheme (VPRS) accounted for more than three-quarters (2,956) of those resettled in the UK in the year to June.
Since the project launched almost six years ago, 19,768 refugees, mainly Syrian nationals, have been resettled in the UK as part of a 20,000 target by the end of 2020.
Stephen Hale, the chief executive of Refugee Action, said the scheme had been frozen since 12 March and there had been no arrivals through the scheme since.
"Whilst pausing the programme earlier this year was understandable due to the pandemic, there is no earthly reason why it can't be restarted now."
A senior official at the Czech Republic's tourism board said they "deeply regret" the UK's decision to remove the country from its quarantine exemption list.
Katarina Hobbs, director of CzechTourism UK and Ireland, said: "The Czech Republic remains a safe country to travel to. It will continue to monitor and manage the current situation whilst welcoming visitors to the country.
"This is a British government decision that we deeply regret and hope that the UK government will reconsider their decision very soon."
She added: "We continue to provide important information to tourists who are visiting – which includes avoiding crowded areas and following the strict rules that have been implemented by the Czech Republic government.
"The Czech Republic can assure all visitors that strict rules and measures are in place for travellers and citizens – wherever the location."
In Wales, the health minister, Vaughan Gething, confirmed travellers from the Czech Republic, Jamaica and Switzerland would have to quarantine. But he said Cuba and Singapore would be added to the list of exempt countries.
As in England, the new regulations will come into force at 4am Saturday.
As the prospect of sudden quarantines for people arriving in the UK becoms more familiar, it's worth noting that insurers will have little sympathy. Patrick Ikhena, of comparethemarket, said a decision to cancel a trip to avoid the mandatory quarantine rules would be considered a "disinclination to travel" and many policies would be unlikely to pay out.
He also said that most travel insurance policies would no longer cover trips to the three countries included in Grant Shapps' announcement, and advised holidaymakers that they may be able to get compensation or alternative dates and destinations if they contacted their airline or hotel.
Further to Shapps' announcement, the DfT issued a statement:



Infections from Covid-19 are on the rise across Europe.

"The government has made consistently clear it will take decisive action if necessary to contain the virus, which includes removing countries from the travel corridors list rapidly, if the public health risk of people returning from a particular country without self-isolating becomes too high.

"This means holidaymakers may find they need to self-isolate on return to the UK and are advised to consider the implications of self-isolation on them and their families before making travel plans.
Shapps, who released the news via Twitter, also said that Cuba had been removed from the quarantine list.
The transport secretary, Grant Shapps, has confirmed that travellers from the Czech Republic, Jamaica and Switzerland will have to quarantine for 14 days if they arrive in England after 4am on Saturday.
Officials had been waiting for the most up-to-date infection figures to be released in Prague before making a final call.
The Department for Transport said equivalent measures were being put in place in Northern Ireland, Scotland and Wales. Scotland took Switzerland off its list last week.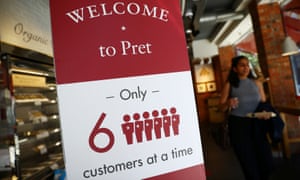 Pret a Manger has said it has completed a restructuring of its UK business and axed 2,800 roles from its shops, significantly more than it warned of earlier in the summer.
In July, the sandwich chain said it would close 30 stores and cut more than 1,000 jobs. It said then that sales were 74% lower than the same time last year as people continued to work from home.
Before the redundancies the company employed 13,000 shop staff globally, including 8,000 in the UK.
The daily figure of 1,522 new lab-confirmed cases is up from 1,048 yesterday. And it is the highest single day figure since June 12.
You can explore the figures on the government's coronavirus data page.
The government said that as of 9am on Thursday, there had been a further 1,522 lab-confirmed cases of coronavirus. Overall, 330,368 cases have been confirmed.
Figures published by the UK's statistics agencies show there have now been 57,200 deaths registered in the UK where Covid-19 was mentioned on the death certificate.
Separate figures say that 41,477 people had died in the UK within 28 days of testing positive for Covid-19 as of Thursday, an increase of 12 on the day before.
New research has found that coronavirus-related delays to IVF treatment will have a significant impact on successful births.
Analysis of UK and US data found that across all ages of women, the lockdown is likely lead to to a drop of 0.5% in the live birth rate after IVF treatment.
In the US this is the equivalent of 734 fewer live births a year, according to researchers from the University of the West of England and the University of Glasgow.
Andrew Smith, a senior lecturer in statistics at UWE Bristol, said: "As IVF success is very sensitive to age, older women are less likely to have a successful outcome and live birth rates will be lower as a result.
"For a three-month shutdown in treatment, for instance, we predicted a 0.8% reduction in live birth rate, which is significant."
At least 350 households will have to self-isolate after a coronavirus outbreak at a poultry plant in Norfolk, Kevin Rawlinson reports:



The Banham Poultry site, about 15 miles south-west of Norwich, had been partially closed and all staff who worked on its cutting floor had been sent home, local health officials said.

Norfolk officials declared the Banham outbreak on Tuesday, saying at that point that seven positive tests had been returned. That was increased to 46 the next day and 75 on Thursday as more test results were returned.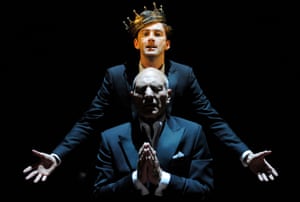 Sad news from the Royal Shakespeare Company, which has said that it will begin redundancy consultations with some employees, and that it does not expect its theatres to fully reopen until next year.
Artistic director Gregory Doran and executive director Catherine Mallyon issued a statement saying: "It is now clear that the ongoing pandemic and the continued need for social distancing mean that we will not be able to stage full RSC productions in our theatres before 2021."
They added: "It is with great sadness that we have now reached the stage where a formal consultation process with employees must take place to safeguard the long-term future of the company.
"We had hoped that things would have become more positive by now, but this has not been the case."
One of the country's most senior police officers has said he is "disgusted" at a rise in recorded assaults of emergency services workers in England and Wales.
Martin Hewitt, the chairman of the National Police Chiefs' Council, said constabularies would "use the full force of the law" to prosecute those accused of striking police officers, ambulance workers and fire crews.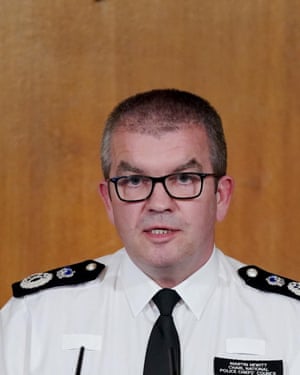 His comments came after the latest figures showed the number of incidents in a four-week period rose by almost one-third compared with the same period last year.
The figures, for the 28-day period in England and Wales to 2 August – and marking the first data since pubs in England were allowed to reopen from 4 July – show recorded assaults on emergency workers were up 31% on the corresponding period last year.
It contrasts starkly with the overall picture for England and Wales, which recorded a 7% reduction in notifiable crime during this time frame compared with last year.

Josh Halliday reports on issues with England's test-and-trace system, with one in seven home tests failing to produce a result:



The proportion of home tests kits failing to produce a result in the week ending 19 August rose sharply, from 4% to 15% of the total, equating to more than 18,000 tests …

The number of people who tested positive for Covid-19 fell in the week, for the first time since the start of July. This was despite a 2% increase in the number of tests carried out. It is too early to draw conclusions about whether this means community transmission of the virus is falling.
Public Health Wales said another person has died having tested positive for coronavirus, bringing its total number of deaths since the beginning of the pandemic to 1,595.
The number of cases of Covid-19 in Wales increased by 35, bringing the revised confirmed total to 17,843.
Read the original article at The Guardian