Coronavirus Latest News
UK coronavirus live: England at limit of lockdown easing, says Whitty; official UK death toll passes 46,000 – as it happened
The Ministry of Justice has announced significant changes to the care of pregnant women and mothers and babies following a year-long review of prison mother and baby units.
In the course of the review one baby died in prison and another was stillborn. The changes include individual care plans for each woman and increased staff training on supporting vulnerable mothers and pregnant women. Every female prison will have resident mother and baby specialist and a new advisory group will be established to ensure support for such women.
The support currently available to women on MBUs will now be extended to pregnant prisoners and those separated from young children.
Six of the 12 women's prisons have MBUs. More than 60% of women in custody have experienced domestic abuse and around half have a history of substance misuse.
Lucy Frazer QC MP, the minister for prisons and probation said:



Pregnant women and those in prison with young children often come from complex backgrounds and with specific needs, which is why it is vital we provide them with the best possible support. The changes will help to ensure children get a good start in life,
Kirsty Kitchen, the head of policy at Birth Companions, which supports pregnant women and mothers and babies in prison,said:



While these reforms are a significant and welcome step in the right direction, we mustn't lose sight of the fact that most of these women shouldn't be in the prison system at all. The vast majority are there to serve very short sentences for non-violent offences and their needs and the drivers of their offending would be better addressed in the community.
The leaders of Greater Manchester's 10 local authorities and the region's mayor Andy Burnham have condemned the government's communication of the change as causing "confusion and distress for our residents".
In a press conference, Burnham said he first heard about the proposed measures when he was called by Matt Hancock shortly before 5pm when the health and social care secretary was due to have a meeting with England's chief medical officer, Chris Whitty.
The meeting was delayed slightly at Burnham's request, the mayor said, so that he could feed in information from local health officials.
While Burnham said he supported the extra measures, he was concerned that they were first announced by Hancock on Twitter at 9.16pm without any additional detail.
He also said the rules announced were slightly different to those briefed by Hancock on the phone earlier in the evening. Hancock had earlier suggested that the new measures would a larger part of the north of England, Burnham said, and would not restrict visits to people's gardens.
He added:



The picture did change and did cause us some surprise but obviously it's for the government to make those decisions.
Sir Richard Leese, the leader of Manchester city council, added:



I think it's fairly clear that what was announced in guidance is not what we were expecting on the basis of conversations last night. And it's also equally clear that we're not clear about what the guidance is precisely.
Leese said he agreed that the government needed to act quickly but that it was important to be "on exactly the same page" as government ministers and officials and that they were now hoping to have "real engagement" about refining the guidance.
The 10 local authority leaders have asked for urgent clarification was needed on several areas:
• How many people are allowed together in an outdoor space in the affected area? Is it 30, as is the rule in the rest of England, or is it only six?
• Hospitality businesses need clarity on their ability to continue to operate if they have outdoor areas, they said.
• The leaders also asked for the government to confirm that shielding arrangements would be extended for clinically vulnerable people in the areas affected where the new rules apply.
• They said they are not convinced that banning people from meeting in private gardens is a "proportionate measure" and call on the government to provide further evidence or amend the regulations.
Nicola Sturgeon has urged young people to exercise much greater caution going to bars and social events after a spike of Covid-19 infections in Scotland, including 30 new confirmed cases overnight.
The first minister said about half of all the new cases over the last week involved people in their 20s and 30s, including young people in a new cluster of 13 cases in the Port Glasgow area which has involved staff at a pharmacy and an Amazon warehouse.
Included in the 30 new cases, the largest daily increase in eight weeks, were 12 infections in care homes. While there were no new deaths in hospital in the last 24 hours, the number of people in intensive care rose from two to four.
She urged people to act far more cautiously meeting other people, and to consider strictly limiting their socialising and observe distancing rules.
"Every single time one of us breaches one of those rules, we give this virus an opportunity to jump from us to someone else," she said at a hastily arranged briefing.



I would urge everyone in their 20s and 30s not to be complacent.
Jason Leitch, the Scottish government's national clinical director, echoed warnings from the prime minister that the governments could reverse some relaxations. Ministers could use "a reverse gear" if they had to, Leitch said.
"There's no doubt all of us in each nation of the UK will face clusters and outbreaks as we have in Scotland and possibly we will face more generalised increases in community transmission of Covid," Sturgeon said.
She also urged people to avoid all non-essential travel from Scotland to several areas of northern England affected by Thursday night's emergency lockdown [see 11.49am.], pleading with Muslims in Scotland not to travel south to see family for the Eid festival today.



Unless your journey is absolutely essential, please don't travel to these areas.
Sturgeon repeated her warnings for everyone to follow all the physical distancing and hygiene rules:



We have made some progress but we are surrounded right now, here in Scotland, here in England, across Europe and the world, we are surrounded by warnings that tell that this virus hasn't gone away. It is still out there. It is still infectious. It is still dangerous and it is still in many cases, sadly, deadly. So we cannot drop our guard against it. We absolutely ignore these warnings at our peril.
Further lockdown restrictions are being lifted in Wales to allow families and friends to be reunited, though the government admitted the new regime in northern England had given it pause for thought.
The Labour-led government said it had no plans to close the border between England and Wales but it was ready to reimpose "stay local" restrictions if there were fresh Welsh outbreaks.
The first minister, Mark Drakeford, said it was important for people who had been separated to get back together before autumn. He stressed the pandemic would not be over by Christmas.
From Monday, up to 30 people will be able to meet outdoors in Wales, though physical distancing must be maintained for people over the age of 11. Younger children will no longer have to maintain a 2-metre distance from adults or other young people.
Brighton urges tourists to stay away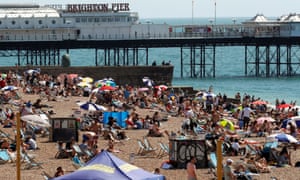 Brighton and Hove council has expressed concern about the number of people visiting the seaside resort and urged tourists to stay away.
"If you're not already here, please don't travel to the city," it said in a tweet.
Folkestone and Hythe council warned that Kent beaches were "proving very popular" and urged visitors to plan ahead.
Read the original article at The Guardian