UK coronavirus: university admissions cap to be lifted in England – as it happened
Right, that's it from me. We'll be winding this blog down shortly but do continue to follow all breaking coronavirus news on our global live blog here. Have a good evening.
Gavin Williamson and Ofqual have apologised to students and their parents, as they announced that all A-level and GCSE results in England will be based on teacher-assessed grades. In a spectacular U-turn, the education secretary announced the government would scrap the controversial standardisation model drawn up by the exams regulator to award grades in lieu of exams. Instead, both A-levels and GCSE results will revert to centre-assessed grades, which were submitted by schools earlier this summer. Read our full story here.
The about-turn by the UK government came after the Welsh government and Northern Ireland executive confirmed that they too would scrap the standardisation model, meaning the vast majority of post-16 students across the UK will now be awarded grades based on teachers' assessments.
The announcement followed a day of mounting pressure on the UK government from a number of Tory MPs, including two serving ministers. Following the U-turn, the Tory chair of the Commons education committee, Robert Halfon, said the government has "serious questions" to answer over its handling of exam results.
However, the announcement did not apply to BTec students, creating uncertainty for countless students of technical courses. Andy Burnham, the Greater Manchester mayor, said he would not withdraw the threat of legal action until the government confirmed that BTec students would also be given teacher-assessed grades.
Greater Manchester Police says it has seen an "unacceptable increase" in the number of breaches of lockdown restrictions since they were imposed on the region on 31 June. Between Friday and Sunday, it recorded 863 incidents related to Covid-19. Of these, 62 related to breaches at licensed premises, the force said.
Another food processing plant has been closed down temporarily following an outbreak of Covid-19 among staff. Four members of staff at the 2 Sisters chicken processing site, near Perth and Kinross in Scotland, have fallen ill while a further two people have tested positive for Covid-19 in the community.
Nicola Sturgeon, Scotland's first minister, said she was concerned about an increase in outbreaks around the country, including 207 cases in the large outbreak in Aberdeen, and smaller clusters in Coatbridge, Lanarkshire and in north-east Glasgow, both of which included schoolchildren. She said a further 26 Covid-19 cases had been recorded overnight – 13 of which were in the Grampian region which includes Aberdeen. That took Scotland's historical total to 19,358, while the number of hospital cases rose overnight by five, to 248.
Ryanair is to cancel almost one in five flights from its September and October schedules after a drop in bookings in the last 10 days, as Covid-19 cases have increased in Europe, leading to fresh quarantine restrictions. Europe's biggest carrier said forward bookings had "noticeably weakened" and it would take 20% from its capacity to reflect demand, mainly cutting flight frequencies rather than routes.
Robert Halfon, the Tory chairman of the Commons education select committee, said the government has "serious questions" to answer over its handling of exam results this summer.
Speaking to the BBC's PM programme, he said:



I had hoped that they would have developed with Ofqual what I call a Ronseal-type appeal system – that 'does what it says on the tin', that was clear, that was easy to understand, that was fair, that every pupil should have been able to appeal via their headteacher if they had felt their grade was unfair.

"I would also have hoped that Ofqual would have gone around to the schools explaining about their standardisation process. None of this happened and there clearly need to be serious questions asked about what on earth has gone on.
Greater Manchester Police (GMP) says it has seen an "unacceptable increase" in the number of breaches of lockdown restrictions since they were imposed on the region on 31 June.
Between Friday and Sunday, it recorded 863 incidents related to Covid-19. Of these, 62 related to breaches at licensed premises, the force said.
Ian Pilling, GMP's deputy chief constable, said the increase in breaches was "completely unacceptable". He added:



This is obviously increasing demand on our services and means that officers might be dealing with a gathering when we receive a report of a critical or major incident.

We simply will not tolerate this selfish behaviour, which is demonstrated by the enforcement action we have taken this weekend and are prepared to take in future. When breaches are identified, officers have a number of options including issuing fixed penalty notices which result in fines and anti-social behaviour closure orders which prohibit anyone, except residents, entering a property for up to three months – this includes outside areas.

Covid-19 is still a real risk to people and we all have a responsibility to follow the rules to protect as many of our loved ones as possible. The rules are easy to follow and I strongly encourage anyone who isn't 100 per cent sure about what they should and should not be doing to read the explanation on the government's website.
There's more from the Gavin Williamson off-camera press conference.
The education secretary was asked why he didn't spot the issue earlier.
He replied, according to Schools Week, that he worked closely with Ofqual and they were constantly reassured about fairness and robustness.
But he added: "We don't get any detailed data before schools but when we started to see concerning outliers… that's why I felt action had to be taken."
Sam Freedman, the former senior policy advisor to the then-education secretary Michael Gove, said that if correct this is an "extraordinary" admission by Williamson.
Freedman also makes a good point that Williamson announced a "triple lock" on Tuesday night, before the data went to schools. If he had not seen the data, why did he need to announce such a policy?
Gavin Williamson has reportedly said he only saw Ofqual's exams algorithm this weekend, which sounds incredible given that it will have been in planning for months. This from the Sunday Times education editor, Sian Griffiths:
Andy Burnham, the mayor of Greater Manchester, says he will not drop his legal action until the government clarifies situation affected students with BTec qualifications.
One tutor has been in touch with me to say that two of his students were failed for a piece of coursework they never had the opportunity to do and, if they had been able to complete it, "they would never have failed". He said BTec and CTec students were being "utterly forgotten about".
The university admissions body, Ucas, is advising students who were not placed with their first choice university last week to take time to decide on their future plans.
It said 69% – 193,420 – of 18 year old "main scheme applicants" across the UK were placed with their first choice university, which is higher than at the same point last year.
Ucas added: "For those students who were not placed with their firm (or insurance) choice university, our advice is that you don't need to make your decision immediately.



Speak with your parents, guardians and teachers and then your first conversation will need to be to your firm (or insurance) choice university. Once your university has your 'Centre Assessed Grades (CAG)' via exam bodies they can make a decision as to whether there is a place at your preferred choice.

We will be issuing new advice for students and schools and this will be sent directly to students as soon as they are able to take a decision.

UCAS is working with Universities UK and the education sector and whilst the decision is with the individual university, we will do everything we can to support students to use their CAGs to secure the best possible outcome.
The education secretary Gavin Williamson has said it became apparent "over the weekend" that there were "unfairnesses" in the exam results, despite days of testimony from students and teachers from across the UK.
In a pre-recorded broadcast interview, Williamson said he was "incredibly sorry for all the students who have been through this". He added:



When we came up with the system which was broadly supported across the spectrum of calculated grades, what we were doing is to ensure we had the fairest possible system, making sure we look after the interests of all students. But when it became apparent that there were unfairnesses within the system, it was the right thing to act.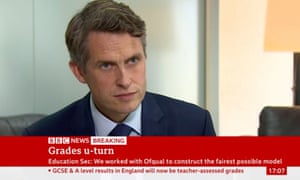 Asked when that became apparent, he said:



Over the weekend it became clearer to me that there were a level … the number of students who were getting grades that frankly they shouldn't have been getting, they should have been doing a lot better, and the evidence both from Ofqual and other external bodies was apparent that action needed to be taken.
(A reminder that Williamson told the Times on Friday – when there was mounting evidence of widespread unfairness following the A-level results in England the previous day – that there would be "no U-turn, no change" and that the teacher-assessed model in Scotland had "rampant grade inflation".)
In the broadcast interview, Williamson said the first course of action was to put in place a "robust and broad-ranging" appeals system, but "as we looked at in greater detail, over Saturday and Sunday, it became evident that further action needed to be taken".
Asked whether he found it concerning that he only saw these discrepancies over the weekend, Williamson said that all the way through the process "we have constantly asked for reassurance about the fairness of the system":



But at the weekend, as more evidence came in, it was clear that we needed to act. That's what we have done. That's why we're going to be moving to the process of centre-assessed grades, making sure equally that those children who got a higher grade – of which there are a considerably number [who got a higher grade than that predicted by their teachers] – actually there's a situation where none of them will have that grade marked down.
The recently announced plan to cap the number of students English universities can recruit is to be removed, the Department for Education has just confirmed.
A spokesman said those pupils who missed out on places at their first choice institutions will be asked to go back and speak to them about reversing that decision if their new grades are good enough – and ministers will expect universities to be flexible.
In order to create extra capacity, the planned cap will not apply. This refers also to a limit on the number of students from England who can enrol at universities in Wales, Scotland and Northern Ireland.
The union representing headteachers, the NAHT, said "the problem is far from over" for students who may already have missed out on their first choice university.
Paul Whiteman, the general secretary, said the move "may already be too late for some A level students who have already missed out on their first choice of university and course".
He added: "Every day of delay is going to have loaded more and more difficulty onto universities and their capacity to meet all of the demand for places that will now inevitably come their way. For them, the problem is far from over."
Universities UK, the representative body for universities, said it is seeking "urgent clarification and advice from government on a number of crucial issues" following the U-turn.
Alistair Jarvis, its chief executive, said:



The events and confusion of recent days have added further uncertainty and distress to students who have already faced many difficulties as a result of the Covid-19 pandemic. The best interests of students must be the priority, and universities are being as flexible as possible with applicants and will continue to support students to find a suitable university place.
Jarvis said the policy change would mean that more students will have the grades that match the offer of their first choice university. He added:



This will cause challenges at this late stage in the admissions process – capacity, staffing, placements and facilities – particularly with the social distance measures in place. Universities will do everything they can to work through these issues in the days ahead. The government will need to step up and support universities through the challenges created by this late policy change. We are seeking urgent clarification and advice from government on a number of crucial issues.

Almost 70% of students are already placed with their first-choice institution, but those who are not should think carefully about their next steps, speak to their parents, guardians and teachers and get in to contact with their preferred university to advise on their options.
Northern Ireland has also now abandoned plans to use a standardisation for A-level grades, meaning all of the UK will now use teacher assessments for this year's post-16 exams which were cancelled due to coronavirus.
Ofqual has said the move to teacher-assessed grades would apply to GCSEs and A-levels in England – but not BTecs, the specialist work-related qualifications that include more practical learning than A-levels.
Some educationalists are saying that those studying BTecs – many of whom still haven't received their grades, despite being due to get them last week – had been disadvantaged by the UK government's announcement:
The Labour MP Zarah Sultana said it was now important that "unfair BTEC downgrades are corrected":
One of the groups that had been planning to take the UK government to court over exam grades has said it is dropping its legal action, following the U-turn. Jo Maugham QC, the director of the Good Law Project, tweeted:
Mary Curnock Cook, the former chief executive of Ucas, said the government must announce immediately that the cap on university admissions will be lifted to accommodate the new grading system.
Many universities will have already filled their courses based on the grades published last Thursday. Speaking on BBC News, she said:



Decisions have already been made by universities about who they accept, who they don't accept, who goes into clearing and so on. This change will mean that universities have to rethink completely.
Some 55,000 students were accepted into their second choice university or into the clearing system, where courses are filled by students who missed out on their first choice university. Many of these students could now be eligible for their first choice university, throwing the admission process into chaos.
There are a further 80,000 students with holding offers, so there are potentially 150,000 students who could be changing university on the back of this announcement.
Curnock Cook said she hoped the government would put support in place for students who now be forced to defer their place even though their grades were now right for their first choice university.
Read the original article at The Guardian